Video tutorial: Rodrigo y Gabriela on right-hand technique
23rd Nov 2007 | 11:06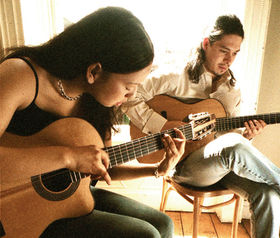 Rodrigo y Gabriela on right-hand technique
Rodrigo y Gabriela

Rodrigo y Gabriela on right-hand technique
Tab: The basic rhythm - Mute all the strings, but don't worry about hitting all six with every stroke. It's more important to develop a smooth wrist action that produces evenly spaced beats. Add the accents when you have settled into the groove.

Rodrigo y Gabriela on right-hand technique
Tab: Triplets - If you have cracked the basic rhythm, you will find these triplets surprisingly easy to master. The hand movement stays the same and you simply add the downstroke with your thumb. Take a break when your wrist gets tired and make sure you follow Gabriela's warm-up instructions - don't try to work through the pain barrier!

Rodrigo y Gabriela on right-hand technique
Tab: Combining rhythms - Make up your own combinations from the triplet and semiquaver ideas here. Remember: accuracy is much more important than sheer speed.

Rodrigo y Gabriela on right-hand technique
Tab: Introducing hits - What Gabriela refers to as 'hits' involve flattening your hand and slapping the strings/fingerboard with the palm of your hand to create a percussive click. Generally the 'hits' are used in the same way a drummer would use the snare drum on the backbeats.
Learn from her phenomenal technical ability and innovative approach
Rodrigo y Gabriela, the Mexican guitar duo based in Dublin, fought off competition from both the Arctic Monkeys and Johnny Cash to reach the top spot in the Irish album charts when their eponymous second album was released.
They then went on to support Muse at one of the first gigs at the new Wembley Stadium; certainly an impressive feat for two young musicians who arrived in Dublin in 1999 with nowhere to live and only $1000 between them.
They started out busking in the street, but their phenomenal technical ability and innovative approach to composition ensured that their brand of metal-influenced acoustic guitar reached a wider audience.
In this video lesson, Gabriela Quintero explains her rhythm techniques with clear demonstrations of how they can be combined to create an impressive palette of percussive excitement and colour. The techniques used will be unfamiliar to most of you, so you will need to adopt a disciplined approach to get to grips with them. The examples here cover the four basic ideas needed to build your own Latino-tinged guitar grooves.
For more information and video clips, visit Rodrigo y Gabriela's website.