Video tutorial: Play like Peter Green
20th Dec 2007 | 12:58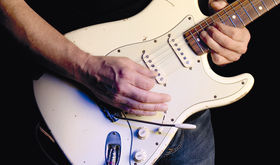 Example 1: simple opening idea. To introduce an emotive solo, try stripping away any unnecessary embellishment and focus on the essence. It would be morally wrong to start blabbering on about scales here, so just have a look at the fingering, then have a wail.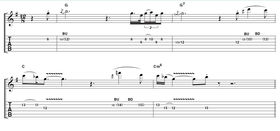 Example 2: developing the lead. An alternative take to Example 1, this keeps the minimalist feel, but adds a couple of slightly more animated moments. The use of space is at least as important as the notes that feature in between.

Example 3: right note at the right time. Over the second half of the progression, you're looking at playing not much more than one carefully chosen note over each chord change. Although this may seem easy, it actually takes a lot of confidence to play this way. So close your eyes and don't rush!

Example 4: string bends and doublestops. Pay meticulous attention to pitching on string bends and don't neglect the quarter tone ones. Details like this are where that elusive authentic sound comes from. Also, note the melodic doublestops at the end. Theyre not technically difficult, but would you have thought of trying them?
Example 5: final turnaround. Here's a third take at the last half of the progression with contrasting slow bends and the odd flurry thrown in. There's also a hint of a theme developing between bars 3 and 4. Once again, take it slow until you gain more confidence.
Learn the Fleetwood Mac man's soulful blues licks
Click here for all How to play blues guitar like... lessons.
Peter Greenbaum was born in 1946 in Bethnal Green, and he fi rst picked up the guitar aged 10, influenced by Hank Marvin, Muddy Waters and BB King. After playing bass in several amateur bands, Peter's first foray into lead guitar was with Peter B's Looners in early 1966.
This led to a stint with John Mayall's Bluesbreakers replacing Eric Clapton. During this time, he cemented his reputation with extended instrumental The Supernatural, although like his illustrious predecessor, he left after a year and just one album.
His next move was to form Peter Green's Fleetwood Mac with drummer Mick Fleetwood and bassist John McVie. Hits like Albatross, Man Of The World and Need Your Love So Bad catapulted Peter into a world of adulation from both his fans and peers, and also huge sums of money, which contradicted his personal ethics. Combined with a large intake of LSD, this was to have a profound effect on his personality and he sold or gave away many of his worldly possessions on leaving the band (and the music business) in 1970. This included the priceless 1959 Gibson Les Paul used on many of his hits, which was subsequently sold to Gary Moore.
Green then vanished from the public eye for several years with only the occasional recording or appearance, though more recently has recorded and toured with his Splinter Group and guested on Peter Gabriel's Up album.
The example phrases below take their inspiration from Peter's soulful yet economical phrasing on Need Your Love So Bad. It may sound like a cliche, but really think about the 'feel' of each lick. You should use a very lightly overdriven tone with a splash of reverb. If your guitar is wired for the famous 'out-of-phase' signature tone of Peter's Les Paul, that's great, but don't go rushing to get out the soldering iron if it isn't; the way you play blues is more important than what you play it on.
Click 'see all pictures' in the picture box for full-sized tab.