Play blues guitar like ZZ Top's Billy Gibbons
5th Jun 2008 | 11:31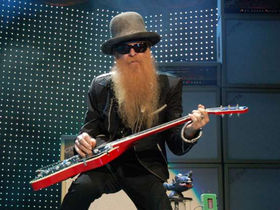 This lesson shows you how Billy Gibbons plays the blues

Using the C blues scale, this example typifies Billy's relaxed but 'in command' feel. Details to be aware of are the slow triplets (in bar 1), quarter-tone bends, staccato notes and pinch harmonics.

This example makes much more of a feature of the staccato pinch harmonics. It also uses some bluesy doublestops, some of which are bent a quarter tone to sound

Leaving these major second interval notes to ring together is both a trademark of Gibbons' style and reminiscent of the first generation of bluesmen like John Lee Hooker

More of those doublestops give way here to a controlled descent down the C blues scale. Although none of the notes here are marked staccato, try varying between
Check out this video lesson with tab
Click here for all How to play blues guitar like... lessons.
Billy Gibbons was born in Texas in 1949, and his first exposure to blues music came from the Afro-Caribbean maid in his suburban house hold. Elvis, Little Richard and Jimmy Reed also played their part in Billy's love of blues and in 1963 he got a Gibson Melody Maker and Fender Champ amp for Christmas.
Emulating his heroes, he formed a succession of local bands, playing the local circuit, and even supporting Jimi Hendrix on one occasion. By 1969, Billy had met and formed ZZ Top with Dusty Hill and Frank Beard (the only member without a beard!) and in 1975 they had a hit with Tush, still a favourite live anthem. Their biggest success would follow in the mid 80s, when they combined the precision of electronic sounds with their down home boogie.
Renowned as something of a guitar collector, Billy is most famously associated with a '59 Gibson Les Paul he calls 'Miss Pearly Gates'. Like Billy, you should use a lot of midrange and not too much treble. Some of the attack comes from the fact that he uses a serrated peso or cent as a pick (not recommended for the heavy-handed or the obsessive guitar polisher).
He's fond of staccato pinch harmonics, but these are generated in a fairly random fashion, rather than the measured precision of someone like Eric Johnson. Use the bridge pickup and enough distortion to 'saturate' the tone, without being fizzy.
A small amount of plate reverb was added in the mix
You can learn these examples by following our free tab.