Play blues guitar like Stevie Ray Vaughan
27th Mar 2008 | 16:38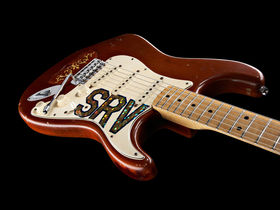 Play blues guitar like Stevie Ray Vaughan
Stevie Ray Vaughan's playing has inspired many of today's blues guitarists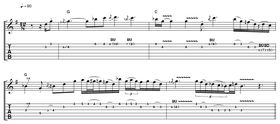 Play blues guitar like Stevie Ray Vaughan
Example 1: Using Texas Flood as inspiration, this opening example showcases SRV's flamboyant but always coherent phrasing. There is a strong Albert King influence, with a biting attack.

Play blues guitar like Stevie Ray Vaughan
Example 2: Here's another take over the same backing, again using the G blues scale, but in a higher position. As with Example 1, there are lots of quarter-tone bends and a Hendrix-style wide vibrato - not easy on the heavy .012 gauge strings Stevie liked to use. Exaggerate the staccato notes and really let rip on the slides in bar 2.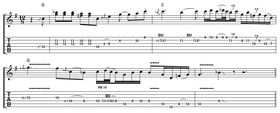 Play blues guitar like Stevie Ray Vaughan
Example 3: Using doublestops and some quicker phrasing, this example also features a tricky bend on the fourth string, something Stevie did often. The flow of ideas is pretty constant with only the occasional pause, in this case at the end of bar 4.

Play blues guitar like Stevie Ray Vaughan
Example 4: Syncopated phrasing like this can be heard at the end of Stevie's solo in Crossfire, and is a very important part of his style. It takes time to develop the confidence to dance across the beat in this way, but once you've locked in to the timing, it's a really useful way to make your phrasing more interesting. Milk those string bends!
Check out this video lesson with tab
Click here for all How to play blues guitar like... lessons.
Stevie Ray Vaughan was born in Texas in 1954, and although he originally wanted to be a drummer, he was given a guitar at eight years old.
Watching his older brother Jimmie play guitar inspired Stevie to take up the instrument seriously himself, and with influences like Albert King and Lonnie Mack, Stevie developed a masterful touch at re-working Hendrix classics like Little Wing and Voodoo Chile (Slight Return). He had a passionate and ferocious blues style and was championed by everyone from Eric Clapton to Stevie Wonder and John Lee Hooker.
Stevie Ray Vaughan was tragically killed in a helicopter crash in 1990, but thanks to his recorded legacy and footage of flamboyant live shows, his aggressive, emotion-soaked playing continues to inspire many guitarists today.
In this video tutorial, we show you how to add some Texas passion to your blues playing with some sizzling SRV-style licks. Stevie used to tune his guitar down a semitone for a darker sound, but for simplicity's sake, all the examples here are in standard tuning. Click here for full-sized tab.
Video