Play blues guitar like John Lee Hooker
15th Oct 2008 | 13:42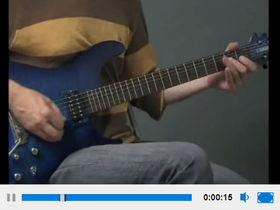 Play blues guitar like John Lee Hooker
We've got four classic, Hooker-esque licks for you to learn

Play blues guitar like John Lee Hooker
Example 1: Loose and ringing are the words to keep in mind when playing through this example. Aim for a reckless edge, tempered by an almost funky shuffle feel.

Play blues guitar like John Lee Hooker
Example 2: Taking a similar approach, but with a more 'lead' as opposed to 'rhythm' angle, this example should have a similarly loose feel. Practise the melody but be sure to let your fingers do a bit of unconscious exploring too.

Play blues guitar like John Lee Hooker
Example 3: This example shows Hooker's favourite open position blues licks. Though similar figures like this appear and reappear, they are rarely duplicated exactly.

Play blues guitar like John Lee Hooker
Example 4: A more attacking approach is evident in these doublestops, which continues with the open position phrasing. Try not to think too much of specific strings – go for an overall rhythmic dynamic.
A video lesson with free, high-quality tab
Click here for all How to play blues guitar like... lessons.
Born in 1917 near Clarksdale, Mississippi, John Lee Hooker's first exposure to music was via the religious songs approved of by his preacher father. All other music was forbidden in the house, and it wasn't until his mother married William Moore, a blues singer from Louisiana, that John was introduced to the guitar.
Hooker ran away from home when he was only 15 to Beale Street in Memphis, 'the home of the blues'. By the late 40s, Hooker had moved on and settled in Detroit, and it was during this period that he got his first electric guitar. In 1948 he was signed to Modern Records and that year also saw his first release and hit, Boogie Chillen. Later in the 60s and 70s, Hooker's boogie style was taken on by rock 'n' roll bands like The Rolling Stones and The Yardbirds, and he recorded with rockers Van Morrison and Canned Heat.
Our examples below take their style from the classic tracks Boom Boom and Tupelo. Hooker would often play with one chord, playing bass strings with his thumb and jagged ringing melodies with his fingers, but we've used a standard 12-bar blues pattern.
You'll find that some of the examples are hybrid picked. This means that the pick takes the place of Hooker's thumb, which gives more attack without having to spend years toughening it up like the man himself. Use an almost clean tone through a humbucking bridge pickup to capture his sound.
Click here for full-sized tab.
For more information on Hooker, visit the official John Lee Hooker website.