Play blues guitar like Jimmy Page
8th Jan 2009 | 17:53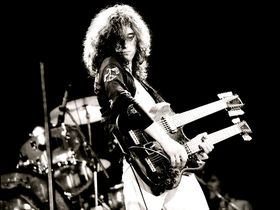 Jimmy Page
Jimmy Page is a master of lead phrasing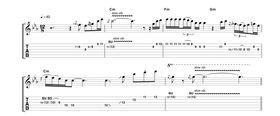 Using the neck pickup and minimal distortion, this phrase features a 'pick-up' bar, before the held, slow vibrato of the first note 'proper'. Treat the notation as a guide for the timing, but allow certain phrases to lag behind or race ahead of the beat as you deem appropriate.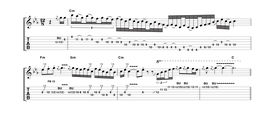 For this example, try the bridge pickup. There's a little more distortion, but this is just because the picking attack is harder. The first bar features more of the 'stretched' timing. As long as you get to the final C on the last beat of the last bar, the rest is negotiable. This doesn't mean be sloppy, just play with soul!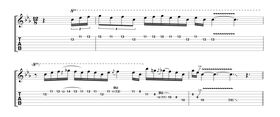 A quieter take (softer picking) over the same backing returns to the neck pickup. Keep your eye on the timing, but once again don't attempt to stay perfectly in time. Like all great blues players, Jimmy's phrasing often drifts across the beat.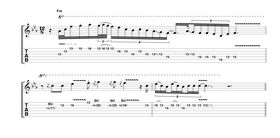 Back to the bridge pickup, this phrase suggests a solo in mid-flight. Apart from the usual timing intricacies, be aware of the very wide bends in bar 2. These are tricky, so spend a little time on them and don't be too harsh on yourself.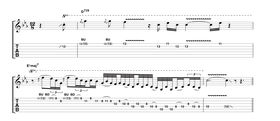 In closing, this phrase combines searing bends with a bit of a pentatonic flutter. Remember that these phrases are not carefully calculated, so they would vary from performance to performance.
Check out this video lesson with free tab
Jimmy Page was born in Hounslow in 1944, and his passion for the guitar began at 12 years old when he heard Baby, Let's Play House by Elvis Presley. Jimmy had a few lessons, but was largely self-taught, taking inspiration from the blues and rock 'n' roll playing of Hubert Sumlin, James Burton and Scotty Moore.
He also looked to acoustic folk players like John Renbourn, Bert Jansch and Davey Graham, where he found a template for his subsequent 'light and shade' approach with Led Zeppelin.
With his first electric guitar in hand, a Futurama Grazioso, Page hit the road with Neil Christian and The Crusaders while he was still a teenager. However, a couple of years touring and a nasty bout of glandular fever later, he decided to quit the touring life and pursue his other passion, painting, at Sutton Art College.
Jimmy continued playing in his spare time, and his jam sessions at The Marquee with bands like Cyril Davies' All Stars and Alexis Korner's Blues Incorporated (often alongside fellow students Jeff Beck and Eric Clapton) led to Page being approached to do some recording sessions.
Within a couple of months, he was one of the most sought after session players in London, appearing on records by The Kinks, The Who and Van Morrison.
When the sessions began to turn into what Page called 'muzak', he took up an offer he had previously passed on to join The Yardbirds, alongside Jeff Beck who had replaced Clapton. When this line up fell apart, it was Page who re-vamped it with vocalist Robert Plant, bassist John Paul Jones and drummer John Bonham...
You can learnt these examples by following our free tab