Play blues guitar like Freddie King
19th May 2008 | 15:56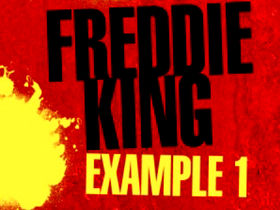 This video lesson comes with free tab
This cheeky 'call and response' phrasing maximises the impact of a simple, repetitive phrase. Exaggerate the staccato element and make the most of the final quarter-tone bend by taking your time.

Taking a similar approach to lick 1, but using raunchier sounding doublestops, this example has a less staccato feel and more of those classic quarter-tone bends at the tail end of each phrase. At the end of the third bar, be sure to add some stinging vibrato to the last A before the final doublestop.

You can hear how this kind of phrasing inspired the young Claptons and Pages of this world! The first slide in should be quite lazy sounding and not from any particular note. Notice there's lots of space between phrases and a theme developing.

Here you're leaving the thematic approach behind for the moment and indulging in some soaring, syncopated (off beat) bends. This lick demonstrates how Freddie would make a lot happen with very few notes in the optimum place. Watch out for the vibrato in this one, it's not as easy to as it seems.

This phrase is all about the rhythm - keep the swing feel and really exaggerate the 'shortness' of the final doublestop.

This is an excellent way to wind up this kind of solo. Once you've got the notes down, the most important job is to get the swinging, confident feel. Don't expect making it sound easy to come too easily!
Check out this video lesson with free tab
Click here for all How to play blues guitar like... lessons.
Freddie King started his musical journey encouraged by his mother, who exposed him to the country blues style of Sam 'Lightnin' Hopkins and the jazz saxophone of Louis Jordan. When he moved to Chicago in 1950, he did sessions for El-Bee and Chess Records.
By 1960, he had signed his own deal, resulting in the classics Lonesome Whistle Blues and I'm Tore Down - later covered by Eric Clapton, along with Hideaway.
He successfully rode the wave of 60s guitar instrumentals, switching easily between styles, no doubt the legacy of his own eclectic tastes.
Freddie has been named by many as an influence, including Mick Taylor, Peter Green and Eric Clapton. In fact it was after seeing Freddie holding a goldtop Les Paul on the cover of Let's Hide Away And Dance Away that Clapton was moved to acquire one himself.
Freddie remained an active recording artist until 1974, passing away in 1976.
To get to Freddie's tone, try using the bridge pickup . As is usual with this type of music, avoid going overboard with the overdrive/distortion. Try and imagine you are pushing a small valve combo to its limit instead!
A handy tip for low volumes is to add a little compression to 'squash' the dynamics and give maximum sustain for those vibrato moments.
Remember there were no effects available back then, apart from the most basic spring reverb.
You can learn the examples by following our free tab
If you want more blues then check out our lesson on how to play blues guitar like BB King and our guest lesson with Joe Bonamassa.