Marty Friedman on breaking out of a rut
16th May 2008 | 07:13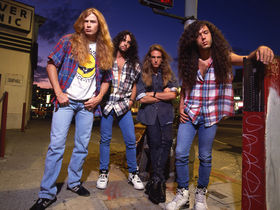 Marty Friedman (far right) played guitar in Megadeth for nearly ten years

Marty Friedman on breaking out of a rut
Example 1 - Standard lick: Here Marty shows you a bog standard exercise, ending with a D major arpeggio.

Marty Friedman on breaking out of a rut
Example 2 - Adding chromatic notes: Marty adds some chromatic passing notes in two ways here. Pick the note at the start of each repetition strongly to keep the rhythm going.

Marty Friedman on breaking out of a rut
Example 3 - Using slides: This is a snaking line so you could trip up if you're not careful. Watch out for the slides; Marty uses them to shift his hand position.

Marty Friedman on breaking out of a rut
Example 4 - Resolving outside ideas: This lick starts really outside but finishes off with a strong D major scale idea so that everything resolves.
The ex-Megadeth guitarist shows you how to keep your playing interesting in this video lesson
Marty Friedman has never been a traditional guitar player. In Cacophony, Megadeth and on his recent solo projects, he combines rock licks with exotic sounds. In this video lesson, Marty shows you how you can breathe some life into your guitar playing and break out of a rut.
Marty is playing in D major here, but he throws in notes from outside the scale. These 'outside' notes are really just filling in the gaps between the scale notes. By doing this, you've got a bunch of new sounds to choose from.
The secret to making this sound good is to make sure that you start and finish your licks on strong scale tones. "You can't lose focus of what key you're in," says Marty. He often ends licks with an arpeggio or a chord so it's obvious where you're going. If you hold an outside note on a strong beat (like beat 1), you'll sound like you're lost.
Click here for full-sized tab, or check out our tab guide (.pdf file) for help with the notation.
For more information, check out the official Marty Friedman website.