Kaki King on tapping on acoustic guitar
2nd Jul 2008 | 15:37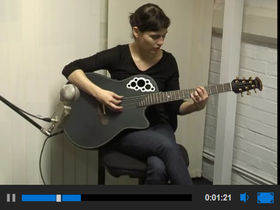 Kaki King on tapping
Kaki is one of the new breed of modern acoustic guitarists
Kaki Fig 1
Example 1: This example is the basic bass line that Kaki uses as the basis of all the other examples. The squares around the notes denote that you should play the notes by hammering your fingers on the neck - you don't pick them.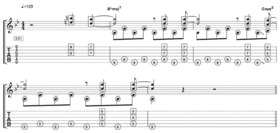 Kaki King Ex 2
Example 2: This example adds some basic chordal shapes to a bass line that is similar to bar 1. If you find this tricky, then try separating parts. The circles around the notes denote that you should tap the notes with your picking hand.
Kaki King Ex 3
Example 3: This is similar to example 2, but the chords move across the strings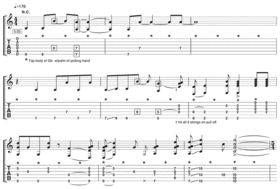 Kaki King Ex 4 - part 1
Example 4, part 1: To play this example you need bounce the palm of your hand against the string and the body of the guitar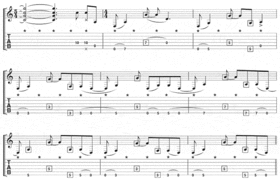 Kaki King Ex 4 - part 2
Example 4, part 2: Remember, the squares around the notes denote a tap with the fret-hand.
This video lesson shows you how to use both hands on the fretboard.
Kaki King starts by demonstrating her 'over the neck' fret-hand technique and then goes on to show how to add chords and melody parts with the pick hand.
Some of these techniques are quite tricky and will take a little while to master. Make sure you take things slowly and take the time to really nail example one before moving on to the other, more difficult, examples.
You can learn these guitar parts by following our free tab.
If you want more Kaki King check out this video interview. For more information visit the official Kaki King website or the Kaki King Myspace page.