How to play blues guitar like Rory Gallagher
16th Aug 2008 | 09:22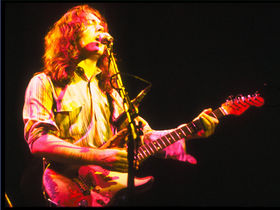 How to play blues guitar like Rory Gallagher
Rory Gallagher playing one of his famous Strats

How to play blues guitar like Rory Gallagher
Example 1: Be sure to watch the video as well as looking at the tab because Rory's expressive pentatonic bursts are difficult to get a feel for from the printed page alone. Really 'push and pull' the timing of the triplets in bar 2 when you're playing.

How to play blues guitar like Rory Gallagher
Example 2: Here's another option over the same chords, emphasising Rory's fondness for staccato bursts and strong vibrato. Again, don't be afraid to take liberties with the timing. Attacking a phrase early or being laid back and late is often the key ingredient of Rory's style.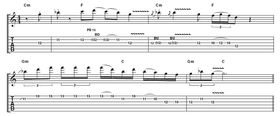 How to play blues guitar like Rory Gallagher
Example 3: Rory didn't confine himself to purely pentatonic phrasing. This example is given a jazzy feel by the fragments of Gmin7 arpeggio in bar 3.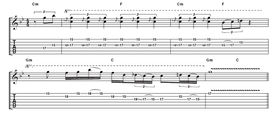 How to play blues guitar like Rory Gallagher
Example 4: Using pick and fingers for better definition, this example showcases the insistent repetition Rory would use to build drama in his solos.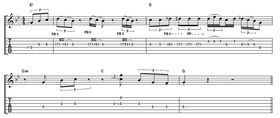 How to play blues guitar like Rory Gallagher
Example 5: Combining repetitive phrasing with staccato bursts, this phrase is designed to wind up a solo or set up for another 12 bars.
A video lesson with tab teaching you the style of the Irish blues master
Rory Gallagher was born and raised in the south of Ireland. Inspired by seeing Elvis on the TV, Rory got hold of his first acoustic guitar at nine years old.
From then on he taught himself to play from books and by listening to the records of Leadbelly, Woody Guthrie and Chuck Berry among others, and at the age of 13 he formed his own rock 'n' roll band. However, Rory didn't feel this would lead anywhere so he made the compromise of joining the then-flourishing showband circuit. Around this time, he acquired his famous '61 Fender Stratocaster, which featured on every subsequent tour and recording.
Rory disliked the 'cabaret' element required to keep dance hall owners happy, so he struck out with his own band, Taste, in early 1967. Following the Hamburg club circuit in the tradition of The Beatles, the band built a strong following at home and abroad, with John Lennon becoming a high-profile fan along the way.
Rory's solo career saw him tour the world many times and record numerous successful albums. The examples we've tabbed below are inspired by his mid 70s playing.
Rory is remembered as an unpretentious and skilful musician.