How to play blues guitar like Albert King
14th May 2008 | 14:21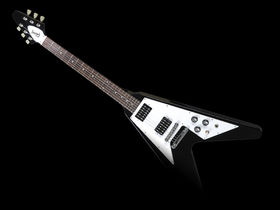 How to play blues guitar like Albert King
King was famous for using a Gibson Flying V left-handed and strung upside-down

How to play blues guitar like Albert King
Lick 1: Starting with a strident bend and vibrato, this lick then moves into a pentatonic burst before slowing down somewhat. The string bends in bar 3 may not fall under your fingers too easily at first, but remember you're emulating a man who plays upside down…

How to play blues guitar like Albert King
Lick 2: More tricky string bends here. There's no need to rush through them though, as this should sound very deliberate. There's a chance to show off more speed in bar 3.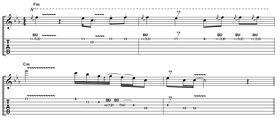 How to play blues guitar like Albert King
Lick 3: You're off to a syncopated start here, leading through to a series of bends including a two-tone bend that Albert was very fond of. The last pentatonic phrase is similar to his playing on Oh Pretty Woman with Gary Moore.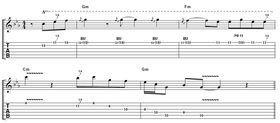 How to play blues guitar like Albert King
Lick 4: This example demonstrates how Albert could create a memorable phrase with just two notes and a series of bends. Like all the other phrases here, note how the opportunity to incorporate a quarter-tone bend is rarely missed.

How to play blues guitar like Albert King
Lick 5: This is a great way to bring an Albert King-style solo to its conclusion. Again, whole and quarter-tone bends abound, but there are less pentatonic freakouts and a couple of cheeky stabs at the end.
Check out this video lesson with free tab
Click here for all How to play blues guitar like... lessons.
Blues master Albert King was a huge influence on Stevie Ray Vaughan and Eric Clapton to name just two legends. In this video lesson, we show you how to play in his style.
Born in Mississippi in 1923, Albert King was first exposed to the blues when he heard Blind Lemon Jefferson and Lonnie Johnson play. As legend tells us, King would emulate their sounds on a homemade guitar made from a cigar box.
He signed with the Stax label in 1966, where he recorded such classics as Crosscut Saw and Born Under A Bad Sign. King continued with this label until its demise in the mid 1970s, but he was never far from the public eye after that time. He more recently guested with Gary Moore and bluesman Chris Cain.
Even though King played a Gibson V left handed, he didn't change the strings over, which meant he was effectively playing it upside down. Even so, his pentatonic phrasing was fluid and he managed to incorporate some very wide string bends into his solos without any discomfort.
Our examples are based around the C minor pentatonic and incorporate many of his trademarks such as syncopated sharp 'stabs' and quick-fire runs. Of course, no blues solo would be complete without quarter-tone bends and there are plenty here. The tone should be sharp with a minimum of overdrive. Think of a small valve amp turned up to the max with lots of treble.
To learn the licks demonstrated here, check out our free tab – and use our tab guide if you need help understanding the notation.