Ash guitarist Tim Wheeler talks new 'A-Z Series'
21st Aug 2009 | 13:29
Since Ash decided to ditch album releases altogether two years ago with their final long-player 'Twilight Of The Innocents', they've come up with a strategy that has the potential to revolutionise the way artists release music. Their new series of single-only releases, 'A-Z Series', looks set to become a real collectable: as guitarist Tim Wheeler points out, "If you miss a letter you're gonna be really annoyed!"
Since Ash decided to ditch album releases altogether two years ago with their final long-player 'Twilight Of The Innocents', they've come up with a strategy that has the potential to revolutionise the way artists release music. Their new series of single-only releases, 'A-Z Series', looks set to become a real collectable: as guitarist Tim Wheeler points out, "If you miss a letter you're gonna be really annoyed!"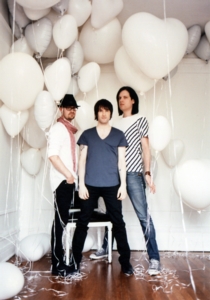 Why have you decided to switch to single releases instead of albums?

Tim: "One reason was to really challenge ourselves. After doing five albums, I was like, 'Where do we go from here?' I wanted to do something extra, extra ambitious. Now we can see what stuff gets people buzzing and it might inspire us to push certain things further."


And, of course, the music industry is changing so much…

"Yeah, seeing how people are reacting to albums, how things are changing with the internet and how people are downloading single tracks nowadays. We've been planning this for over two years and it was hard keeping our mouths shut!"


How will you release the singles?

Tim: "Download is the main one. You've got this direct distribution to your fans nowadays: we could record a song and put it out a week later, it's incredible. Plus it means the whole thing can't leak 'cos some of it doesn't exist yet!


What about physical releases?

Tim: We're also doing 7"s. There will be one release every two weeks for a year – there are 26 fortnights in a year so it ties in with the alphabet. If you miss a letter you're gonna be really annoyed!"


Tell us about the recording process…

Tim: "We've been working non-stop for a year and a half now. We've got our own studio in New York [Atomic Heart Studios] where I spent five days a week working from early afternoon to midnight or 2am. We've recorded 44 songs so far but we still don't think we've got the right ones. It's way more pressure than making any album 'cos every song has to stand out on its own."


What sound can we expect?

Tim: "[Pre-release single] 'Return Of White Rabbit' is really different – I've been mixing guitars and synths. As Charlotte's not in the band any more and I didn't wanna replace her with another guitarist or other guitar parts, I figured I'd find a different direction and go into keyboards too. The first song of the series will be 'True Love 1980'. It's quite synthy, and it's got quite an 80s flavour. People might think it's got quite heavy hints of New Order. They were a band who melded guitars, keyboards and electronics really well – I've always loved them."


The first single 'True Love 1980' (A) will be released on 12 October on Atomic Heart Records.

Ash play Hevy Music Festival and Kendal Calling 1 and 2 August. Go to www.ash-official.com for more info