Rhythm for beginners
29th Jul 2013 | 23:00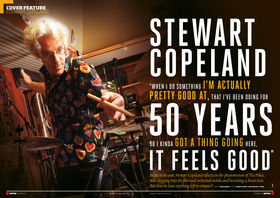 Stewart Copeland
The Police
Rhythm's covers feature the world's best drummers, and inside the mag, we serve up in-depth interviews with those drummers, asking them about their brilliant careers, current musical projects and gear choices – all accompanied by some of the best rock photography of those iconic drummers.
Vinnie Colaiuta
Session legend
We never miss an opportunity to talk to some of the greatest and most revered drummers of all time, such as Vinnie Colaiuta in July 2012. We get them to share their inspirational stories, considerable drumming experience and wisdom, often getting them to impart sage advice for drummers of all abilities.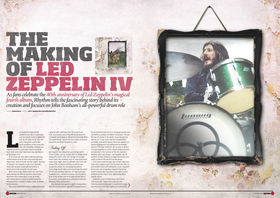 John Bonham
The Making Of Led Zeppelin IV
Rhythm regularly runs in-depth features on the greatest drummers the world has ever seen - getting behind the legends and their musical legacies. This was our cover feature on the Making of Led Zeppelin IV, in which we covered the recording of that album's drums in detail, with contributions from many of those involved in the making of the album – including engineer Andy Johns, who told us how he got that great Bonham drum sound for 'When The Levee Breaks'.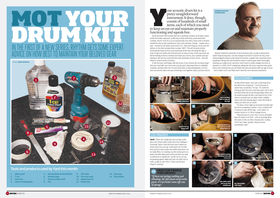 MOT Your Drums
Helping you to help yourselves!
Every drummer needs Rhythm - and here's another reason why. Our series on how to maintain your gear saw tech-to-the-stars Yard Gavrilovic take us through every aspect of drum maintenance, from how to (safely) disassemble your gear, to getting those lugs good as new and cleaning up badges, to keeping your cymbals, heads and hardware in good working order.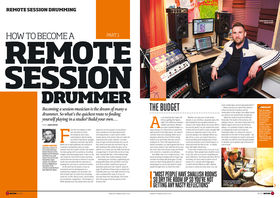 Remote Session Drumming
James Hester revealed how to make a living at home
In 2012, top session player and tutor James Hester presented a guide to making a living doing sessions from your own studio. He covered all bases from how to build your own studio, to getting the sound your clients are after.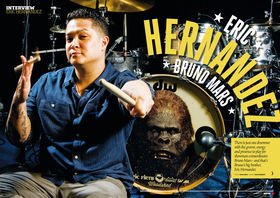 Eric Hernandez
Bruno Mars' drummer Eric Hernandez
Every month in Rhythm, you'll find great interviews with the world's top drummers from all genres of music, such as Bruno Mars' drummer Eric Hernandez...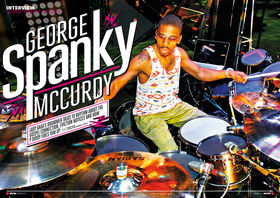 George 'Spanky' McCurdy
Lady Gaga's drummer George 'Spanky' McCurdy
…and Lady Gaga's drummer, the gospel-rooted George 'Spanky' McCurdy.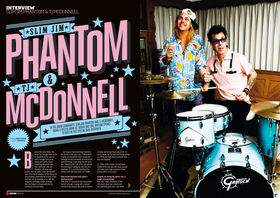 Slim Jim Phantom
Stray Cats Slim Jim Phantom, and son!
Here's Stray Cats legend Slim Jim Phantom, whose standing-up playing and furious swing powered the rockabilly band. His son, TJ O'Donnell is a drummer too, so we interviewed them both together.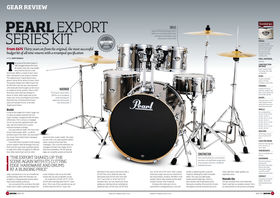 Gear reviews
Rhythm is packed with expert gear reviews every month
Each and every month, Rhythm's crack team of expert reviews get their fevered mitts on the tastiest new gear to arrive at Rhythm HQ, such as the re-booted Pearl Export kit.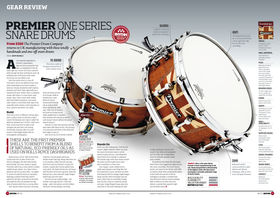 Premier Snares
In-depth reviews from our gear gurus
…our experts cast their practised eyes over all manner of new gear, from drums such as these tasty-looking new snares from Premier...
Paiste cymbals
If it's good enough for Joey Jordison...
…cymbals, such as these very-metal Paistes made in Joey Jordison's favourite colour…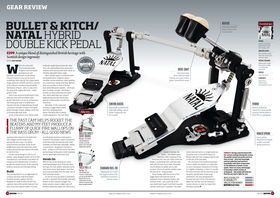 Natal double pedals
Everything you need for your fancy footwork
…or hardware, such as these new Natal pedals, accessories, percussion and more.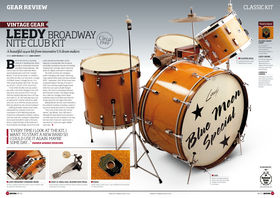 Vintage Gear
Eye-candy for drum nuts
Every month, resident gear guru Geoff Nicholls tells the story of a different beautiful vintage kit, such as this Leedy Broadway Nite Club kit from the 1940s!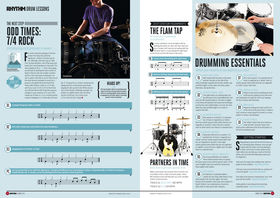 Rhythm Lessons
Everything from beginners to pro
No matter how good you are, you can still learn more! Whether you're a beginner, intermediate player or even a seasoned pro, there's something in Rhythm's tuition pages that you can learn or that will help you brush up on an area of technique. Rhythm's team of awesome tutors, including CD editor Pete Riley, Colin Woolway, Adam Bushell, Justin Scott, Jason Bowld, Mike Sturgis and Erik Stams are on hand every month to give you the benefit of their experience and expertise.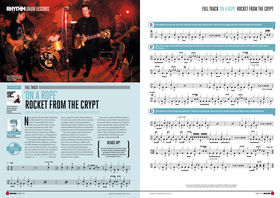 Notated tracks
Learn some great tracks with Rhythm
As well as video lessons from Pete Riley, focussing on two great tracks each month, Rhythm also brings you a fully-notated track – polish up your reading skills and get to it!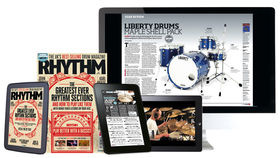 Get Rhythm today!
Subscribe to Rhythm in print or on your portable devices
Does all that tickle your fancy? Here's how to get Rhythm! First of all, you could go down the shops where you'll find us on the shelves. If you want the magazine direct to your door, subscribe to Rhythm at www.myfavouritemagazines.com where you'll always find some enticing subscriptions offers too. Want it on your iPad, iPhone or iPod Touch? You can get Rhythm from Apple Newsstand! Need Rhythm on your Android device? Check out Zinio.com!