Neil Peart Time Machine kit tour
19th Jan 2011 | 16:09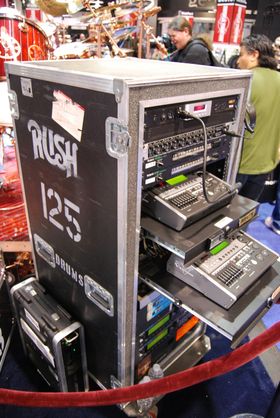 Technology rules!
Neil's sound is ably assisted by a couple of TD-20 modules
When approaching the DW stand at NAMM 2011 we were blown away by this kit. The exact kit Neil Peart will be using on Rush's forthcoming Time Machine tour. The kit is replete with tour finish shells and cymbals and cool steampunk hardware. We couldn't resist taking a few snaps, and here they all are...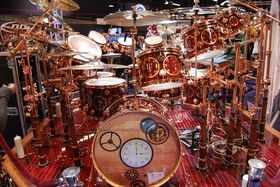 Going the whole hog
Neil Peart doesn't do things by halves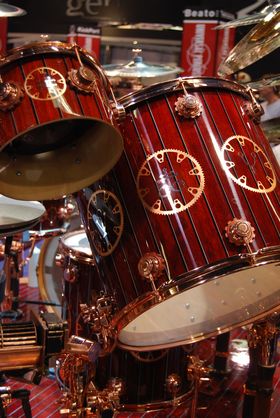 The finish
Here's that finish up close
The finish is inspired by the artwork from the band's latest tour, called Time Machine.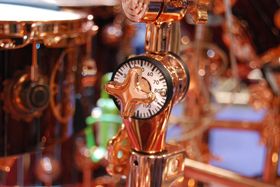 Hardware
Even the hardware gets the steampunk treatment
Gauges and mysterious contraptions cover the kit and really catch the eye.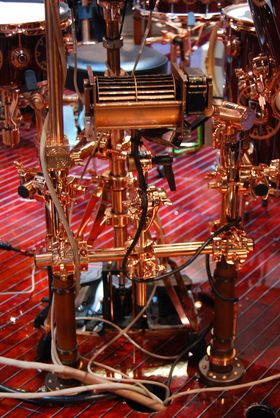 Anyone know what this is?
Answers on a postcard...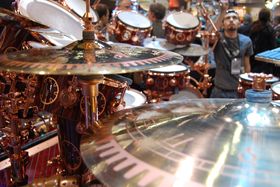 Unique pies
Sabian produced special cymbals just for Neil
Neil and the artisans at Sabian went back and forth to produce these unique cymbals. We reckon they look amazing and sit perfectly with the kit. You can read the full story of their genesis at the Sabian website.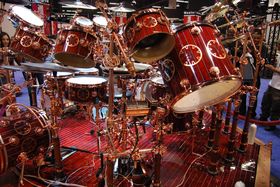 Yet more of this massive kit...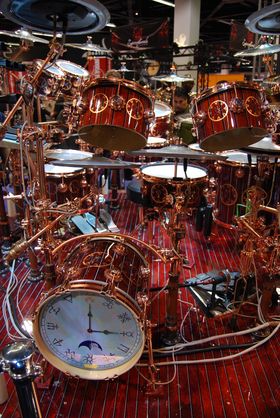 And more...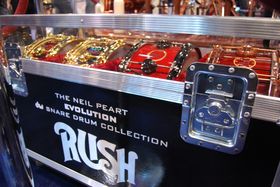 Here's your chance...
to own a slice of Neil Peart gear history
This is the Neil Peart Evolution snare collection. The red velvet-lined display case comes with four of Neil's favourite touring snares. Each set comes with an official plaque signed by Neil and DW drum designed John Good. Best start saving now...