In Pictures: The 2010 Jobeky UK Custom Drum Festival
4th May 2010 | 15:12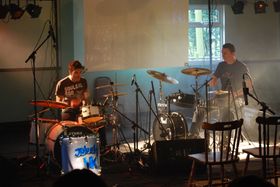 iGrooves
New percussion duo open the show with a blast of double drums
The second Jobeky UK Custom Drum Festival took place last Sunday (2 May) at the Staffordshire County Showground. Rhythm was there in force to check out the latest work from a crop of talented UK custom drum builders.
As well as sumptuous gear the Festival also included a separate live hall featuring an array of performances. South African superstar Travis Marc and his iGrooves project opened the show in style. Their set included a track called 'Chair Song' performed on miked up wooden chairs! Expect to see a lot of more from Travis this year.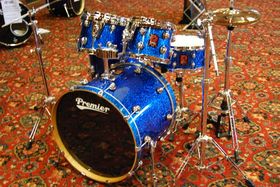 Premier
They're back!
They're a British institution and they're back in force. Premier were displaying a selection of updated Genistas and Elites, plus a tasty looking 100 percent bubinga set.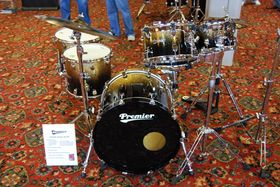 More from Premier
A stunning take on the Elite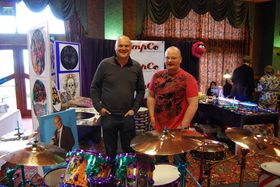 PimpCo
Al Murray introduces PimpCo to the world
TV funny man and self-confessed drum nut Al Murray spent the day at the show filling punters in on details of the new company he has set up with Chris Newell, PimpCo.
The company specialises in custom drum wraps, custom drum head decals and chromatic hardware coatings. Their stand highlighted the extent to which you can pimp your kit, including a salvaged old CB kit that had been granted a new lease of life.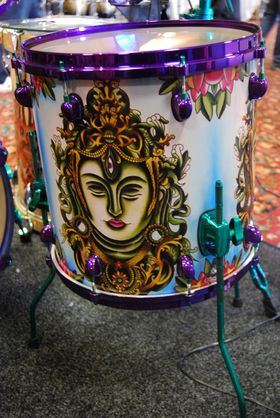 Custom tattoo wraps
Give your kit that unique look with PimpCo
Just one example of what PimpCo can achieve. Choose from a variety of designs, including custom tattoo art from Phil Kyle (London Ink), or drop the PimpCo guys a line with your own ideas. The world is literally your oyster.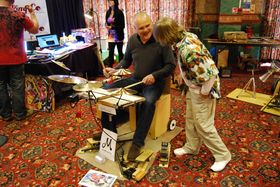 Busker kit
Al Murray checks out a crazy invention
Marcus De Mowbray is a bit of an inventor, and a bit of a drummer, too. You may well have seen pictures of his Busker kits on the web, but to see them in the flesh is a different thing altogether. The concept was to build a portable kit that was still functional in a gigging environment. He has certainly achieved that, and his latest invention incorporates a cajon for the bass drum, with an intricate splay of pedals allowing the player to strike cowbells, wood blocks and control a hi-hat. Absolutely bonkers!
We caught this cheeky snap of Al Murray having a go.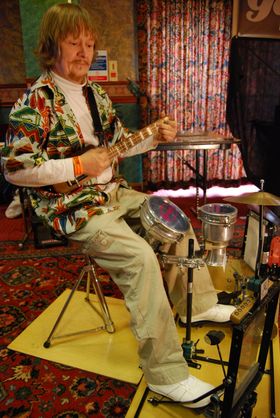 One man band?
Look, no hands!
Another one of Marcus' inventions is this contraption that allows the player to keep a beat with the feet, whilst strumming, tooting or parping on any instrument that requires two hands.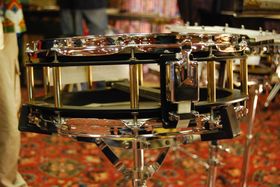 Spacer drums
Introducing the shell-less snare drum
Another amazing invention from Marcus De Mowbray. This time it's a snare drum without a shell...
The initial idea was to create a quieter drum, but the result is the exact opposite. These things are surprisingly loud.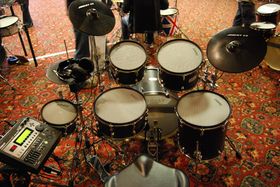 Jobeky
A nice selection from the electro-acoustic specialists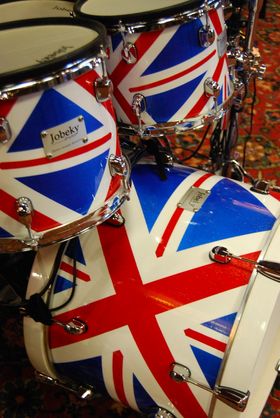 jobeky
For the patriot in all of us
As well as the excellent Prestige drum series Jobeky were also showing what they can achieve with unique finishes.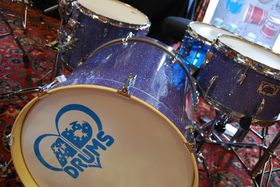 AD Drums
Promising stuff from relative newbies
AD Drums haven't been around for too long, but we like what we saw. The company offers custom shells in anything from maple and birch through to acrylic and steel, as well as cool custom finishes.
Are they set to become the UK equivalent of SJC?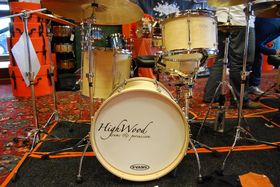 Highwood
Percussive works of art
Now in its sixth year, Highwood has been going from strength to strength and receiving much praise in the pages of Rhythm. We particularly liked this custom birch kit.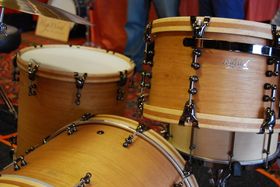 Highwood
And more...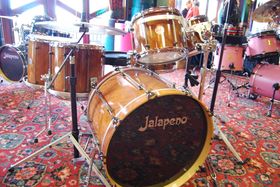 Jalapeno
Hot stuff
Dave Nuttal's Jalapeno Drums were displaying some great new gear including both kits and snares.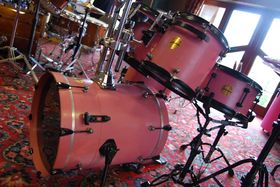 Jalapeno
Space-saving solution
The Jalapeno pack-away kit is a revelation and puts paid to complaints about lack of car space! Check out this review we did a few years back.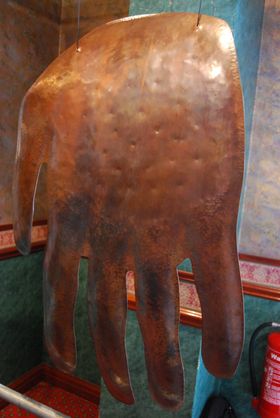 The giant hand
How big is the glove?
Who wouldn't want one of these as part of their set-up? It looks incredible, and sounds just as good. Matt Nolan of custom cymbals fame is the creator, and he has plenty of other marvels up his sleeve, including some cool new triangles.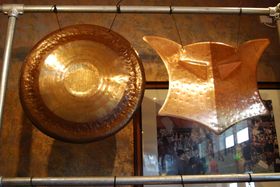 Matt Nolan
More sonic creations from Matt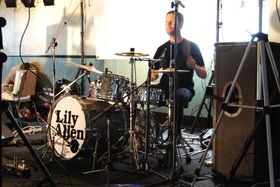 Johnny Jenkins
First ever clinic for Lily Allen's drummer
Lily Allen's drummer Johnny Jenkins performed his first ever drum clinic to a receptive crowd. With economical interaction with the crowd Johnny instead chose to storm through classic hits by The Streets (he was drummer for Mike Skinner's crew for seven years) including 'Same Old Thing' and 'Blinded By The Lights' with an excellent house ending, plus a handful of Lily Allen tracks, proving just why he has the gig.
An excellent clinic debut. Surely we'll be seeing a lot more of him in the future.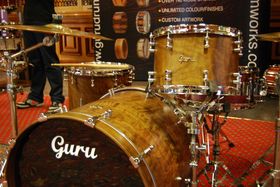 Guru Drumworks
Steam bent walnut kit
Another new company with stunning products. We fell in love with this steam bent walnut kit from Guru Drumworks.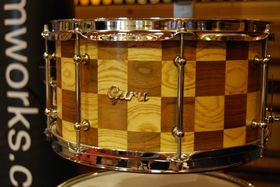 Guru Drumworks
Sizzling snare drum
We couldn't keep our eyes off this snare, either. With exceptional attention to detail, these guys are going to be in demand.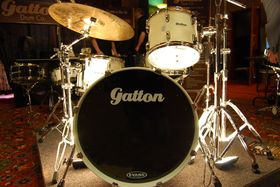 Gatton
First look at prototype kit
Hopefully you managed to check out our review of Gatton's corian snare drums in the February issue of Rhythm. They are now branching out into the world of kits, and this prototype was an impressive indication of things to come. We wanted to take the bass drum home with us...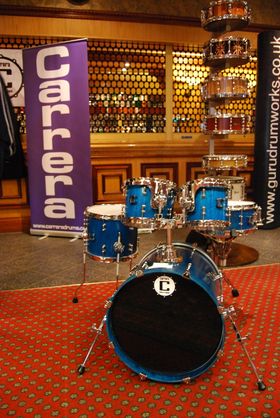 Carrera Drums
First look at Carrera's debut kit
Having reviewed a couple of Carrera snare drums recently, when we heard whispers of a full kit we couldn't wait to check it out. This is the first kit, built for Simon Mellish.
The kit includes 18"x18" bass drum, 8"x8" and 10"x8" toms and a 12"x10" floor tom. It may be diminutive in size, but when Simon unleashed it in the live hall the sound was anything but.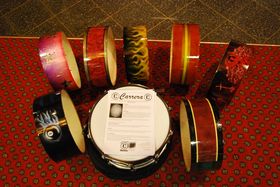 Carrera Drums
A few more tasty snare shells to look at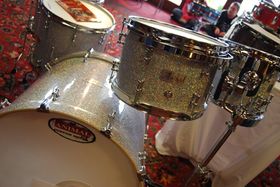 Animal Custom Drums
Great British brand
Animal Custom Drums are really establishing themselves in the UK Custom market, and with endorsees including Rick McMurray from Ash and Rich Battersby from The Wildhearts they also have some great British names among the ranks.