Musikmesse 2013: Zoom H6 Handy Recorder announced
15th Apr 2013 | 08:16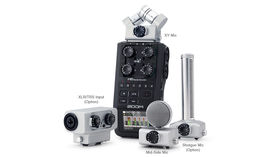 Even in these days of sophisticated smartphone recording apps and accessories, dedicated handheld recording hardware continues to evolve. Zoom's H6 promises to be the first such device to offer an interchangeable mic system, sporting an XY stereo pair and mid-side option
MUSIKMESSE 2013: Even in these days of sophisticated smartphone recording apps and accessories, dedicated handheld recording hardware continues to evolve. Zoom's H6 promises to be the first such device to offer an interchangeable mic system, sporting an XY stereo pair and mid-side option.
There are four XLR/TRS inputs, too, while you can also add a shotgun mic and more XLR/TRS inputs via add-on hardware. Recording quality is up to 24-bit/96kHz and the H6 can also function as a 6-in/2-out USB audio interface.
We don't have a price or release date yet; check out the Zoom website for more.
Zoom H6 Handy Recorder
The world's first handy recorder with interchangeable mic system
XY mics capture remarkable stereo depth and clarity
Mid-side mics provide continuously variable stereo width
Four XLR/TRS inputs for external mic/line connections
Up to six channels of simultaneous recording
High-definition audio of up to 24-bit/96kHz
6-in/2-out USB audio interface
Over 20 hours of operation with 4 AA batteries
Supports SDXC memory cards up to 128GB
Optional Shotgun mic and external XLR/TRS inputs available