u-he Bazille plugin synth set to be released soon
14th May 2014 | 09:50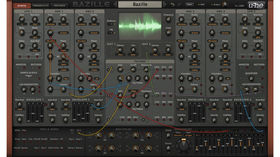 u-he's Bazille synth has become the company's Chinese Democracy. First previewed in 2009, we got a better taste of it at the 2013 Musikmesse, but only now do we have a sort-of confirmed release date
u-he's Bazille synth has become the company's Chinese Democracy. First previewed in 2009, we got a better taste of it at the 2013 Musikmesse, but only now do we have a sort-of confirmed release date: on or around 1 July.
Bazille offers a modular engine which allows for the patching of any signal output into any signal input, which means that it shares some common ground with ACE, another u-he synth. However, this time, we're dealing with digital synthesis rather than virtual analogue.
Specs are below. We'll be checking out Bazille at the earliest possible opportunity, and you can also keep your eye on the u-he website.
Bazille specs
Hybrid modular system: digital oscillators, analogue filters - unlimited patching capabilities
4 oscillators with simultaneous FM (phase modulation, linear / exponential / relative FM), PD (phase distortion) and FR (fractal resonance).
4 multimode analogue type filters, 2 of which have 6 parallel outputs.
4 ADSR envelopes, 2 LFOs with multiple outputs, 2 ramp generators.
2 modulation maps (can be used as oscillator waveforms), lag processors, quantizer, inverters, rectifiers, sample&hold.
Morphing snapshot sequencer: 8 slots of 16 steps each (splittable into 4, 8 or 12-step units).