The 14 best VST plug-in drum machines in the world today
1st Aug 2011 | 09:03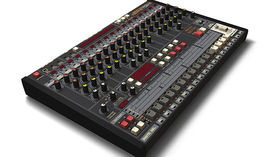 And the beat goes on
Whether you want an authentic emulation of an old-school beat box, a sophisticated virtual kit that sounds just like a real one, or a piece of software that offers the best of the electronic and acoustic worlds, there's a drum machine plug-in available that will meet your requirements.
Although nothing will never quite replace the feeling of hitting a real kit or tapping away on a set of drums pads, it's undeniably possible to create all the drum sounds you need in software, and if you want to get the tactility back, an electronic drum kit or pad-based MIDI controller will sort you out.
Which, though, are the very best VST and AU drum plug-ins for PC and Mac? MusicRadar asked, you nominated; MusicRadar compiled a shortlist and then you voted for your favourite. What follows is a countdown of the results, finishing off with what you think is the best drum machine plug-in in the world today.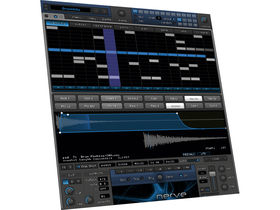 Xfer Records Nerve
PC/Mac, $199
Nerve is the brainchild of Deadmau5 and Steve Duda. It's a drum machine that sports powerful effects, a sequencer and up to eight stereo outputs. It's also pretty intuitive, and offers an easy-to-use built-in sidechain compression feature.
This is one of the reasons why Nerve is ideally suited to producers of house music; its clever handling of REX files and 2GB worth of artist samples are two others. In fact, if you're a fan of Deadmau5, you'll probably like this.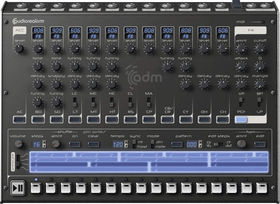 Audiorealism ADM
PC/Mac, €113
While some companies have emulated Roland's classic TR beat boxes in separate plug-ins, Audiorealism has put them all into one. ADM (Audiorealism Drum Machine) offers 909, 808 and 606 sounds, a step sequencer and plenty more besides.
Happily, these emulations sound stunningly authentic: analogue modelling is used for all of the 606 and 808 sounds, and it's a combination of samples and synthesis for the 909 (which is how the real 909 tones are generated). To top things off, it's even possible to mix and match sounds from different kits.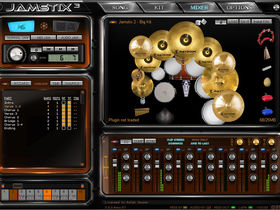 Rayzoon Jamstix
PC, $99
Jamstix embraces the virtual drummer concept that's also at the heart of Steinberg's Groove Agent. So, as well as providing you with the sounds, it plays them for you - and in a variety of styles. Thanks to its VSTi sub-host, you can even use the software to drive another drum machine, but with a 1.3GB library included (this is expandable), you might not need to.
If you're running short on rhythmic inspiration, this could be the software to provide it.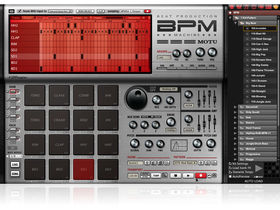 MOTU BPM
PC/Mac, £299
There were some nominations for Native Instruments Maschine, but given that it can't be bought as a software-only product, we didn't think it fair to include it. BPM, though, which explores similar groovebox territory and runs either standalone or as a plug-in, is definitely a contender.
With its comprehensive looping and sampling capabilities, this is more than just a straight drum machine, and is particularly suited to producers who work in - for want of a better word - urban styles. If your ideal product is a software MPC, take BPM for a spin.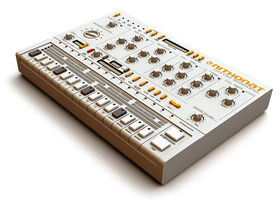 d16 Group TR emulations
PC/Mac, €99 each
This eight-channel drum machine from the creator of Reason's Malström synth has been chugging along for quite a few years now, and it still has a great reputation among enthusiasts and pros alike.
Each drum tone is generated by a synthesis module that features an oscillator and a noise generator and can be also be run through a filter, EQ and distortion There's a step sequencer, and plenty of patterns come included. MicroTonic won't appeal if you like your drums to sound 'real', but for lovers of electronic rhythms, it offers endless possibilities.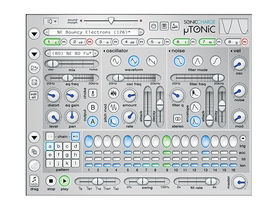 Sonic Charge MicroTonic
PC/Mac, €119
FXpansion launched its Guru drum machine way back in 2005, so by 2010 we were beginning to think that we'd never see a successor. But then it arrived: Geist is cut from similar cloth but actually contains completely new code.
Whether you want to work with loops or single hits, this is a supremely elegant and powerful beat-making solution that comes with high-quality slicing, mixing, sampling, automation and effects tools. Geist can get pretty intense, but if you want to go deep with your electronic beat-making, it's one of the best bits of software you can buy.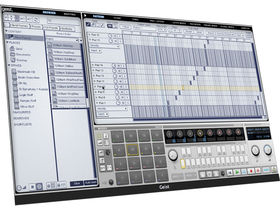 FXpansion Geist
PC/Mac, £189
Stylus RMX may have been around for a while (since 2004, in fact), but it remains a formidable rhythmic force. It's a "real-time groove module" that features a large library of pre-sliced, multitrack audio beats.
Fundamental functionality includes altering the pitch; applying envelopes, LFOs and ­filtering; playing back eight parts (beats) at once; and the grouping of slices for individual processing via the onboard e­ffects.
Thanks to some well-judged updates, Stylus RMX can still mix it with the best of them, and the Xpanded edition contains more than 13GB of content.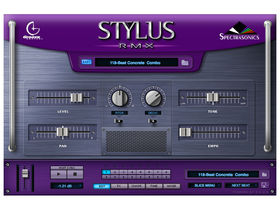 Spectrasonics Stylus RMX Xpanded
PC/Mac, £259
For many, the partnership of Native Instruments and Abbey Road that was announced in 2009 represented a match made in heaven, and with its Drums series, the software company has certainly done justice to the studios' name.
It currently comprises four products - 60s, 70s, 80s, and Modern Drums - and each features samples taken at Abbey Road. So if you want an easy way of getting high-quality drum sounds from a particular era, look no further.
Native Instruments Abbey Road Drums
PC/Mac, €99 each
BFD2's sounds are sampled from real kits using a variety of mics to capture both the 'direct' sounds of the drums and room ambiences, with articulations varying from simple hits to flams, rimshots, sidesticks and edge hits. Couple that with detailed multisampling of many velocity layers, and the result is something that's far beyond what you get from a traditional drum machine.
The built-in Groove Engine makes creating realistic drum patterns a breeze, and there are plenty of useful processing options onboard too. It's potentially complex (a cutdown version, BFD Eco, is also available), but if real drums are your thing, BFD delivers.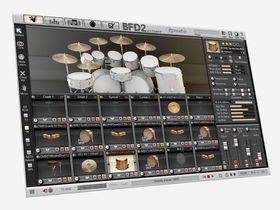 FXpansion BFD
PC/Mac, £149
XLN's take on the drum ROMpler concept has found plenty of fans since it was released. Addictive Drums comprises three main elements: a sample library, onboard effects processing and performance patterns.
While you don't get quite the same level of complex configuration options that you'll find in rival software, Addictive Drums is quick and easy to use and sounds great (especially when you consider that the library weighs in at just 3GB). It's expandable too, ensuring that, when it comes to live drums, this software is up there with the best of them.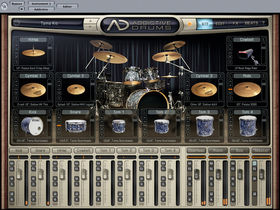 XLN Audio Addictive Drums
PC/Mac, €235
EZdrummer provides what an awful lot of people want: a means of creating great acoustic drum tracks quickly and easily. It doesn't come with a huge number of kit pieces, but those that are included sound great, and thanks to its built-in MIDI player, it gives you access to some 8,000 drum patterns right away.
Load up EZdrummer and within seconds of starting a new project you can be assembling a kick-ass drum track with perfect sound. Combine that with the option to expand the library with your own MIDI loops and Toontrack's EZX add-on drum packs, and you've got a winning solution that enables you to produce world-class results straight away.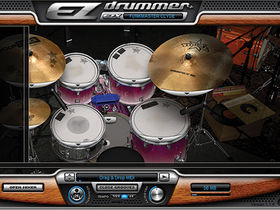 Toontrack EZdrummer
PC/Mac, £89
If EZdrummer isn't sophisticated enough to meet your rhythmic requirements, we suspect that Superior Drummer, its big brother, will be.
Offering separate drum kit and mixer views, it's extremely well-equipped. The interface is slick, the library sounds (20GB of them come included) are fantastic, and you can adjust the mic configurations. You can call upon a high-quality selection of effects, too.
Like EZdrummer, Superior comes with a library of MIDI grooves and can be expanded, and there's even a standalone version for e-drummers. It's arguably the most complete drum ROMpler on the market, so fully deserves its high ranking.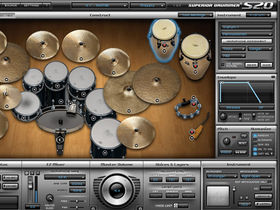 Toontrack Superior Drummer
PC/Mac, £199
It might look more like a spreadsheet than a drum kit, but when it comes to beat making, Battery has it where it counts. Its 12GB library contains over 100 kits, and these cover a huge range of both acoustic and electronic styles.
Sounds are loaded into the cell matrix (this can contain up to 128 cells) and can be edited in pretty much any way you can think of (both on a global and per-cell basis). There are some great effects, timestretching options, and you can even import sliced loops. Plug in a MIDI drum controller and Battery gets even more fun.
Put simply, anyone who's serious about their beats should give Battery a try.
---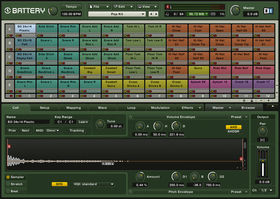 Native Instruments Battery
PC/Mac, €179