Stonebridge production tutorials
10th Dec 2012 | 14:45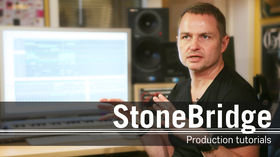 Part one of Future Music's exclusive video tutorial mini-series with Stonebridge. He explains how to process and treat vocals and gives an exclusive insight into how he comps sparkling dance music vocals.
Welcome to Future Music's brand new three part, mini-series of production tutorials featuring legendary DJ and Producer Stonebridge.
Click play to see part one, where Stonebridge explains his working practices for vocals, how to get the best out of a vocal session and some nifty processing tricks.
Don't forget you can also see the classic In The Studio video with Stonebridge over at the Future Music YouTube Channel.