Me in my studio: Henry Saiz
7th Jun 2013 | 14:00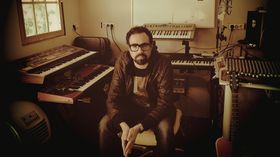 Intro
"So, this is my last studio, it´s at the yard of my house, just in front of the beach in the Mediterranean coast. I don´t have all my gear in there otherwise would be too messy I just bring something when I need to use it, but this is pretty much what I use for my productions."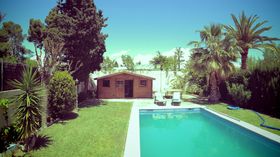 Studio ouside
"Originally this was an old shed next to the swimming pool but I thought the place was just perfect for a studio, so some friends helped me to turn this into a beautiful place. To be honest I always wanted a studio exactly like this. I did my whole album here, it´s a special place for me."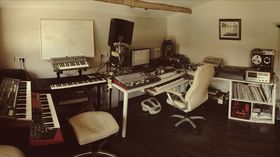 Studio inside
"So, I'm more looking for a nice, inspiring spot than a big super professional studio, this is cozy and pretty isolated which is what I need to be focus in my music."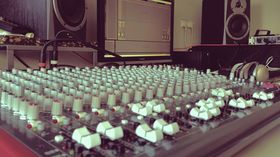 Allen & Heath ZED-R16
"I work with Ableton live and Reason via Rewire through an Allen & Heath ZED-R16 analog mixer, i use Native Instruments Komplete and hundreds of plug-ins but i mostly work recording my own samples and live instruments using many different analog signal flow machines as you´ll see."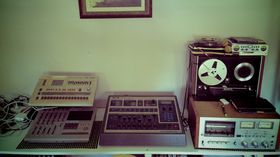 Vintage mixers and tape machines
"I have a quite big cassette players-recorders collection but those are the last i used for the album. I like music and sound to tell a story, to feel organic and alive.
"For me, the best way to reach that is by using old hardware and analog formats, there´s nothing better than a 20 or 30 years old dusty cassette tape that has been used hundreds of time, what you find there sometimes it´s just amazing, sounds haunting and mysterious.
"That old yamaha mixer is a true gem, you can´t believe how beautiful their equalization sounds and it even has an amazing build-in spring reverb and a drum machine! I use it all the time, most of the time the sound goes through it before it goes through my main mixer and Ableton."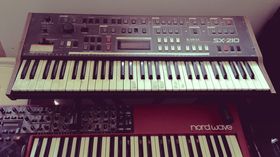 Hardware synths
"Some of my hardware synths here. That dirty Kawai sSX210 has an amazing fat, crunchy sound, I'm in love with it.
"The Nord Wave is wicked too, i use it mainly for my live sets since i can import my studio sounds to it, my friend Pional recommended me this synth and it was indeed a great idea."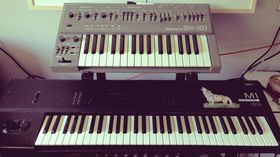 More synths
"The Korg M1 is one of my favorite synths ever, a total classic. I use to work a lot with the virtual version but the real synth is justunbelievable, although it is one of the first digital synths the sound is much better in the hardware version.
"The Roland SH-101 is another classic synth that I love, I sync it with Ableton using some Doepfer cv to MIDI connections or just play it live."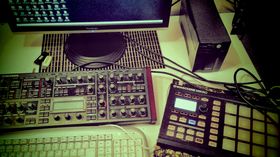 Maschine and Virus
"My Access Virus 3 is also a great piece of hardware and you can see in that picture a Native Instrukments Mikro Maschine which I use as a drum controller, I always prefer to play the beats myself to give it a real feeling."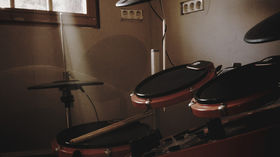 Drum kit
"I play drums using the Drumit5, for me the best digital drum kit on the market.It feels JUST like a real drum, well, actually it isa real drum..."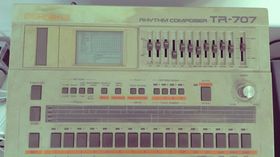 Roland TR-707
"The Roland 707 is probably my favorite drum machine along with the SP12 and the Oberheim dmx, It's really a different experience to make beats with hardware drum machines than write asequencewith midi and definitely more interesting for me."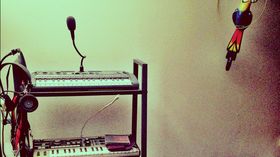 Old Casios and a parrot
"I love an old casio. I use them a lot, not only for synth sounds but for drum sounds. Microkorg and microsampler up there and a lovely fake parrot from Playa del Carmen, Mexico, which fits great with the cheesy Scarface-Miami-like wallpaper. Don´t judge me, it just works for me! Haha!"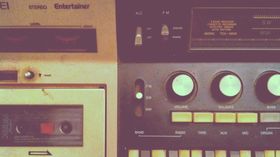 Weird old machine
"This is an old weird piece of hardware which has keyboard casio-like sounds, a cassette, microphone and radio integrated! Bizarre. I love it."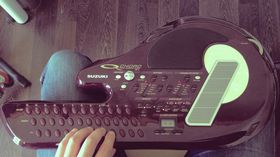 Midi guitars and Q-chord
"I play lot of guitars in my tracks and also converted that guitar into a MIDI guitar. Plus, I also use the You Rock midi guitar which is pretty awesome. The other little machine I love is the Suzuki Q-chord, the last version of the classic Omnichord a very special and fun instrument to use."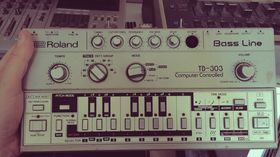 Roland TB-303
"My beloved roland 303, which I use a lot"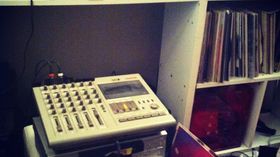 VHS tapes
"I also have a set up based around recording to VHS which I used a lot on my album. I love the texture of the VHS, you can get quite amazing sounds by bouncing the sound into really damaged VHS tapes."