Low-cost laptop to feature two touch screens
21st May 2008 | 13:45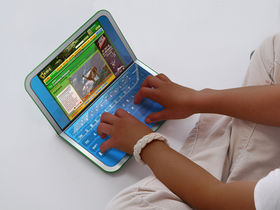 Next-gen OLPC laptop
The new OLPC machine features a pair of touch screens.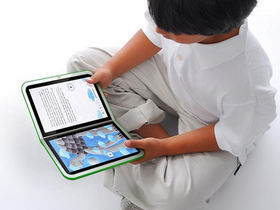 Next-gen OLPC laptop
The laptop can be used in an e-book configuration.
The One Laptop Per Child association wants to sell its new machine for just $75
You may have heard of the One Laptop Per Child (OLPC) association, which aims to put low-cost computers into the hands of children in the developing world. Well, the second-generation OLPC machine has just been unveiled, and frankly, it looks stunning.
Featuring a pair of touch-sensitive displays, the new laptop has the look and feel of an e-book. You don't have to handle it vertically, though – the lower display can be set up as a keyboard, and the machine can even be used in a 'chess board' configuration (with one person sitting on either side).
Other improvements over the original OLPC machine include a smaller footprint, lower power consumption and – remarkably – an even lower price. The new laptop is due to be released in 2010 and its developers are aiming to sell it for just $75.
We have to wonder whether this is achievable – the plan was to ship the original OLPC X0-1laptop for $100, but it currently costs around $188 – but if it is, we imagine that the new machine will be of interest to all computer users, music makers included…