What's the best guitar amp for heavy metal?
11th Sep 2012 | 09:32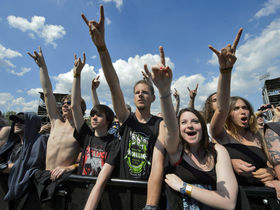 UPDATE: POLL NOW CLOSED
UPDATE: POLL NOW CLOSED - CHECK OUT THE RESULTS HERE

Heavy music and hefty amp stacks go together like bread and butter, but what's the best guitar amplifier for metal players?
The last time we asked that question was back in 2009 and a lot has changed in the amp world since then. As such, we've combed through our extensive reviews archive, racked our brains (and those of Total Guitar and Guitarist magazines), bickered and, finally, drawn up a 20-strong shortlist of serious 2012 contenders, but we want your help in deciding the results.
Perhaps in recent years you've been drawn to newer models such as Laney's Ironheart heads, the pint-sized Orange Dark Terror, or Blackstar's Gus G Blackfire 200 signature amp? Alternatively, are you unimpressed by the new breed? Do you stick resolutely to your Peavey 6505, think the Marshall TSL series can't be bettered, or maintain that you don't mess with a MESA?
You've got one week to let us know by voting for your favourite in the poll below. Once the results are in we'll use them to help us put together a list of the best amps for heavy metal that's truly representative of 2012's on-the-shelf selection.