VIDEO: Me and my guitar with Richie Sambora and Orianthi
18th Aug 2014 | 18:25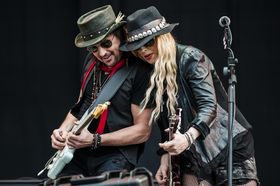 Richie Sambora brings his original '59 Gibson Les Paul to meet Total Guitar backstage at the Download festival, while bandmate Orianthi shows her 'Manos' PRS Custom 22 for this installment of Me And My Guitar.
It's not often you see the Holy Grail of tone backstage at a festival but Richie Sambora's original '59 Gibson Les Paul rarely leaves his side.

Joining him is bandmate in his solo band, Orianthi, who brought her own mainstay guitar; a PRS Custom 22 she calls 'Manos'. They give us the rundown on both.