VIDEO: Bernie Marsden's 1959 Gibson Les Paul Standard, 'The Beast'
16th Apr 2012 | 14:42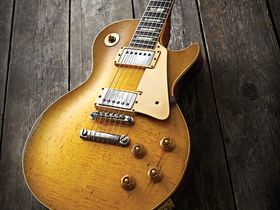 Hear this amazing guitar in action and the story behind it
Issue 353 of Guitarist magazine's cover stars were a pair of gorgeous instruments in the shape of Bernie Marsden's new PRS SE signature model and a very special vintage guitar indeed.
Bernie Marsden is the renowned Brit blues-rocker who found fame with Whitesnake in the late 1970s, following stints with Wild Turkey, and Paice, Ashton & Lord.
In 1974 he parted with £500 ("It may as well have been 50 grand at the time," he quips) for the 1959 Gibson Les Paul Standard you see here. It's been with him ever since and is now worth a small fortune.
It is, as Bernie affectionately calls it, The Beast. Check out the story behind the guitar and listen to Bernie play it in the video above.