VIDEO: Alter Bridge Fortress Track By Track Interview
12th Sep 2013 | 16:00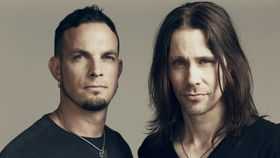 Total Guitar talks to Myles Kennedy and Mark Tremonti about the new Alter Bridge album Fortress in an in-depth interview on the playing behind every song.
Alter Bridge's Fortress is one of the key guitar albums of 2013; a higher energy record for the band that's full of huge riffs, anthemic choruses and searing leads with Mark Tremonti and Myles Kennedy upping their already impressive standards as guitarists.
In this video interview Mark and Myles talk Total Guitar through all 12 songs on the album to explain the playing and tones behind it.