The best of YouTube: #53
27th Mar 2009 | 16:53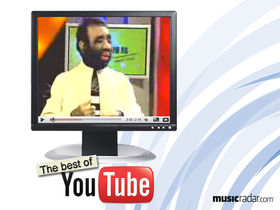 China's hairiest man rocks out!
Every Friday, the MusicRadar team submits its own personal favourite music videos and clips on the net.
Some clips we really like, others are simply comedy classics or oddly intriguing. But all are worth watching.
This week: marvel at the wonder that is Jimmy Page on bass, stare in awe at a 54-year-old schoolboy ...and watch Pharrell Williams waiting for a McDonalds. Amazing!

Pharrell Williams Vs McDonalds
Being famous is usually enough to get you anything you ever wanted… just not if you're in McDonalds in Paris and your name is Pharrell Williams. Even making up a McRap and doing a McDance around the empty forecourt isn't enough to persuade the bemused staff members to serve a Big Mac before the restaurant has even opened for breakfast. Yep, someone just called the police…. Tom Porter

The Yardbirds - Train Kept A Rollin' (Jimmy Page on bass)
Two years before he would turn the world on its ear with Led Zeppelin, Jimmy Page was a Yardbird, and here he is playing bass(!) on a particularly stomping version of Train Kept A Rollin' at an equally stomping outdoor show in France. The late Keith Relf shows all the harmonicats out there how it's done. Joe Bosso

Bonnie 'Prince' Billy: I Am Goodbye
Excellent new album Beware sees Will Oldham keep in touch with his more country tendencies, as last realised on Greatest Palace Music. I Am Goodbye is the first promo video for the album and, whilst not as sublime as this, is a sweet representation of an artist at the peak of his considerable powers. I love him. So should you. Mike Goldsmith
Future Of The Left - The Hope That House Built
From the ashes of McLusky and Jarcrew came noisy and fiercely intelligent Cardiff trio Future Of The Left. Album number two is imminent, and The Hope That House Built is the lead single. Frankly, it makes us want to wear a hat that looks like a beard. Check out the band's official website to hear more. Chris Vinnicombe

The world's oldest schoolboy is 54
Despite a stage career that spans four decades, AC/DC's Angus Young is 'only' 54 this week (31 March). Here's AC/DC's Problem Child live in 1977. Verily, it rocks like a bastard. (More delicate souls can watch a Pop Art speed painting of Angus Young and late AC/DC frontman Bon Scott.) Michael Leonard

Still Bored?
Here's the world's second-hairiest man rocking-out on Chinese television.