The best of YouTube: #46 – Grammys special!
6th Feb 2009 | 12:56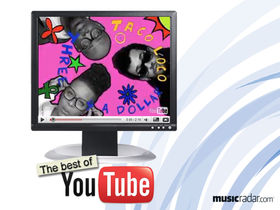 Video niceness from 2009's gong hopefuls
Every Friday, the MusicRadar team submits its own personal favourite music videos and clips on the net.
This week, MusicRadar serves up a BOYT special featuring only artists who have been nominated for awards at the 2009 Grammys.
The big awards usually go to mainstream names, but these nominees show the richness of music being celebrated on Sunday 8 February.
And don't forget to checkout MusicRadar's fearless 2009 Grammy Predictions and 39 geeky Grammy facts…

Duffy strips down Hot Chip's Ready For The Floor
Duffy's up for a three awards, Hot Chip are up for Best Dance Recording with Ready For The Floor. Combine Duffy's sultry-croon with Hot Chip's lyrics replacing the raucous beats with a softly softly acoustic guitar and you've got... well, something completely different. Tom Porter

Sly & Robbie with Black Uhuru at Glastonbury
Reggae's greatest drum and bass partnership - veterans Sly Dunbar and Robbie Shakespeare - are nominated in 2009 for Best Reggae Album for their album, Amazing. Here are 'Drumbar and Basspear' when part of Black Uhuru (whose Grammy-winning '84 album, Anthem, they produced) way back at 1982's Glastonbury. You don't see them much, but you can hear their brilliance. And in the intro, marvel at how much space there used to be at Glasto. Michael Leonard

Booker T & The MGs perform Green Onions
With Felix Cavaliere, guitarist Steve Cropper is up for 2009's Best Pop Instrumental Performance for the song Love Appetite. Here's Cropper back in the day with the mighty, the souful, and yes, the 'mod' (as the YouTube link says) Booker T & The MGs performing the group's first big hit, Green Onions. At the 1:30 mark Cropper lets loose with his signature Telecaster bends. And dig that groovy audience too! Joe Bosso

Erykah Badu's Honey
The lady who last week gave birth on Twitter is up for Best Short Form Music Video thanks to this ingenious promo (see how many of the album covers you can spot). It has to be said, though, that the song itself is probably the least interesting thing on 2008's stunning New Amerykah Part One (4th World War), which probably explains why it was only included as a 'secret track' in the UK. Ben Rogerson

Weezer play Say It Ain't So live on the Warped Tour in 2000
It's no great surprise that Weezer's clip for Pork And Beans has seen them nominated for Best Short Form Music Video at the Grammy Awards this year - the band have been dishing out classic promos since Spike Jonze's treatment for Buddy Holly way back in 1994. This live performance of the stupendous Say It Ain't So catches them close to their crunchy-yet-melodic best. Chris Vinnicombe

Charlie Louvin's Ira
Tucked away in the Best Southern, Country, Or Bluegrass Gospel Album category is this tragic treat. Charlie Louvin (or with late brother Ira as The Louvin Brothers) has long been the hepster's bluegrass choice, with 2007's Grammy-nominated self-titled album (from which our clip is taken) boasting guest slots from Jeff Tweedy, Elvis Costello and Will Oldham. Steps To Heaven is a more traditional gospel-tinged affair but strong production from Lambchop's Mark Nevers plus Louvin's 81 year-old time-weathered voice guarantees a wider audience. Watch this tribute to his late brother and cry your eyes out. Mike Goldsmith

Radiohead's Morning Bell – progressive bluegrass style
Radiohead are up for a few awards this year, including best album for In Rainbows. Here's a cover of the 'heads 2000 track Morning Bell played by Chris Thile's Punch Brothers. One of the absolute best covers we've ever seen. Chris Wickett