Slash on new album Apocalyptic Love: track-by-track interview
10th May 2012 | 14:07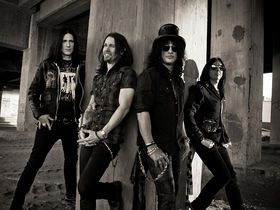 Slash - Apocalyptic Love, featuring Myles Kennedy and The Conspirators
"Is this album a statement? I think I really need to stick to my guns and do things the way I think they should be done."
Slash's first solo album redefined a guitar icon for the next stage of his career, now he's written with Alter Bridge's Myles Kennedy for the follow-up and is raising the bar his way. Here, he gives us the insider's perspective.
---
--
For more on the making of Apocalyptic Love including a track-by-track guide to the new album from Myles Kennedy, check out Total Guitar issue 228, on sale 14 May 2012. Buy Total Guitar magazine on Apple Newsstand. US readers click here.
The Classic Rock Presents: Slash Apocalyptic Love Fan Pack is available for pre-order now at www.bit.ly/slash-fanpack.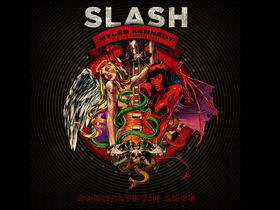 Apocalyptic Love
The album cover art suggests that this might just be a rock 'n' roll record...
"That was the first song I went to Myles and the guys with at some point in late 2010, maybe early 2011. I would make up stuff here and there and record it in GarageBand or Pro Tools in my laptop.
"I would get the basic ideas I had – be it two parts, three parts or a whole song – then send it to Myles and he would come up with melodies."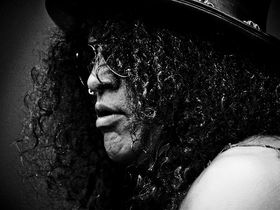 One Last Thrill
Slash at T In The Park in Scotland, 2011
"Nobody does that old rock 'n' roll, Chuck Berry thing any more.
"It's that very unbridled rock thing without any meticulous care but I actually wrote it on an acoustic."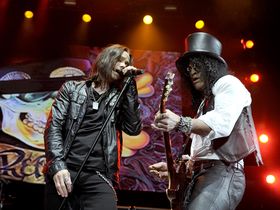 Standing In The Sun
Onstage with Myles in San Jose, 2011
"For that song, as well as Halo and Bad Rain, I used my live guitar, the Gibson [Slash Appetite] Les Paul because my Derrig [the guitar used on Appetite For Destruction] was in the shop for repairs.
"The outro riff I play at the end of this was a very spontaneous thing – I made it up on the spot because we couldn't think of an ending! Whatever the first idea is when I'm working on a song, that's the one that stays. Then I'll play it every time we rehearse and it'll start to take on a life of its own."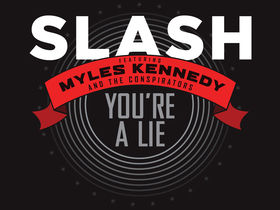 You're A Lie
The lead single from Apocalyptic Love
"This song was the second one I presented to the band during writing and it had a different chorus for a while there. Then it had another chorus riff and just before we decided to can the song I came up with the idea for the chorus that's there now.
"I don't like to work on anything for too long, I just move on."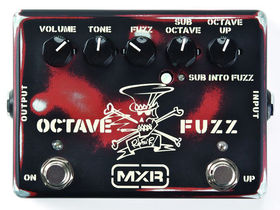 No More Heroes
Featuring the MXR Slash Octave Fuzz signature pedal
"I used my neck pickup with the tone off for the main riff. It had a longer solo originally and we shortened it because it was going on and on and on. I was trying to get the same amount of punch out of it in a shorter amount of time. That was a little tricky for me at first – I kept wanting to go off.
"And I'm sure some people will say, 'You should have gone off', but it sort of lost the direction of where the song should go – and the effectiveness of the arrangement. After a couple of plays through it worked itself out.
"I used a pedal that I've designed with Dunlop, an octave fuzz pedal, which was cool. It's coming out soon."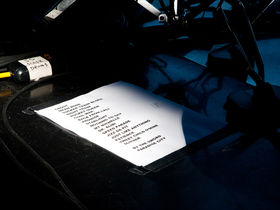 Halo
A setlist from the road, Rome 2011
"It is definitely a metal riff but it was actually inspired by some music I heard when I was in Spain at a hotel. It was the kind of music you'd never have guessed could inspire it in a million years. I got the melody stuff in my head and your brain has a way of turning things around. When I got to the gig that night in the dressing room I turned it into this other thing and that's what Halo is.
"A lot of this record was written on the road – musicians that say they can't write on the road are usually busy doing something else! I think it's been my way of keeping myself out of trouble, to take all the energy I used to put into partying and spend it on the guitar. But it's very inspired. It's not like I make myself do it. I get to my room and I've got ideas so I'll work on them, rather than waiting until later."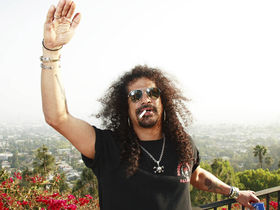 We Will Roam
Slash at home in LA, 2006
"It's a little different from other things I write. I wrote this song at home when I was off the road. I play both the rhythms on here. The first guitar that you hear in the intro is a baritone then I did it again on a regular guitar.
"It was written on a baritone, too – a Music Man that I have at home. It's a very spontaneous fingerpicking solo in We Will Roam. All solos should take on the life of the song. I think that's really important.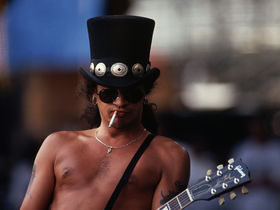 Anastasia
Rehearsing for Rock In Rio, 1991. Slash's guitar solo spots were a staple of the Use Your Illusion era
"This track was born out of something I started doing during my guitar solo during the live shows. It turned into an entire song and there's an extended outro solo and an extended fingerpicking intro. It's probably the most guitar-focused song on the record.
"Am I harking back to the Use Your Illusion-era epics? Well, I wouldn't compare it to Use Your Illusion but it's definitely a guitar epic."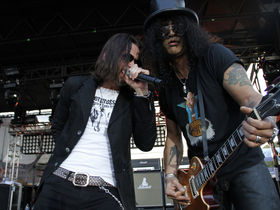 Not For Me
Myles Kennedy and Slash perform at the 2010 Sunset Strip Music Festival
"This was the last song we wrote on an acoustic when we were out on the road. I was really attached to it and when I sent all that random leftover stuff to Myles it was one of the songs he didn't react to right away. So I thought he didn't like it. But then he told me, 'Oh, I have a really great thing for that'. It's really cool. It's one of the slow songs on the record but it's very heavy. It starts off mellow but then it turns into heavy choruses.
"That particular song has a really poignant lyric – it's very whispery in the beginning. It's about when you decide that enough is enough when it comes to all your partying. It touches on it in such a way that really makes you think. I've never heard a song that talks about when you finally decide you've had enough. It's really affective. I said to Myles, 'Now you have to write a song about falling off the wagon!"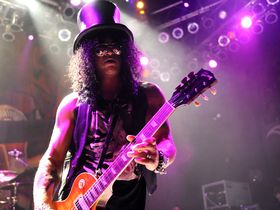 Bad Rain
Happier under stage lights than in the glare of a laptop screen
"That was something I remember recording on Pro Tools on my laptop. It takes forever to set that shit up, then by the time you've set it up you don't feel like playing any more.
"It was something I heard in my head and it pretty much came out as I heard it. It's pretty cool. It's in drop D."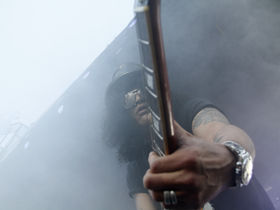 Hard And Fast
Smoking ban? What smoking ban...
"It's a flat out riff in A, C, D and E. It was written in between takes of another song we were working on.
"After working on something for a long time you need to break out of it. That came up spontaneously on the spot and we put it together real fast then went back to work on the other song."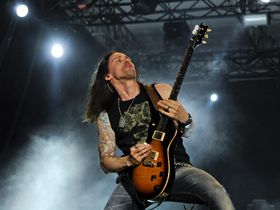 Far And Away
Myles Kennedy, no stranger to the guitar, onstage with Alter Bridge
"There's no what you would call 'ballads' on this record. But this is the closest thing to it – a slow picking blues song.
"It's really cool. Myles actually plays some blues licks on this song as well."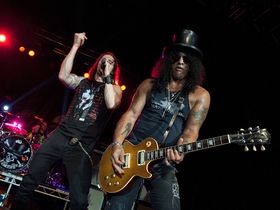 Shots Fired
Brothers in rock, onstage in Birmingham in 2011
"The chorus is one of the guitar parts that Myles came up with for the record.
"This one was another song that was written at my house and then I sent it to Myles and he came right back with the chorus part and it pretty much wrote itself after that."
---
--
Want to see Slash, Myles Kennedy and The Conspirators live in 2012? Go here for tour dates and ticket information.
For more on the making of Apocalyptic Love including a track-by-track guide to the new album from Myles Kennedy, check out Total Guitar issue 228, on sale 14 May 2012. Buy Total Guitar magazine on Apple Newsstand. US readers click here.
The Classic Rock Presents: Slash Apocalyptic Love Fan Pack is available for pre-order now at www.bit.ly/slash-fanpack.