NAMM 2014: Fender Custom Shop Guitars stand in pictures
23rd Jan 2014 | 18:05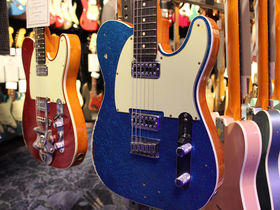 NAMM 2014: Fender Custom Shop stand in pictures
That's the Fender Double TV Jones Relic Telecaster in Blue Sparkle up there. We want one.
NAMM 2014: Fancy a Tele covered in diamonds? An eyeball-busting pink Jackson? Then step right in to our gallery of Fender Custom Shop's stand at NAMM.
Click through for pics of guitars that will blow your mind. Probably.
For more information visit the official Fender Custom Shop website.
Fender Custom Shop press release
Fender Double TV Jones Relic Telecaster in Blue Sparkle
Custom Teambuilt
Lightweight Okume body, lacquer finish
TV Jones Classic pickups, Greasebucket tone circuit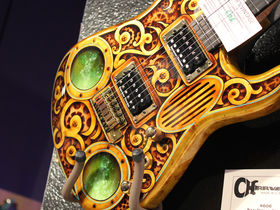 Charvel San Dimas 2Hum
Charvel San Dimas 2Hum specs
Custom painted by Craig Fraser
Alder body
Seymour Duncan pickups
Floyd Rose Original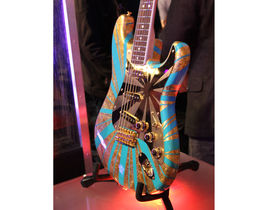 Fender 1965 NOS Strat
Fender 1965 Stratocaster NOS specs
Taos Turquoise / gold leaf stripes
Master Built
Alder body, poly finish
Medium jumbo frets
Handwound fat 50s Strat pickups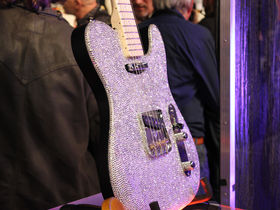 Fender Diamond Topped Telecaster
Fender Diamond Topped Telecaster specs
Swarovski crystal covered
One-off Master Built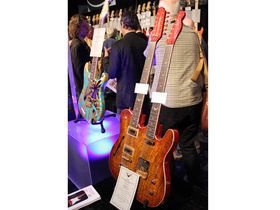 Fender Double Neck Telecaster Amberburst
Fender Double Neck Telecaster Amberburst specs
Okume Body, Bastogne walnut top
Masterbuilt
RSD Tele Bridge / Custom 12-string Tele Bridge
Handwound Broadcaster Bridge PU / Handwound Twisted Tele neck pickup
TV Jones pickups on 12-string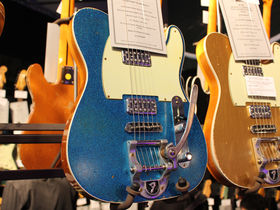 Fender Double TV Jones Relic Telecaster in Blue Sparkle
Fender Double TV Jones Relic Telecaster in Blue Sparkle specs
Custom Teambuilt
Lightweight Okume body, lacquer finish
TV Jones Classic pickups, Greasebucket tone circuit
Bigsby B-5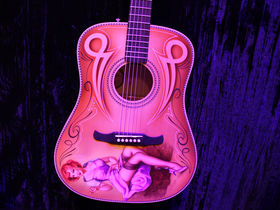 Fender Kingman bolt-on Pinup Girl
Fender Kingman bolt-on Pinup Girl specs
Engelmann spruce top
Artwork by Ala Pastrani
Mahogany back and sides
Strat-style headstock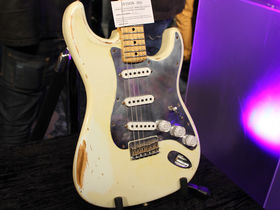 Fender Nile Rodgers Tribute Hitmaker Stratocaster [display model only - this one was not for sale to dealers so nobody 'got lucky']
Fender Nile Rodgers Tribute Hitmaker Stratocaster specs
Olympic White
Alder body, lacquer finish
Handwound 1969s Strat pickups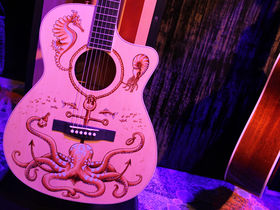 Fender Melanie Steinway FSR Octopus acoustic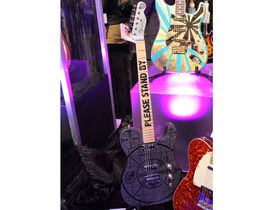 Fender Please Stand By Tele
Fender Please Stand By Tele specs
Telecaster NOS in silver sparkle
Master Built
Alder body, TV test patterns over silver sparkle
1-piece maple neck
large c-shape neck
vintage frets
TV Jones Pickups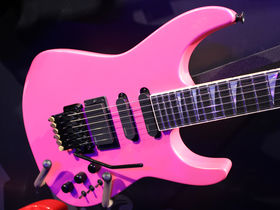 Jackson Limited Edition 30th Anniversary Soloist pink
Jackson Limited Edition 30th Anniversary Soloist pink specs
Masterbuilt
Poplar body
EMG pickups, 3 mini on/off toggles