NAMM 2008: Boss GT-10 offers improved modelling engine
18th Jan 2008 | 12:26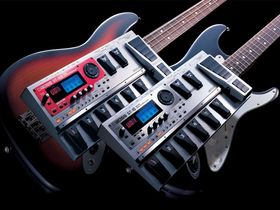 Boss GT-10 and GT-10B
Boss GT-10B for bass (top) and GT-10 for guitar.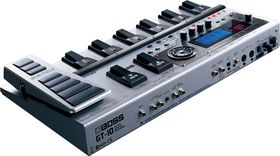 The Boss GT-10 offers a wide range of connectivity options.

The USB connection is new to the GT range.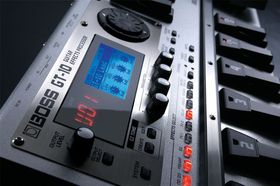 The large LCD and bright LED offer high visibility.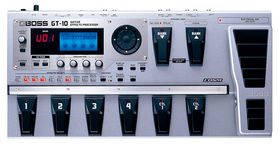 The rugged construction should stand up to life on the road.

The back panel of the Boss GT-10B for bass.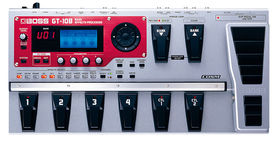 The Boss GT-10B for bassists is optimised for low frequencies.
Boss flagship floorboard multi-effects promises greater sound quality
The GT-10 takes over from the popular GT-8 as Boss's flagship multi-effects processor. We've yet to get our hands on it, but the specs suggest it's a case of evolution not revolution, driven by Boss's custom-made DSP and proprietary COSM engine.
According to Boss, the playing dynamics have been improved with a more 'natural and musical response', so we're very keen to hear how it sounds. The EZ Tone Wizard functionality promises to make effects tweaking a more intuitive experience, and that can only be good news for impatient pluckers like ourselves.
The more innovative features promised include the Phrase Loop function, which enables sound-on-sound loops, and a parallel effects chain that provides two separate effects paths, which can be blended using the expression pedal or switched depending on the player's dynamics.
The new rear-panel USB port connection is also welcome, as it means that audio and MIDI data can be streamed digitally to computers, laptops, digital recorders and the like.
Boss has also launched a bass model, the GT-10B.
The GT-10 and GT-10B will be available from April 2008, prices to be confirmed. For more information visit Roland's product pages for the Boss GT-10 and Boss GT-10B.