Musikmesse 2010: Clapton's Blackie and SRV's Lenny in pictures
24th Mar 2010 | 20:14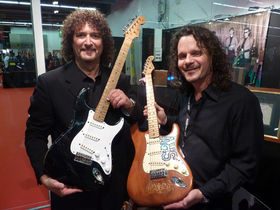 Not just any old vintage guitars...
The Burst Brothers with the legendary Stratocasters
The Burst Brothers, Dave Belzer and Andrew Berlin, are celebrities in the world of vintage guitar collecting. Although famed for their love of 'bursts - 1958-60 sunburst Gibson Les Paul Standards to be precise - their presence at the International Vintage Show at Frankfurt Musikmesse 2010 is setting Stratocaster lovers' pulses racing.
Why? They've flown over to Germany two of the most valuable and famous electric guitars in the history of popular music: Stevie Ray Vaughan's Lenny and Eric Clapton's Blackie. Priceless? Nearly. Certainly the list of classic recordings on which these Fenders have featured is too long to list here.
MusicRadar was lucky enough to get inside the glass case in which the Strats are housed at the show and get up close and personal with two of the most important instruments in the history of electric blues, still strung with the original strings played by their former owners, battle-scarred and oozing vibe. What follows is vintage guitar porn of the most hardcore kind. Proceed with caution......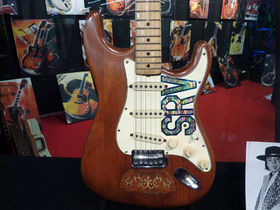 Lenny
This Strat was a gift from SRV's wife in 1980. It went on to feature on the beautiful instrumental of the same name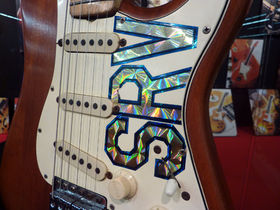 Scratchplate detail
The stickers were added some time after 1986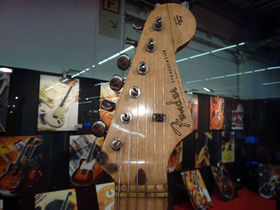 Headstock
Cigarette burns: the mark of a workhorse blues guitar. Billy Gibbons donated this neck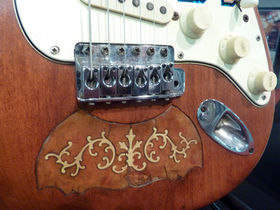 Bridge inlay
The early 1900s-style mandolin body inlay was another distinctive mod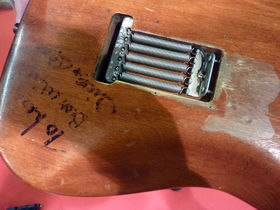 Around the back
Yankees baseball great Mickey Mantle signed the guitar after a chance meeting in 1985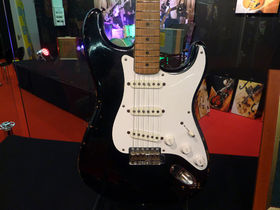 Blackie
Clapton's legendary 'bitsa' assembled from disparate parts defined his post-Cream sound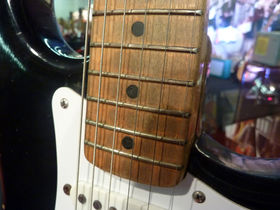 Fingerboard detail
Blimey, that's a high action. Even God needs a guitar tech sometimes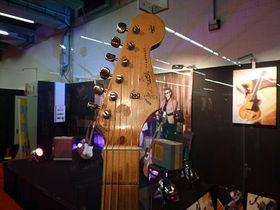 Headstock
Blues guitarists just have to smoke cigarettes. It's not clever, but it does look cool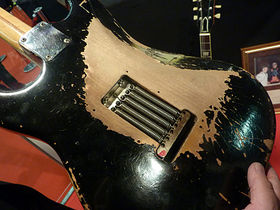 Blackie's back
What the hell kind of trousers was Clapton wearing back in the day to need a belt with a buckle big enough to do that?!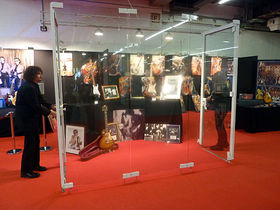 And then the glass case was locked...
Wait! Can't we just... just a little strum? Pretty please?