Morrissey debuts new track on MySpace
5th Jan 2009 | 22:08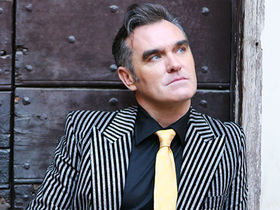 Album and tour slated for February, March
The Smiths are dead, but Morrissey keeps right on making music. He's just debuted a new track called I'm Throwing My Arms Around Paris on his MySpace page. (Didn't figure he had a MySpace page, did you?)
The song is the first release from his upcoming album, Years Of Refusal, which is due out on 17 February in the US and 23 February in the UK.
Never at a loss for eloquent and sometimes obtuse descriptions, Morrissey calls his new song a "cosmopolitan hymm to architecture." While you chew on that, check out the track - and it's a grand, sweeping number, driven by crisp drumming - right here.
Big tour to follow
A big album begets a big tour, and Morrissey's Tour Of Refusal will start 1 March in Orlando, Florida (Morrissey and Disney World, they go together, right?) and run through 1 July in Moscow.
Morrissey and vodka, now that's more like it!