Latest Pro Tone pedal is 'UFO inspired'
7th Jan 2009 | 11:54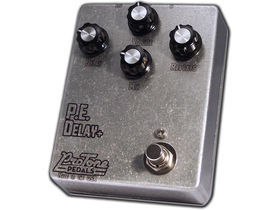 Guitarist Pete Evick unveils a new digital delay
We saw shred pioneer Jason Becker partnering-up with the Pro Tone team last summer for the Perpetual Burn FX unit. Now, a season or two later it's Pete Evick – The Bret Michaels Band guitarist – and the P.E. Delay+ digital pedal…
Here's the spiel: "a one stop shop for any touring guitarist that needs to go from clean rhythm sound to a boosted lead sound. With the P.E. Delay+ you have the functionality of a vintage delay pedal with the added bonus of a Class A boost circuit that can take you from a whisper, to a roar."
The non-painted aluminium housing is apparently inspired by Evick's interest in UFO and alien technology. MusicRadar is not sure what "alien technology" is, but the pedal does look very UFO-like.
Coming soon to Pro Tone Pedals for $249.