Hero worship: guitarists on their favourite players
16th Sep 2013 | 09:00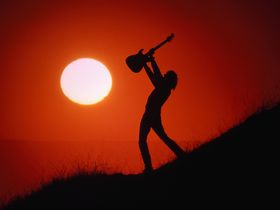 Hero worship: guitarists on their favourite players
We all need a hero
From Hendrix to Page to Clapton, anybody who has ever picked up a guitar (or failing that, a tennis racket) has their nominated guitar god.
Even your heroes have heroes of their own - and that's exactly what this gallery is all about. As part of a new weekly series, we're going to be finding out which guitarists keep other players picking up the instrument and aspiring to new creative heights.
We'll be talking to a wide variety of guitarists from across a broad spectrum of genres about their picks, which will include everyone from bonafide guitar icons to lesser-known talents.
We think you might be surprised at some of their choices. And who knows? Perhaps you'll discover a new hero of your own...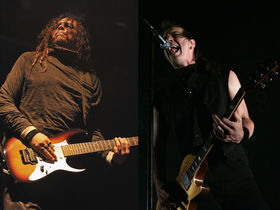 Munky, Korn
Player: Robin Finck (Nine Inch Nails, Guns N' Roses)
Reason: "Robin Finck, because he's an amazing guitar player: live, technically, he puts his heart into every show I've seen him in, and he can do everything. I like the dynamics of his playing, because he can go from super-fucking aggressive to just playing a nylon-string on Hurt.
"That is super-delicate, and then he can just go to fucking smashing guitars. I love that – and I think he's an underrated player. You don't see him in magazines. I'm like, 'What the fuck's wrong with people!? I've just always thought he was a great player for, like, 20 years."
In action: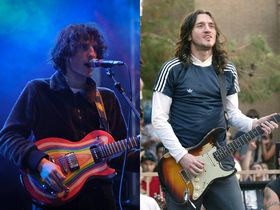 Austin Williams, Swim Deep
Player: John Frusciante
Reason: "I love John Frusciante. I think his riffs are so good. He's so clever and melodic, and there's this certain peaceful vibration that comes off him. You feel like you know what he means by that guitar line…
"That's who I aspire to play like. That funky style sounds so great, and the dance element is integrated into it. I really like to make people move when I play guitar. When you find yourself dancing to it, that's great."
In action: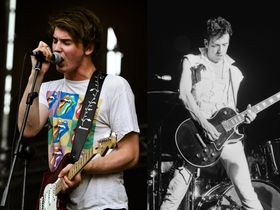 Sam Fryer, Palma Violets
Player: Mick Jones, The Clash
Reason: "I suppose Mick Jones from The Clash was a guitar hero of mine. That kind of thing really inspired me. His playing seemed really effortless, and it wasn't about all of the notes that he hit.
"He only hit the notes that he needed to hit, and his guitar was really crunchy and crisp. And then, if you go through the different Clash albums, it sort of adapts and changes – it's really special."
In action: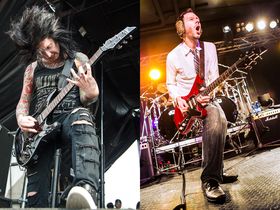 Jake Pitts, Black Veil Brides
Player: Paul Gilbert
Reason: "My favourite guitar player is Paul Gilbert. The techniques and styles that he uses [have fed into my own playing]. It's funny, because I like a lot of sweep-picking and stuff, but he's not really into that, he's more into the string-skipping arpeggio kind of stuff, which I think sounds cooler.
"It sounds similar, and a lot of people mistake it for sweep-picking, but the dude is just insane. I don't know if I could ever be that good. But I try and pick up on his techniques and his styles and incorporate it into my own style."
In action: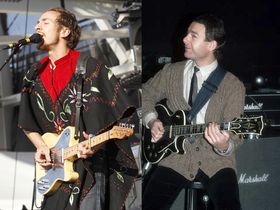 Will Rees, Mystery Jets
Player: Robert Fripp and Adrian Belew, (80s-era) King Crimson
Reason: "I really liked the way they played together. Robert Fripp had a very mathematical approach. Live, he'd be sitting on a stool, playing these grid-like arpeggios, like a metronome – everything pre-worked-out.
"Whereas Adrian Belew's style was very spontaneous. He played a Strat with a whammy bar, and he was pulling out very weird parts, almost like animal noises - he was more of a fluid player. I always felt, 'Well, what if I could embody the two of those and combine those two styles?' I wanted to marry the mathematical with the crazy, the human. I think they did it so well. I really recommend them."
In action: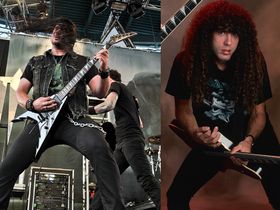 Corey Beaulieu, Trivium
Player: Marty Friedman, (90s-era) Megadeth
Reason: "I'd have to pick Marty Friedman. Rust In Peace was a record that was one of those defining moments. Being a young guitar player, I was like, 'Holy crap. I can't believe what I'm hearing.' The lead playing on that record blew me away.
"He's a guitar player that has so many exotic playing ideas - scales and weird bends and stuff like that. Whenever I'm in a rut or need something new to play, I'll go to his solos. His lead playing has always been a huge thing for me as far as giving me the inspiration to make my own playing better."
In action: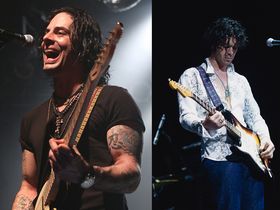 Richie Kotzen
Player: Doyle Bramhall II
Reason: "I really like Doyle Bramhall II. If you don't know who he is, you should Google him. He's amazing. He's a buddy of mine, and we've written songs together. He's produced and written with Eric Clapton [on Riding With The King] and with Roger Waters [playing on the In The Flesh tour].
"There's a certain calm to his playing that I really like. A certain calm and confidence. It's not overdone. He's very tasteful, and he's a great singer, as well."
In action: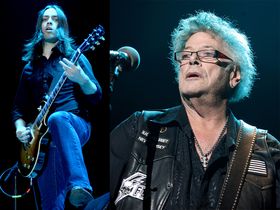 Paul Mahon, The Answer
Player: Leslie West
Reason: "I'd say Leslie West. I think he's very underrated. Clapton gets the credit for the 'Woman Tone', but I think Leslie one-upped that. I think his tone is even better.
"And also his phrasing. He's a master at that. I really like Never In My Life and Mississippi Queen, of course, and I like the octave pedal stuff he does as well. But yeah, he's an underrated player - a great singer, as well."
In action: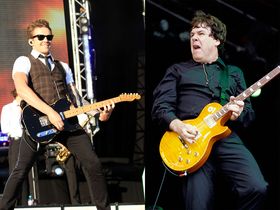 Danny Jones, McFly
Player: Gary Moore
Reason: "My number one is Gary Moore.It's his blues playing [in particular] that I love, his Blues Alive tour. I was just gobsmacked every time I heard that.
"I saw him twice at the Manchester Apollo, and as a kid I dreamed of playing like him – and I still can't play like that. He's a god. And I grew up on old blues music, so I love that side of him. He really was one of the best modern blues players."
In action: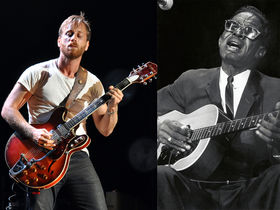 Dan Auerbach, The Black Keys
Player: Fred McDowell/ Lightning Hopkins/ Junior Kimbrough
Reason: "When I was starting to play guitar, Fred McDowell blew my mind. He played in open-tuning with a slide; it was very rhythmic in his finger-picking, and a lot of it was just kind of one chord.
"It was not your basic 12 bar. That's the kind of stuff I love, like Lightning Hopkins. He played 12-bar blues, but not basic at all. There was no time signature; rhythmically, he was very hard to follow.
"If you wanted to start hearing some weird electric s***, I would definitely say listen to Junior Kimbrough. He's just amazing – he played his own style. He was another guy that was almost just one chord the whole song and just hypnotic finger-picking. I love that stuff so much.
"With Lightning Hopkins, Junior Kimbrough, Fred McDowell, their music was who they were; it was their life, whether they made money or not. It was a beautiful thing – the music just represented them. It was a natural extension of their personalities, of who they were as human beings."
In action: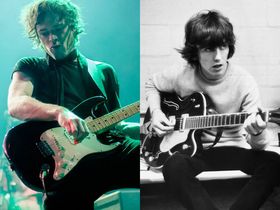 Dan White, Tribes
Player: George Harrison
Reason: "Someone who I've always admired is George Harrison, for his inventiveness. Because the other two [Lennon and McCartney] would come to him with a song and he'd have to put a line or a second melody to the track.
"He's just so out of the box with the way he's approaching the songs, even the way that he progresses through chords, with just really simple picking, it's crazy. I think he's one of the most inventive guitarists of all time. He really had to be!"
In action: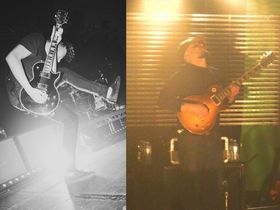 Ben Sansom, Lower Than Atlantis
Player: Justin Beck, Glassjaw
Reason: "The one person I was inspired by growing up was Justin Beck from Glassjaw. He'd make the craziest sounds with his guitar and then on the other tack, it would be something completely different and he still managed to make it sound like a song.
"When I left school, I didn't have the grades to get into college, so I worked for a year in a warehouse while I did my maths GCSE again and bought a Gibson Les Paul. That was inspired by him."
In action: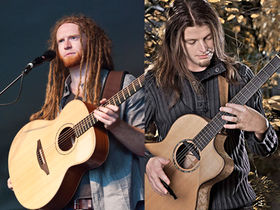 Newton Faulkner
Player: Thomas Leeb
Reason: "I keep an eye out for people who can teach me new things. On [one of my new songs] Orange Skies I've got Thomas Leeb doing the counter guitar part. He's my favourite guitarist in the world.
"He was the first person that I ever heard in the style that I now play in all of the time. He's an instrumental acoustic artist, but he's my favourite player and to have him sending parts in has been mind-blowing… I'd love to sit down with him and properly pick his brain again."
In action: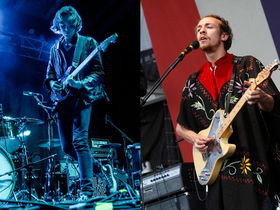 Harrison Koisser, Peace
Player: Will Rees, Mystery Jets
Reason: "A notable mention, in terms of talking about real life guitar influences over the last few years is Will Rees from Mystery Jets.
"He taught me so much, literally how to play loads of different techniques. How to use more than one finger [on my rhythm hand]. He taught me loads of stuff and he was a big help in my playing. Then we recorded the EP straight after, so I was using quite a bit of that on our first recording."
In action: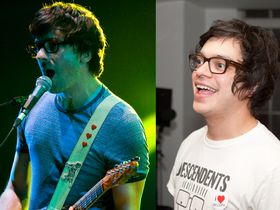 Sam Duckworth, Get Cape, Wear Cape, Fly
Player: Graham Coxon
Reason: "Graham Coxon. What I love about Graham Coxon is that it's meat and potatoes, but it's done better than anyone. He can just pick a melody on a guitar and let it soar. It's brilliantly played and it's technical in that it's spot on, but not too complex. I just love people that are confident in what they are doing.
"Like Tommy Emmanuel - at times he can be a bit cheesey and a bit show-offy, but other times, you're watching him and going 'Man, it sounds like there's four of you playing there'. And that's what it is for me about guitar. I just love people who want to try and find their own style or their own sound."
In action: