Have U2 got writers' block?
20th Oct 2008 | 10:59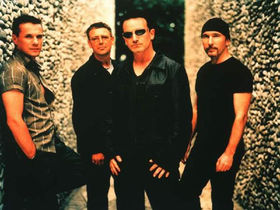 Bono and The Edge look perplexed in video
We love it when bands post sneaky in-the-studio videos. They often bare little resemblance to the finished product, but they feed imaginations. While U2 might not be considered as internet-trailblazers, they've jumped on this particular bandwagon with enthusiasm.
While a previous video revealed Larry Mullen Jnr's drum parts for reported single Sexy Boots, the latest snippet shows only a painstakingly slow songwriting process. The Edge and producer Daniel Lanois silently stare at a blank piece of paper while Bono thinks about clicking something on a MacBook.
The new album - which may or may not be called No Line On The Horizon - is toted for an early 2009 release. If this is the case we'll assume the majority of songs are, in fact, already finished. Perhaps U2 are merely trying to come up with a title - following 2004's How To Dismantle An Atomic Bomb can't be easy…