Fender Stratocaster
6th Apr 1996 | 10:52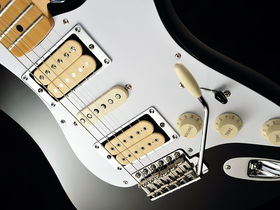 Fender Dave Murray Stratocaster
The chrome pickup surrounds add some rock 'n' roll bling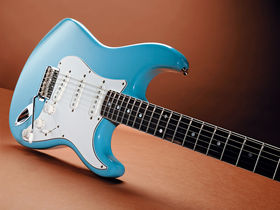 Fender Eric Johnson Stratocaster RW
Updates for this model include the white three-ply pickguard
Fender Artist Series Billy Corgan Stratocaster
DiMarzio single-coil sized humbuckers provide plenty of juice for rocking riffs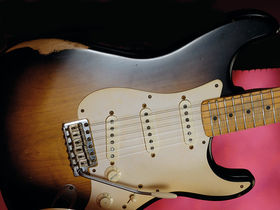 Fender Road Worn '50s Stratocaster
For fans of heavily-distressed six-strings...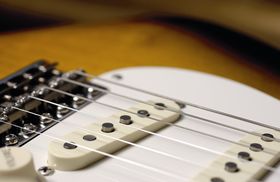 Fender Eric Johnson Stratocaster
The pickups echo Johnson's love of vintage Strats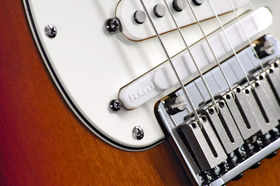 Fender VG Stratocaster
Roland's 'VG pickup' is the key to the VG Strat's power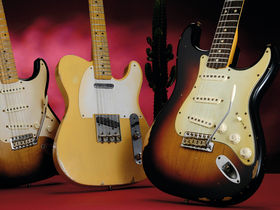 Fender Road Worn '60s Stratocaster
The '60s Strat (right) alongside its '50s Strat and Tele siblings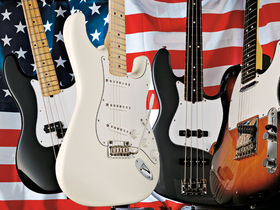 Fender American Standard Stratocaster
The American Standard Stratocaster alongside its similarly-updated siblings
Electric guitars: American, Deluxe, Standard, Custom, Vintage, USA, Mexican, videos, reviews, players, tutorials
Fender Stratocaster Videos | Fender Stratocaster Reviews | Fender Stratocaster Players | Fender Stratocaster Tutorials | Fender Stratocaster User Reviews
A brief history
Few electric guitars can boast the enduring versatility of the Fender Stratocaster, an iconic American design classic that has spanned genres and generations. From Buddy Holly and Hank Marvin through to Jimi Hendrix, Eric Clapton and contemporary players such as John Mayer, the Strat has been the guitar of choice for countless stars.
"The distinctive double-cutaway design featured an extended top horn to aid balance while playing."
Since its design in 1954 by Leo Fender, George Fullerton and Freddie Tavaress, the Strat has been in continuous production. The first model was offered in a two-colour sunburst with a deeply-contoured ash body, a five-spring vibrato system, three single-coil pickups and a one-piece maple neck with 21 frets, but by 1957 Fender started producing bodies from solid alder. The distinctive double-cutaway design featured an extended top horn to aid balance while playing. A range of custom colours was introduced in 1960.
More than five decades on and the Strat has undergone a vast array of refinements and variations but the essential design elements remain the same. The Stratocaster is also the most copied electric guitar design in history. USA Standard Stratocasters still fly out of guitar stores across the globe as do Deluxe, Custom Shop Relics and vintage reissue models. Lower production costs of Mexican, Japanese and Chinese Squier models have helped Fender to ensure that players on a budget can still gain access to the Stratocaster experience and sound.
---

Fender Stratocaster Videos
A closer look at the new-for-2010 Strats and Teles
A three-way look at the band's new Fender and Jackson models
Slide virtuoso Sonny Landreth demonstrates his 'fretting behind the slide' technique
See the first film clip, hear his last recording
---
Back to top

Fender Stratocaster Reviews
"Quite simply a great Strat. It looks and feels like it's already had a life and is ready for much more."
"This one has it all - feel and sound, a great neck and firm tonality. A Strat to love and cherish!"
"Finally, an official USA-made version of the Murray Strat is with us, and it's worth the wait."
"As a digital modelling guitar for the masses, Fender and Roland have got this pretty much spot on."
"The Mexican Standard Strat benefits from subtle refinements that make for better playing and a better sounding guitar."
"Even if you can afford the fully-fledged Custom Shop equivalent, we'd recommend trying out a Classic Player first."
"The '60s Classic Player Strat offers top-quality performance and it's pretty obvious that the magic touch of the Custom Shop masterbuilders has been efficiently transferred."
"A good electric guitar with a ballsy set of tones and a 'different' feel."
"Without doubt the Strat to buy if you won't compromise on vintage aesthetics and tone, but are crying out for those real-world playability traits."
"It's a super choice for high-octane classic rock!"
"Along with Fender, Eric Johnson he has created the perfect guitar for lovers of vintage Strats who want something extra."
"When a musician of EJ's calibre puts his stamp on the best electric guitar design of all time, every serious player needs to check it out!"
"A pro-standard modern, gigging Strat that's better than the previous model."
"Aimed at the gap between the American Standard and Highway One ranges, this American Special succeeds with value and tone in abundance."
"At a mere £599 for what is a genuine American Fender, this has to be on your 'must-try' list!"
"A stunning guitar that offers the kind of control that Beck's playing demands."
"This is a lovely guitar to play. It's a smooth player, but not a guitar that runs away with you; it urges you to work for your vibrato and feel everything a bit more."
"Distinct looks combine with great tone to offer a seriously versatile package for the price."
"The subtle 'player' improvements produce a top-notch classic that is subtly posh in appearance but awesomely endowed in the tone department."
"A Custom Shop model paying tribute to one of the finest guitarists of his, or any, generation - straight out of the case, this guitar feels like you've been playing it for 40 years."
---
Back to top

Fender Stratocaster players
The best-selling guitar, the best players
More legends of Leo Fender's crowning glory
Ask MusicRadar: your favourite players revealed
An encounter with the world's most valuable guitar
Iconic Fender Stratocasters exhibited at the Frankfurt Musikmesse 2010
---
Back to top

Fender Stratocaster Tutorials
Check out this video with free tab
We reveal and review the gear you need
A video lesson with free, high quality tab
The modern master shares his secret
An audio lesson with free, high-quality tab
A taste of many guitarists's favourite bluesman, SRV
A video and tab lesson on the Red Hot Chilis' guitar man
The great bluesman had a legendary tone; here's how to get it
This lesson shows you how to play like legendary bluesman Buddy Guy
A video lesson with tab teaching you the style of the Irish blues master
---
Back to top

Fender Stratocaster User Reviews
"Fantastic guitar, a genuine improvement on the previous model, and new case... wow! Careful if you want one of the new transparent finishes though, I bought 'Sienna Sunburst' and I had to look at six guitars before I found one with a decent finish, some were awful."
"It's a great new spin on a classic. I prefer the thinner neck varnish on the 2003 models though."
"I bought this basicaly because I had always wanted a US Strat and this was the cheapest way to achieve my dream. Almost a year on I can only say that this was one of the best decisions I could have made."
"I'm not a huge strat fan simply because sonically, strats don't generally suit my type of music. I'm metal through and through (so I thought). I saw the road worn strat at my local music shop in all it's beaten and bruised glory. I have always been anal about taking care of my instruments, but I had to admit the battered look of the strat called out to me. Because of the steep price I avoided playing it for a week or two. I finally broke down and gave her a try, next thing I know, she's in the car with me headed back to my place!"
"Got mine second hand in Brighton for a little under 200 quid. Feels and sounds as good as the Strat Plus I used to use."
"Very good guitar sounds great for blues and clean stuff, feels nice and looks great in black."
"This Guitar is excellent and in my opinion is just as good, if not better than its more expensive USA-made equivalent. Sounds great, looks good, fantastic guitar!"
---
Back to top