Download Festival 2010 in pictures
14th Jun 2010 | 16:20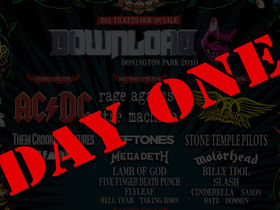 Download 2010 - day one
Click onwards for our snappy festival highlights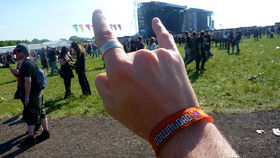 It's not raining!
Despite the grim weather forecast, the sun is shining and the horns are out as the action kicks off at Donington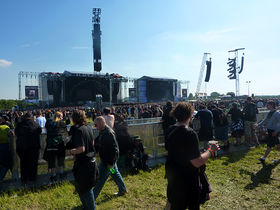 Their own stage?!
Some bands have outrageous items on their riders, AC/DC are in a different league, insisting on bringing their own stage. It's the one on the left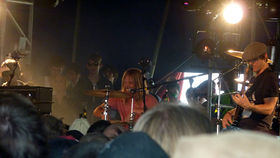 Taylor Hawkins & The Coattail Riders
The Red Bull Bedroom Jam tent is bursting at the seams as the Foos man rocks out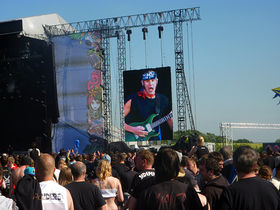 Killswitch Engage
Killswitch guitarist Adam Dutkiewicz pulls a wicked face over on the main stage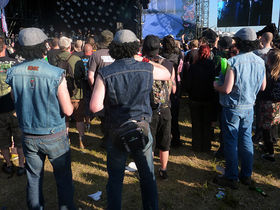 Life of Brians
Brian Johnson lookalikes check out Them Crooked Vultures while waiting for AC/DC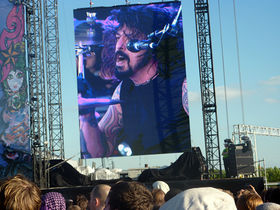 Them Crooked Vultures
The Vultures don't disappoint as Dave Grohl pounds the band through 70 explosive minutes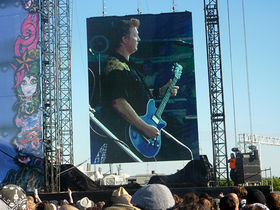 Them Crooked Vultures
Josh Homme weaving riff magic on his custom Maton electric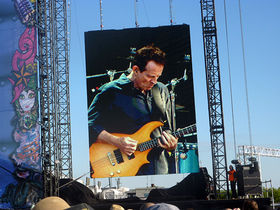 Them Crooked Vultures
If there's a better rhythm section on the planet today than John Paul Jones and Dave Grohl, we haven't seen it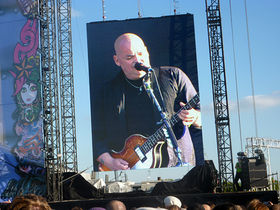 Them Crooked Vultures
Multi-instrumentalist Alain Johannes takes a turn on bass...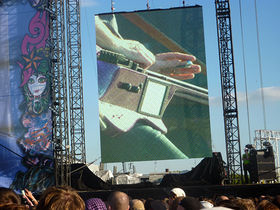 Them Crooked Vultures
...while John Paul Jones rocks this crazy Manson custom lap steel/Kaoss Pad mash-up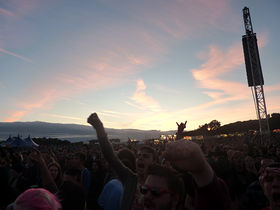 Time for the headliners
Tens of thousands of fans get ready for a lesson in dirty rock 'n' roll from the masters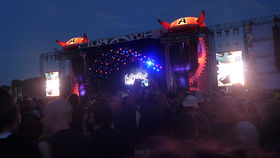 AC/DC
Live on their very own stage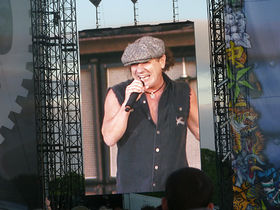 AC/DC
The real Brian Johnson stands up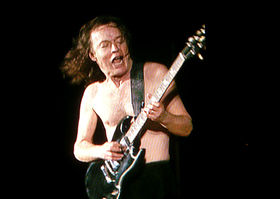 AC/DC
Angus strips off his school uniform, as is customary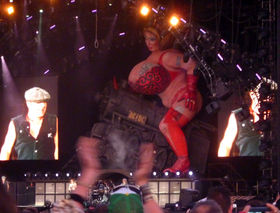 AC/DC
Meet Rosie, there's a whole lotta her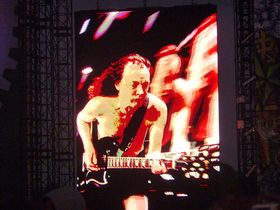 AC/DC
First three Brians, now we're seeing multiple Anguses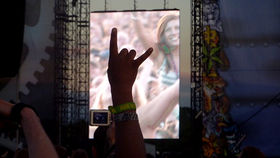 AC/DC
The only appropriate hand gesture!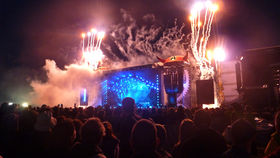 AC/DC
There were fireworks, and then they were gone. One hell of a show though!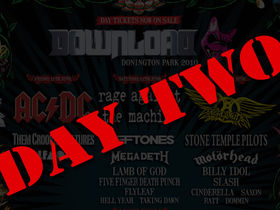 Download 2010 - day two
More heavy rock action in the sunshine? Yes please!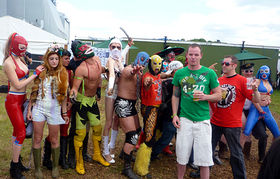 Lucha Britannia
Saturday kicks off with some masked Mexican wrestlers hanging out in the press area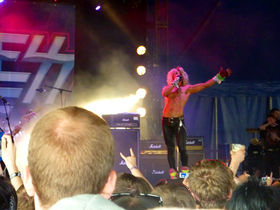 Reckless Love
Continuing the spandex theme, Finland's Reckless Love play to a packed Pepsi Max tent. These boys could be as big as their hair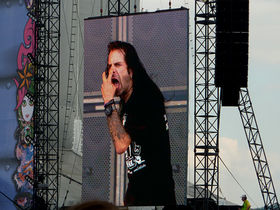 Lamb Of God
The sun may be shining but Lamb Of God bring darkness to the main stage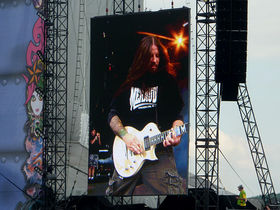 Lamb Of God
Willie Adler and signature ESP: evil riffs aplenty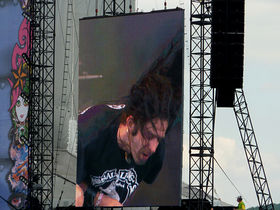 Lamb Of God
Singer Randy Blythe caught in a mosh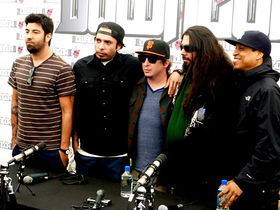 Deftones press conference
Prior to their main stage set, Deftones address the media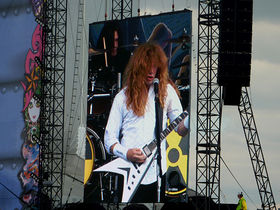 Megadeth
Mustaine celebrates the 20th anniversary of Rust In Peace by treating fans to a selection of classic cuts from the album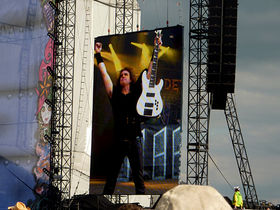 Megadeth
David Ellefson looks happy to be back in the saddle after returning to the lineup earlier in 2010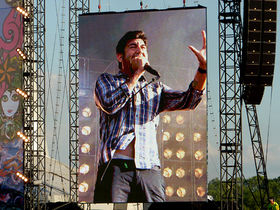 Deftones
Singer Chino Moreno in fine form and looking lean as Deftones rock through a powerful set of new and old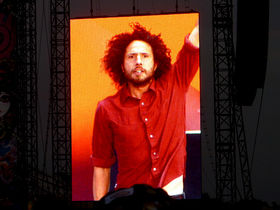 Rage Against The Machine
It's time for the headliners, who appear 20 minutes later than advertised but blast through opener Testify with fire and precision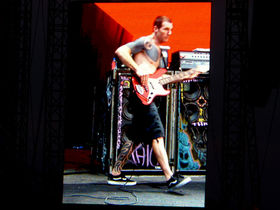 Rage Against The Machine
Tim Commerford showing off his badass tattoos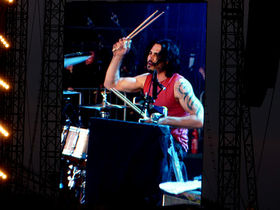 Rage Against The Machine
We thought Brad Wilk was using four drumsticks for a moment there too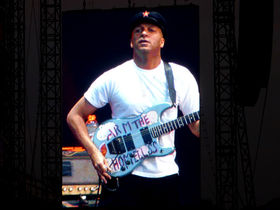 Rage Against The Machine
Tom Morello and his old faithful 'Arm The Homeless' guitar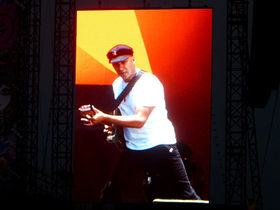 Rage Against The Machine
Morello is in amazing form, wowing the crowd with his characteristic blend of scratch DJ-aping sonics, blazing lead and pulverising riffs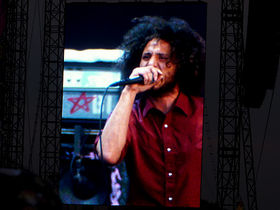 Rage Against The Machine
Zack de la Rocha urges the crowd to "take care of each other" as People Of The Sun is halted due to the risk of crushing at the front of the crowd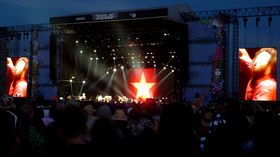 Rage Against The Machine
The band end a triumphant set with a predictably incendiary version of Killing In The Name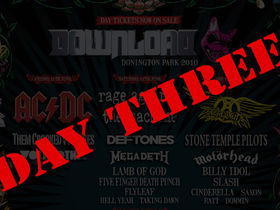 Download 2010 - day three
Sunday brings Slash, Aerosmith and rain. Lots and lots of rain...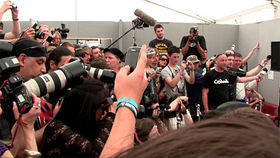 Slash press conference
Our Sunday begins with the Slash press conference. Crowded enough?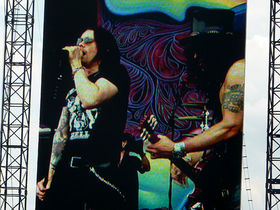 Slash
Shortly after, Myles Kennedy shows off his awesome vocal range on the main stage alongside the guitar legend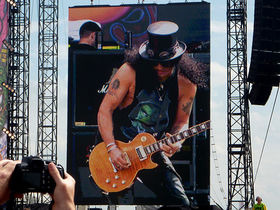 Slash
The cat in the hat makes good use of his latest Gibson Signature model...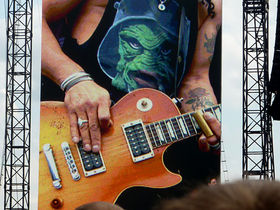 Slash
...and an old tour workhorse in a set that includes GN'R classics Nightrain, Sweet Child O' Mine, Paradise City and Rocket Queen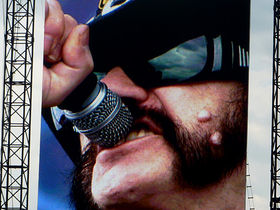 Lemmy
Slash gets the Motörhead legend up to sing on solo LP track Doctor Alibi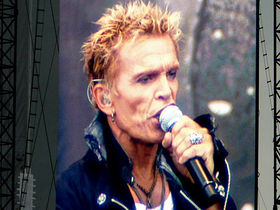 Billy Idol
Mr Idol, looking these days like a cross between David Bowie and Keith Flint, brings the rain. Oh well, at least he plays Rebel Yell. Eventually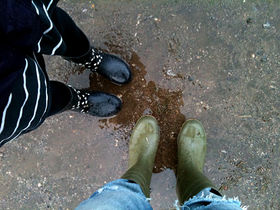 A welly good time
It really is pissing down now...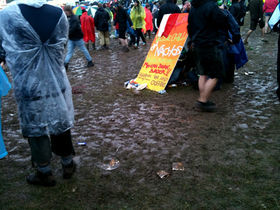 Glastonbury in disguise?
...and scenes are starting to resemble those at a certain Somerset festival that attracts considerably more hippies than Donington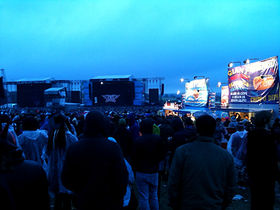 Time for Aerosmith!
With most electronic devices (including the camera) safely drying out in the car, we prepare for the bad boys from Boston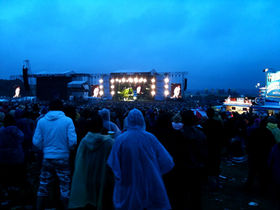 Aerosmith
And they rock. They really do. Tyler's voice and stage presence really are something else. Sadly, it's a bit wet for anything more than a couple of phone camera pictures! A great festival though, roll on 2011...