Born To Be Wild judged greatest ever music/movie moment
6th May 2008 | 12:41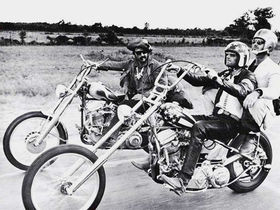 What's missing from the top ten?
CNN's Screening Room have put together a list of their top ten music moments in film – it's not a list of great soundtracks, just those "quintessential movie moments where a song flawlessly complements or enhances the action".

Steppenwolf's Born To Be Wild bags the top spot for the opening sequence to Easy Rider, while Stealers Wheel's Stuck In The Middle With You comes in at number two for the ear-slicing moment in Reservoir Dogs. For many, this song is synonymous with that act of violence and, of course, Mr. Blonde's little dance that precedes it. Here's the full top ten…
10) Trainspotting (1996) – Lust For Life, Iggy Pop
The scene: Choose Life voiceover
9) Dr Strangelove (1964) – We'll meet again, Vera Lynn
The scene: Nuclear apocalypse
8) The Royal Tenenbaums (2001) – Needle In The Hay, Elliot Smith
The scene: Richie Tenenbaum attempts suicide
7) Say Anything (1989) – In Your Eyes, Peter Gabriel
The scene: Lloyd tries to woo Diane
6) Almost Famous (2000) – Tiny Dancer, Elton John
The scene: On the tour bus the band sing along to Tiny Dancer
5) Muriel's Wedding (1995) – Waterloo, ABBA
The scene: Muriel and Rhonda triumph at a talent contest
4) Apocalypse Now (1979) – The End, The Doors
The scene: Captain Willard waiting for an assignment in Saigon
3) Goodfellas (1990) – Layla, Eric Clapton
The scene: Jimmy's murder spree montage
2) Reservoir Dogs (1992) – Stuck In The Middle With You, Stealers Wheel
The scene: Mr. Blonde cut's a man's ear off

1) Easy Rider (1969) – Born To Be Wild, Steppenwolf
The scene: The opening sequence

It's an interesting list, but does it just prove that a classic tune could make any movie sequence memorable?