40 best live acts in the world 2013
26th Aug 2013 | 09:00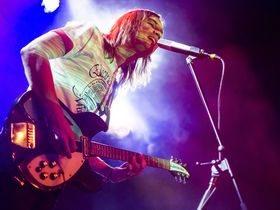 Tame Impala
Subdued antelope
They might look confused, but there's no woolly thinking when it comes Tame Impala's full-tilt psychedelic assault.
Kevin Parker's playing is incredibly precise, his sounds always right on the nail, and the band with him every step of the way. As an added bonus, you're unlikely to ever see this many Rickenbakers in one place anywhere else.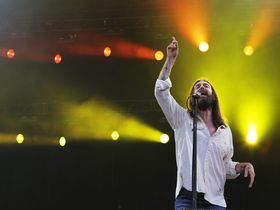 The Black Crowes
Caw
To the uninitiated, a Black Crowes gig might look like a Jesus lookalike convention, but there's nothing saintly about the down-home classic rock that's being blasted from the stage.
Raucous, raw and sounding better than ever, 2013's Black Crowes should be at the top of any rock 'n' roller's must-see list.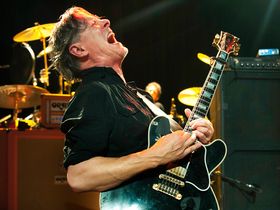 Swans
They'll break your arm
Over three decades into their career, Michael Gira's abrasive rock outfit are still one of the most exhilarating and experimental ensembles around.
Recent tours have seen them turning in two hour-plus sets that flit between ethereal, semi-improvised atmospheric compositions and full-frontal, three-guitar riff assaults. There's hardly a band out there that can match them for either depth or sheer brutal power.
Then there's Gira himself; a captivating presence equipped with a growling voice, a menacing stare and some surprisingly sprightly dance moves. Terrifying.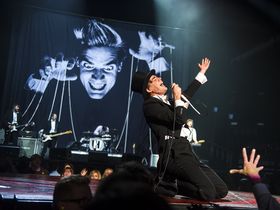 The Hives
Still generating buzz
Sweden's greatest export (take that, Ikea), The Hives are one of the most entertaining bands on the planet. A motormouth frontman and a guitarist with a penchant for hurling his guitar around his neck both help (see the clip below), and they still make a fine garage-rock racket to boot.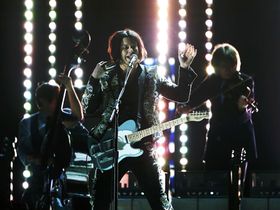 Jack White
Striped no more
There's always been something about Jack White that could only be fully appreciated live. Sure, the records have always been ace, but up close and personal he's a different beast altogether.
Is it because of his lustrous hair? His long stride? Or, perhaps, his bleeding-fingers guitar work and frantic energy? Whatever it is, we like it, and so do you.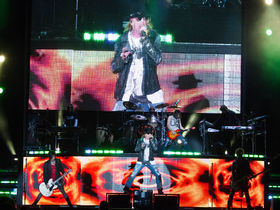 Guns 'n' Roses
Axl greased lightning
He might look like a biker having a mid-life crisis, but as soon as he opens his mouth, Axl Rose proves he's still got the pipes.
Of course, when you see Guns 'n' Roses you're not seeing the classic line up - and you probably never will. But Axl's surrounded himself with a band (including, at last count, 236 guitarists) that do those classic songs justice. Well done, Axl.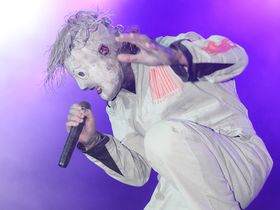 Slipknot
Masked metal motherflippers
Still the masters of the mighty metal stage show, Slipknot's masks, uniforms and tunes retain the power to drive metal fans into a frenzy. Sure, we all know that behind all the theatrics is a bunch of thoroughly professional chaps doing a good job of work, but let's not destroy the illusion, eh?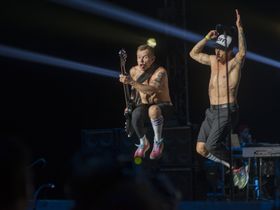 Red Hot Chili Peppers
Watch how they hop so
Man, talk about getting some serious air! Behind all the funky noisemaking, pogoing like excitable teenagers remains one of Red Hot Chili Peppers' greatest strengths when playing live. That, taking their shirts off and having an amazing back catalogue. It all helps.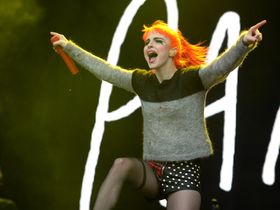 Paramore
Miss Williams will see you now
Do you go to a Paramore show to watch the generic looking guitarists? No. You got to watch Hayley Williams. She's got charisma by the bucketload that girl, and the vocals to back it up. Which probably accounts for all those fans she's managed to accumulate.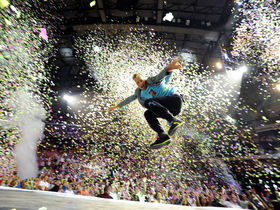 Coldplay
Rich men jumping about a bit
Chris Martin isn't to everybody's taste, but let's face it: quite a lot of people love Coldplay's skipper.

Over the last few years his ability to hold an entire stadium in the palm of his hand has come on leaps and bounds. The same could be said of Coldplay's live show, in fact, which is now a multi-coloured, armband-waving spectacular.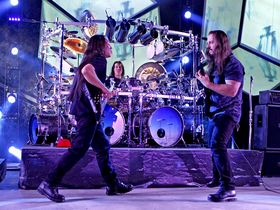 Dream Theater
Unlikely to put you to sleep
Losing founding member and drummer Mike Portnoy in 2010 might have thrown the good ship Dream Theater off course, but with new sticksman Mike Mangini installed on his throne, the band have continued to showcase their high-octane musicianship to awestruck audiences around the world.
Live at Luna Park, their forthcoming live album/video, is slated for release in November.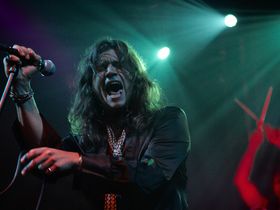 Rival Sons
You hum it, they'll play it
Folks just love a loud guitar and a wounded voice. It's an incontrovertible fact, and it's helping propel Rival Sons to the top of whichever imaginary league of rock bands they're currently in.

There's something defiantly old school about this band, and we wholeheartedly approve.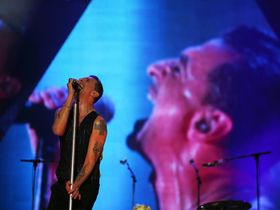 Depeche Mode
They've only Gahan and done it
We're guessing that few who heard Depeche Mode's synthpop classic Just Can't Get Enough back in 1981 would have predicated that the band would one day become one of the world's biggest stadium acts, but that's exactly what happened.
Currently touring their Delta Machine album, The Mode have survived line-up changes and personal crises and remain a major draw.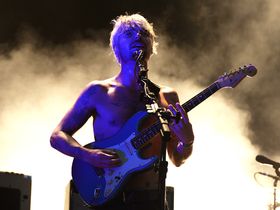 Biffy Clyro
BIFF! BANG! POW!
Unusually for a band in the 21st century, the Scotch rockers (and X Factor winner Matt Cardle's songwriting team) have managed to grow their fanbase as their career has progressed. They scored their first number one album with their sixth long player Opposites, which was released at the beginning of 2013.
They certainly wouldn't have managed this without being a formidable live outfit: the band are arguably more raucous on stage than they are on record.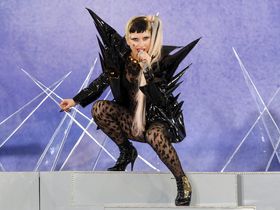 Lady Gaga
Better than your band
She's a wild one, that Lady that some people (but not many, admittedly) call Gaggles. But man, does she know how to put on a show.
Four-to-the-floor pop anthems might not be your preferred mode of aural enjoyment, but pair them to a stage show that's weird, wild and never less than thoroughly over the top and you'll understand why the Lady is so far ahead of the game.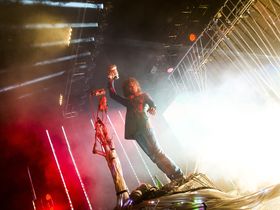 The Flaming Lips
Enormous plastic balls
Dancing fancy dressed folks, maximum weirdness, and one of the best frontmen in the world running over the crowd in a giant plastic orb: it is scientifically impossible to have a bad time at a Flaming Lips gig. They have more fun every night than most bands have in their entire careers.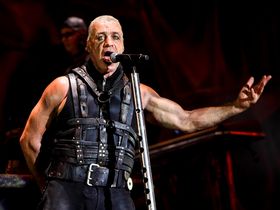 Rammstein
Chilled out entertainers
There will be fire, and troubling outfits, and uncomfortable sexualised antics, and child-frightening costumes, and scary German singing.
Yep, there's nothing in the world quite like a Rammstein show, and you really you owe it to yourself to see one before you die. Really.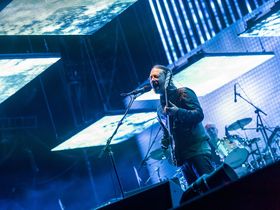 Radiohead
Get yourself some 'head
Few bands can claim live shows that run the gamut between anthemic indie singalongs and techno-inspired percussive freakouts, but Radiohead can.
As the Oxford five-piece have evolved and matured they've become peerless in the live arena. They're able to hold the attention of huge crowds, yet still come across as nuanced and creative in ways you don't expect from arena-sized rock acts.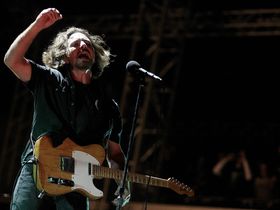 Pearl Jam
Not actual jam
All Eddie Vedder needs is a bottle of wine and a crowd, and since 1991 the audience has grown exponentially for Seattle's most durable and consistently powerful band, whose live shows are nothing short of communal awakenings.
Deep cuts, B-sides, unreleased songs, Who covers - anything goes at a PJ gig, with sets varying night to night and the aura of unpredictability making each performance a guaranteed once-in-a-lifetime concert experience.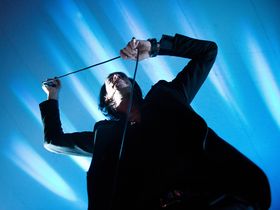 Nick Cave & The Bad Seeds
Rock and roll demonics, via Brighton
There's no question about it - Nick Cave has rock star charisma. We're talking proper rock star charisma here, too, not some faux-rebel, 'stick some sunglasses on and smoke a cigarette' try-hard rock star thing. Proper hypnotic hip grinding, gravel-voiced, seduce-every-member-of-the-crowd-with-one-intense-stare charisma.
The Bad Seeds themselves are more than your average sidemen, too. Bearded, high-kicking violinist/ball of energy Warren Ellis alone has more stage presence than most frontmen.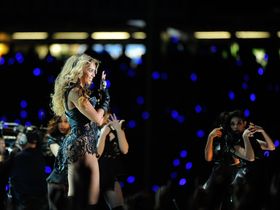 Beyoncé
By 2045, 45% of the world population will be Beyoncé impersonators
As time goes on, it's becoming increasingly clear that Beyoncé might well be the ultimate human. Blessed with incredible vocal ability, she can dance like nobody's business, whip up a crowd with a well-aimed flick of the wrist and, to top it all off, she's somebody's mum.
Her live show is unstoppable, and we're pretty sure she'll be President of the World by 2020.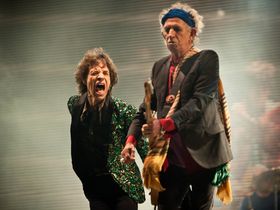 The Rolling Stones
Older than time
With a combined age of 7000, the Stones are still one of the biggest live draws on the planet. Yes, they wear comfortable shoes and look like they could do with an early night these days (apart from Mick Jagger, whose deal with the devil remains apparently intact), but they've still got it. Their Glastonbury headline slot cemented the legend.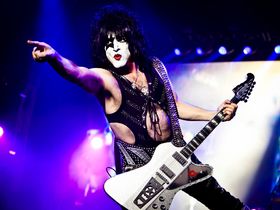 KISS
When facepainting grows up
You wanted the best… oh, c'mon, you know how that goes. For millions of KISS fans across the globe, there is no retirement from the KISS Army - in fact, the roar of the greasepaint keeps attracting new recruits.
Ace and Peter are long gone, but guitarist Tommy Thayler and drummer Eric Singer - as the Spaceman and Catman respectively - keep the '70s alive with Gene and Paul in a show that still features smoke bombs, fake blood and chest-beating hits.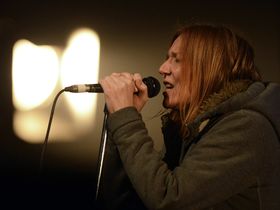 Portishead
Bristolian ambassadors
Between the delicate vocals of enigmatic front woman Beth Gibbons, the hip hop-informed electronics of Geoff Barrow, and the soundtrack-like guitar of Adrian Utley, Bristol-based outfit Portishead remain one of the UK's most captivating and unique live acts. You'd be hard-pressed to find another band that can create atmosphere like they can.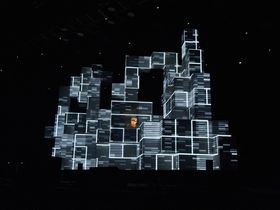 Amon Tobin
The full Brazilian
In a world where electronic music is dominated by festival-ready acts that come complete with absurdly overblown LED walls, glitter canons and lasers galore, it takes real imagination to create an audio/visual show that genuinely stands out from the crowd.
With his recent ISAM tours, South American producer Amon Tobin did just that. He concocted an immensely immersive live setup which saw him performing encased in walls of cubes, onto which were projected evolving cosmic and industrial visuals. The resulting live show acts as the perfect visual realisation of Tobin's complex electronic music - grandiose and awe-inspiring, yet also intricate and unpredictable.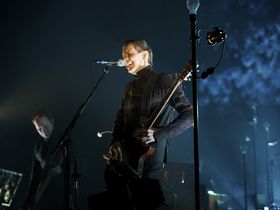 Sigur Rós
Iceland: great value
Perhaps the most impressive thing about seeing Sigur Rós live is the Icelandic band's uncanny talent for making often-complex instrumental arrangements seem natural, direct and almost effortless.
There's something incredibly fluid about the way the band operate as a live unit. They have an impeccable ability to make textural guitars, dense string and horn arrangements and ethereal vocals flow together into a delicate and carefully-crafted whole.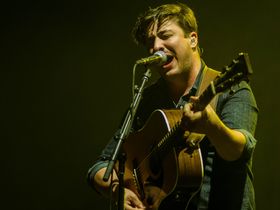 Mumford & Sons
The Waitrose of folk bands
Sure, they might be part of the new acoustic revolution, but there's nothing Peter, Paul & Mary about this raucous West London quartet. Their concert sets are stomping, unhinged sweat-fests, sending audiences into joyous states of rhapsody as they dance in the aisles and sing along to every word.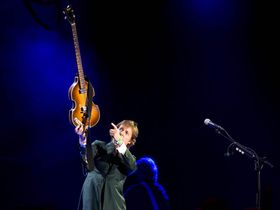 Paul McCartney
He was in The Beatles, you know
Although The Beatles called it quits as a live act in 1966, since the late '80s, Paul McCartney has been a touring machine, performing his chunk of the world's greatest songbook with the energy (and voice) of a man half his age (this year's Bonnaroo set clocked in at two-and-a-half hours and featured 24 Fab Four gems).
In 2002 he assembled a stellar band that includes guitarist Rusty Anderson, guitarist and bassist Brian Ray, drummer Abe Laboriel Jr. and keyboardist Paul Wickens, a tight-knit group that delivers the goods with considerable brio. Oh, yeah, did we say something about the songs?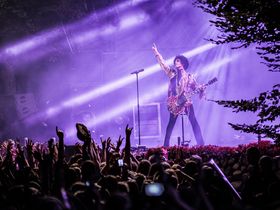 Prince
Long may the Purple one reign
His new music may be of variable quality and his online marketing strategy impossible to fathom, but when Prince gets up on stage he knows exactly what he's doing.
Famed for his marathon sets and even longer aftershow gigs, the man from Minneapolis is never less than captivating, whichever instrument he happens to be playing.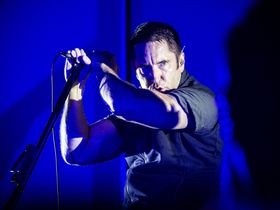 Nine Inch Nails
The full nine yards (that's 8.2296m, metric fans)
Trent Reznor put Nine Inch Nails on ice in 2009, but four years later he's back with a new album, Hesitation Marks, and a new live band that includes longtime NIN guitarist Robin Finick, multi-instrumentalist Alessandro Cortini, bassist Josh Eustis and drummer Ilan Rubin.
Early word on the just-commenced tour, with the show itself patterned after the Talking Heads concert film Stop Making Sense, is that the band packs a solid punch and isn't skimping on the hits.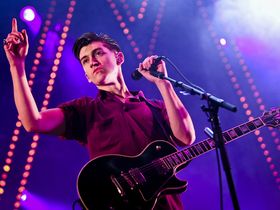 Arctic Monkeys
Alex Turner will steal your girlfriend, and you won't even mind
Bolder and brasher than ever, and looking and sounding sharper than they have any right to, the Arctic Monkeys are entering their imperial phase. And it is glorious.
Years of arena gigs have turned them into the real deal live, and Alex Turner has morphed into South Yorkshire's answer to Elvis, a swaggering sexual tyrannosaurus with dynamite in his hips and moves to make your mother weep. All hail the Monkeys.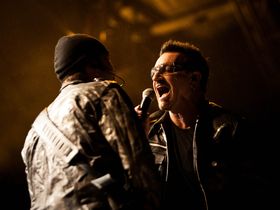 U2
Dere's more to Ireland dan dis
U2 have made their mark as one of the most consistently passionate live acts in history, but what's surprising about their success is how they've managed to make over their show - in fact, their entire band aesthetic - with each tour.
With a new album and world outing planned for 2014, we're waiting to see how they'll reinvent themselves next.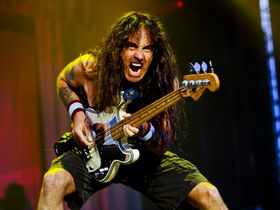 Iron Maiden
Steve Harris: bass player, songwriter, king of the bass-squat
The high point of the 2009 Brit Awards ceremony was surely the moment when, to the bemusement of many of those in the room and watching on TV, Iron Maiden were named Best British Live Act.
Their fan-voted victory was achieved despite a lack of mainstream recognition, but with Bruce Dickinson leading from the front (and flying the band around the world), Maiden remain a force to be reckoned with.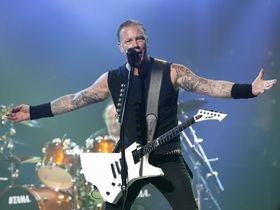 Metallica
Bow down before the mighty Hetfield armpits
The fact that Metallica have so far released four live albums in their career indicates that they're pretty confident in their stagecraft, and those who've witnessed their countless tour and festival appearances will have felt the full force of their back catalogue.
Fans of both the band's live act and a scary bloke on a horse riding through riot-strewn streets should check out forthcoming IMAX movie Metallica: Through the Never.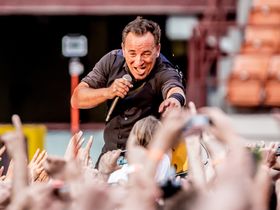 Bruce Springsteen
The Boss: possibly paid by the hour
For New Jersey's finest, there is no such thing as an opening act - Bruce and the E Street Band have played solo since the early '70s, turning in marathon shows that routinely average three-plus hours and sometimes approach five-hour blow-outs.
And don't even mention retirement, as Bruce and the band prove (it all night) that their commitment to music and their fans keeps them eternally young.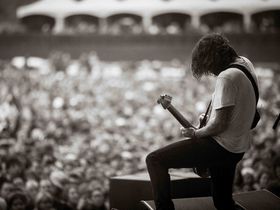 Foo Fighters
Some drummers do have 'em
There is more love in the world for Dave Grohl than for any other living human. People flock to him like he's some sort of rock messiah, which with his flowing locks and beard he's beginning to look exactly like.
Could Dave Grohl save us all? Probably not, but you get the impression he'd do his best.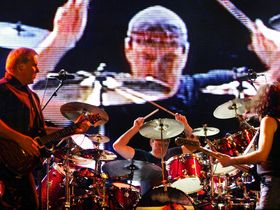 Rush
Canadians do it to a prog soundtrack
All hail the mighty Rush, for they walk among us like prog gods, bringing with them a fiercely proficient live show that continues to draw legions of fans all around the world.
Neil Peart's drum kit looks like it's ready to take off any day now, and you wouldn't put it past these masters of the dark live arts to play with their drummer via remote link-up to the moon.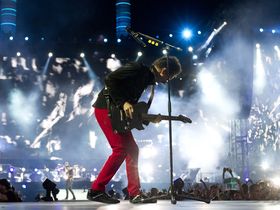 Muse
Matt Bellamy and his shiny trousers remain popular
One man's pompous rock prat is another's strutting titan, and so it goes with Muse.
The one completely unquestionable thing about this band is that anyone who has ever seen them will tell you, within a split second of their mention, that they are amazing live. They pack 'em in all around the world, so the word on the street is obviously correct - they do indeed rock like nobody's business. Not bad for three blokes from Devon.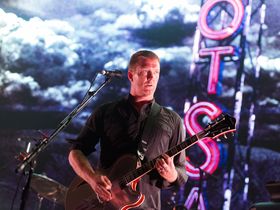 Queens Of The Stone Age
Homme's hips don't lie
Josh Homme's hips are possibly the very finest in rock. They will hypnotise you, and you will love it.
The ultra-magnetic frontman and his magical hips are no doubt a huge part of the appeal of Queens Of The Stone Age, but there's much more to love about this band than a giant ginger man's swagger. Love for QOTSA is at boiling point right now, and has propelled them to the silver spot in our poll - arguably their greatest ever achievement.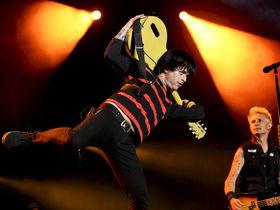 Green Day
Stadium punks reign supreme
And so we reach the pinnacle of our epic survey of the state of live music in 2013, and who should we find straddling the peak of our musical mountain? Why, it's Green Day. Of course it is. Billie Joe and his band of punk cohorts have conquered the known world thanks in no small part to their tireless dedication to playing out of their skins at every single gig.
Arguably the best crowd pleasers in the game, there's simply no stopping the behemoth that is the Green Day gigging machine. Stadiums are destroyed under their mighty punk-pop boots, and will continue to be until people stop buying the tickets, which will in all likelihood be never.