21 scariest musicians and bands
31st Oct 2013 | 11:35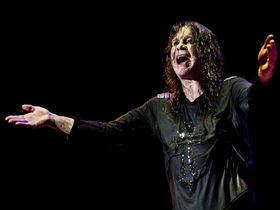 Ozzy Osbourne
Brum's baddest bat-biter
Black Sabbath's Prince Of Darkness has been able to proudly boast of being Birmingham's scariest rock star since at least the early '70s. From biting the heads off various flying animals (doves, bats, he's not fussy) to doing his bit to further the evil that is reality TV, he's certainly done his fair share of the devil's work.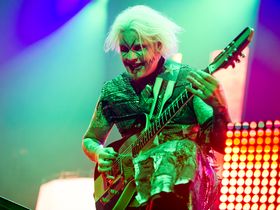 John 5
Scary side-man extraordinaire
He's supplied six-string shred to Marilyn Manson and Rob Zombie, and can be relied upon to bring suitably spine-tingling riffage to any metal-minded front man. With a murderous clown's dress sense and a habit of working the names of serial killers into his song titles, he's arguably the most frightening gun for hire out there.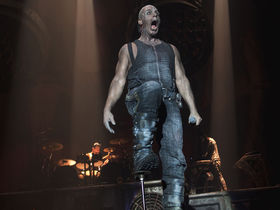 Rammstein
Flame-retardant German industrialists
Rammstein are named after an air disaster, are enormous fans of on-stage pyrotechnics and came to international prominence with the hellish sounding Du Hast in 1997. A mixture of intentionally unsettling performance art, harsh German vocals and a sound that blends metal with industrial soundscapes, Rammstein will haunt your dreams.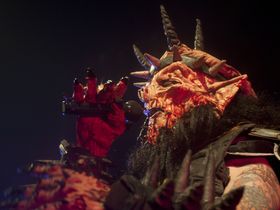 GWAR
Scumdogs of the universe
Insanely costumed thrash metallers GWAR can proudly boast some of the most creative uses of latex in the history of rock. Are they entirely serious? Well, no, but they are all-powerful inter-galactic warlords who have been to hell and aren't afraid of staging the odd mock on-stage execution.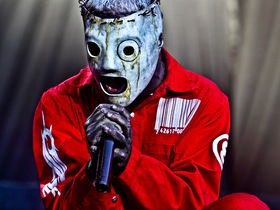 Slipknot
Ban this sick filth
If you were a parent of a teenager in the early 2000s, you lived in fear of your precious offspring coming home wearing a Slipknot hoody. Dressed in identical overalls, with band members numbered instead of named and each sporting bowel-loosening home-made masks, Slipknot made nu-metal dangerous.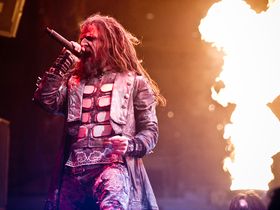 Rob Zombie
Loves horror so much he changed his name
Rob Zombie has had a career that has seen him front White Zombie, have a solo career making twisted metal, and direct multiple fright-flicks of his own. All of which makes him a man who really knows what it takes the scare the living daylights out of an audience.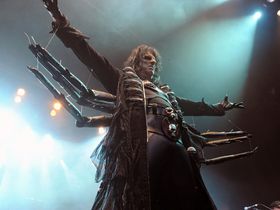 Alice Cooper
Heads up
One of the first rockers to realise that there was success to be had combining on-stage shock tactics and OTT theatrics with straightforward rock and roll, Cooper blazed a trail that many were to follow - apparently the first record Rob Zombie bought was by Alice Cooper.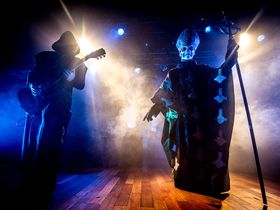 Ghost B.C.
Sweden's shock-rock six
With their fascinatingly eerie appearance (frontman Papa Emeritus II is a papally attired brother to Skelator while the five Nameless Ghouls don hooded robes and face-concealing black masks) and songs that espouse the virtues of good ol' Beezlebub, you'd think that Ghost (or Ghost B.C., as they're known in the US) might went to send you beyond Down Under. Their sound, however, is sort of heavenly – a hyper-melodic, pop-tinged take on vintage metal. Which makes them even scarier, actually.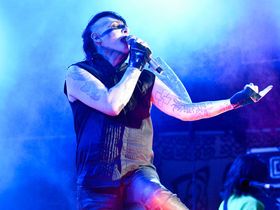 Marilyn Manson
Made the Eurythmics sound sinister
In the late '90s, Marilyn Manson became a synonym for controversy thanks to his outrageous stage persona and knack for disturbing imagery. Taking pleasure in twisting the melons of the mainstream, Manson was at one point one of the most talked about musicians on the planet, and not just because of that Wonder Years rumour…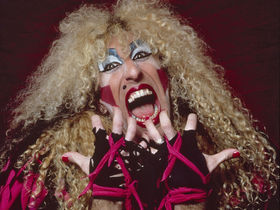 Twisted Sister
Dude looks like a lady
There's no doubt about it, Twisted Sister front man Dee Snider is a frightening sight to behold. There's just something deeply troubling about a man who looks like a pantomime witch fronting a rock band, even when they've got pipes like Dee.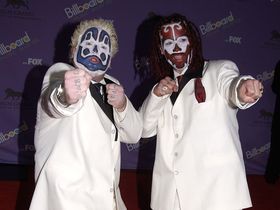 Insane Clown Posse
Clowning around
For some folks, clowns on their own are scary enough, but hip-hop horror clowns? That's a whole other level of creepy, not to mention a unique selling point that has helped Insane Clown Posse shift millions of records and amass a hardcore following known as Juggalos.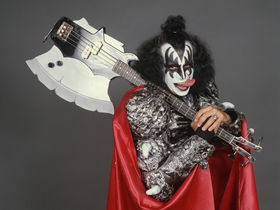 KISS
They'll rock you all night long
KISS has been proving that stacked heels, studded black leather and pyrotechnics are a viable rock and roll proposition since the early '70s. Iconic face paint and no-nonsense rock and roll has helped establish KISS the brand as much as KISS the band, but you can be sure Gene Simmons covered in fake blood and wielding an axe-bass would give you a jump on a dark night.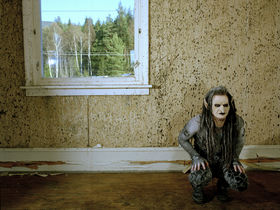 Mortiis
Dark dungeon music
There are plenty of bands out there that look like they're living Halloween every night of the year, but few of them have a front man as delightfully creepy as Mortiis. With his pointy ears and orc-like mask, Håvard Ellefsen looks like a bad guy from The Lord Of The Rings.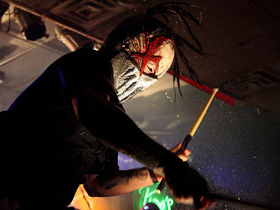 Mushroomhead
Masked mayhem
What is it about metal bands and masks? Like their sometime-rivals Slipknot, Mushroomhead know the value of strapping a creepy face-piece over band member's faces, while even the members without masks are adept at turning their faces into masks of terror.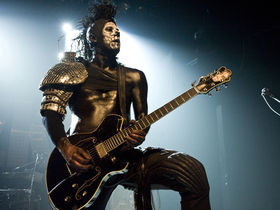 Wes Borland
Black beauty
There were many aspects of Limp Bizkit that made some people deeply uncomfortable, but guitarist Wes Borland was really going for the jugular. Keen on full-body painting and elaborate costumes, he certainly made for a pretty striking contrast to Fred Durst.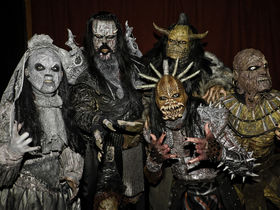 Lordi
Better than Abba
Yes, they won Eurovision, but they did so in full-on monster costume with a song called Hard Rock Hallelujah, which makes the Finnish frighteners alright by us.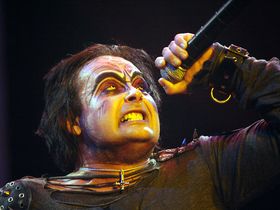 Cradle Of Filth
Dirty boys
Cradle Of Filth perfected the ancient and noble art of the shock tactic throughout the '90s (particularly with the infamous band t-shirt calling Jesus a… very bad thing) and with their none-more-black image is exactly the sort of band than makes vicars nervous. Perfect for Halloween, basically.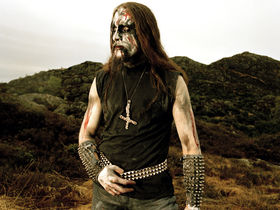 Gorgoroth
You'll probably get away with crucifixion
There are many bands on this list who have employed pyrotechnics, make-up and satanic imagery to make an impact, but few have gone as far as Gorgoroth, who have played on stages covered in sheep's blood surrounded by models being mock-crucified. Here's former vocalist Gaahl looking suitably deranged.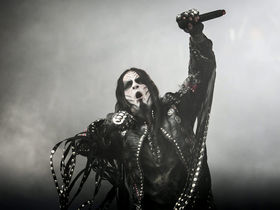 Dimmu Borgir
Probably pining for the fjords
Norwegian black metal maniacs Dimmu Borgir both look and sound as hellish as their name (which was itself derived from Dimmuborgir, a lava field in Iceland).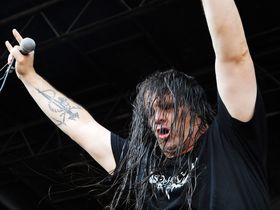 Cannibal Corpse
Dead heavy
Eschewing the theatrics employed by many of the artists on this list, Cannibal Corpse instead focus on churning out punishingly heavy death metal, with gruesome cover art and song titles like Hammer Smashed Face and I Will Kill You.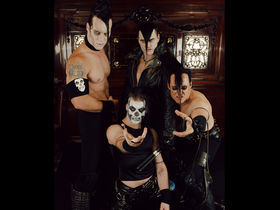 The Misfits
Happy Horror Days
It's only fitting that the band who invented horror punk round off our list of Halloween horrors. Inspired by gore-heavy b-movies and schlocky horror, the original incarnation of The Misfits bought an inspired splatter-obsessed sensibility to punk. The latter-day line-up retains the image but with a more straight-up metal assault.