Des kits de batterie Vintage : les kits Trixon
23rd Sep 2013 | 13:50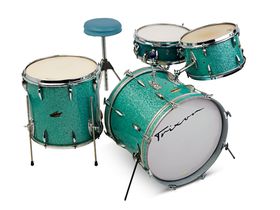 Trixon Luxus kit
Circa 1960
Tous les mois, Rhythm Magazine consacre désormais une rubrique aux kits Vintage. L'occasion pour la rédaction de s'arrêter sur un peu d'histoire des techniques de fabrication et de s'éxalter sur des modèles d'exception. Ce mois-ci, nous avons dégoté un kit éblouissant, le Trixon 60s.
"J'ai cinq kits Trixon, une collection de pédales Trixon, des tabourets, des clés d'accordage, des bouquins/catalogues et neuf caisses claires. Je pensais vraiment que plus rien ne pourrait embellir davantage une telle collection. Mais ça, bien sûr, c'était avant d'avoir vu le kit Aquamarine Sparkle, l'un des tout premiers modèles...
Heureusement, c'était mon anniversaire en septembre et ma femme m'en a fait cadeau. Elle l'a trouvé sur eBay, c'était en Août 2012. Il provenait d'un théatre de Liverpool."
C'est en tout cas ce que nous a raconté Dave Prince qui, comme nous l'avons découvert plus tard, n'a déboursé que 225 livres pour ce kit (sans compter la caisse claire qu'il a trouvé plus tard).
"Celui qui me l'a vendu avait flanqué une caisse claire Rogers DynaSonic que j'ai réussi à revendre pour 150 livres. Du coup, le kit ne m'est revenu qu'à 105 livres", ajoute-t-il d'un air satisfait.
L'histoire de Dave Prince prouve qu'il y a encore de la place pour ce genre d'aubaine sur le marché Vintage.
Le kit en question est un Trixton Luxux 0/200, fabriqué à Hambourg en 1959 ou 1960. Les batteries Trixon étaient, alors, importées en Grande-Bretagne par Ivor Arbiter et sont devenues très populaires à partir de la fin des années 50, début années 60, donnant à Premier et Ajax un terrain de compétition.
Les kits Luxus étaient utilisés par de nombreux joueurs British au top de leur carrière parmi lesquels Allan Gansley, Phil Seamen, Brian Bennett et Clem Cattini.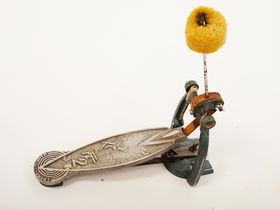 Trixon Luxus kit
Original TF2 bass drum pedal, made between 1950 and 1956, has twin springs and leather drive strap.
This Trixon has the tear-drop lugs which were used until around 1962. And the birch or beech 4mm-thick, 3-ply shells with 3-ply reinforcing rings, which according to Ingo Winterberg in his Trixon book were standard up till about 1960/61.
Also, until 1962/63 Trixon shells were metric sizes, so international heads won't fit. Thus, for example, the nominally 20"x16" bass drum is slightly undersized at 50cm x 40cm. The other nominal sizes are 13"x81⁄4", 16"x16" and 14"x5" snare drum with parallel strainer mechanism.
Trixon triple-flanged hoops are bent inwards at the top in a similar manner to Slingerland's, and the lug bolts have slot-headed screws, typical of European drums of the period.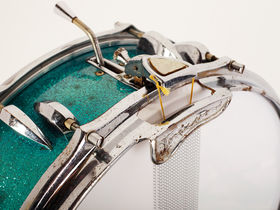 Trixon Luxus kit
Snare has parallel action throw-off and even the snare guard on the bottom hoop has the Trixon logo.
The snare's top hoop has a wider lip-over and Dave reveals he actually bought the snare with its perfectly matching finish from Ingo Winterberg in September 2012.
Ingo says, "The [wider] top hoop was used until 1956, so it does not match exactly. This must have been changed in the late- to early-1950s as this is how I received it."
"Aquamarine Sparkle finishes are mostly faded," continues Dave, "but not with this kit, which is in very nice condition. I gigged it for the first time last night and got a great deal of interest from everyone. It sounded full, the rack tom with its two dampers doesn't ring at all and the snare drum has a great crack to it and is fabulous for rim-shots."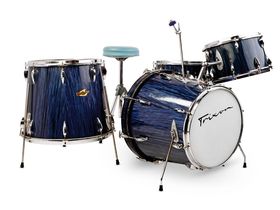 Trixon Telstar (Model 2000) kit
Circa 1962
The American Telstar 1 communications satellite was launched on 10 July, 1962, hotly followed by The Tornadoes' hit instrumental 'Telstar' and Trixon's cockeyed German-made drum kit which would soon adopt the same name.
It's the kit Trixon will probably always be remembered for. The conical shells were show-stoppers, though hugely wasteful of wood and plastic wrap. Ivor Arbiter, who had successfully imported Trixon, felt the company had lost the plot with Telstar.
The following year Ringo Starr bought his first Ludwig from Ivor, after which Trixon's popularity in the UK plummeted.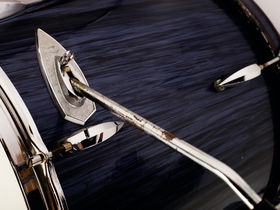 Trixon Telstar (Model 2000) kit
Telstar conical bass drums required elongated 121⁄2" spurs with the type 'C' ship-form mounting bracket.
This is the second kit from Trixon collector Dave Prince, who says, "Telstars were built from 1962 'til the early-'70s. This set is a rare one because it is the original style, produced in the first year (1962/63), with the teardrop lugs and big floor tom."
Dave alludes to the massive 16"-deep floor tom, which has a 16" batter expanding to a 20" diameter resonant side. It is actually the same shell as the bass drum, which has a 16" front end with metal hoop and 20" batter side with wood hoop.
Evidently the floor tom proved too large though, as Dave reveals: "In 1964, Trixon changed to the 16" batter, 14" resonant (still 16"-deep) floor tom." The small tom goes from 14" to 13" and is 81⁄4" deep. Adding to the kit's rarity is the Blue Stripes (TX6) finish, which Dave says was typical for UK Trixons, but rarely used on Telstars."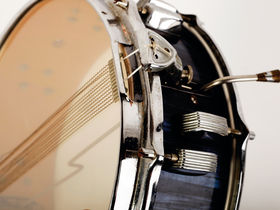 Trixon Telstar (Model 2000) kit
Oblong-lug 14"x5" snare drum is missing its original Trixon clip-on parallel-action snare wires.
"I noticed the kit for sale in the UK and just had to contact the seller immediately," Dave recalls. "I had an early-1960s Beverley Blue Oyster kit and it transpired that the seller had been after one for ages as he was in a 1960s tribute band. Four hours later I am driving off with this rare kit having agreed the swap for my Beverley."
Trixon also made a conical snare with 14" batter and 13" resonant. Dave's however is a standard 14"x5" and has the later oblong lugs.
"The 1963 snare, also in Blue Stripes, was bought from a seller in Scotland. The snare release was broken and I had to fit a spare one that I had stored previously. I have played the kit at many gigs with my two rock'n'roll bands, Sure-Can Rock and Serious Charge, and it always gets a second look due to the conical bass drum.
"I really love the full sound of the floor tom and the bass drum is perfect for those small gigs where you are at the back with not a lot of space."
Vintage Gear continues each month in Rhythm Magazine.