Vintage drum gear: Camco kit
24th Apr 2012 | 10:28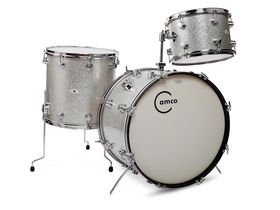 Camco kit
Circa 1970s
Each month Rhythm Magazine tracks-down and checks-out vintage gear in order to marvel at a bit of drum-making history. Here we look at a rare Camco kit...
Although Ludwig, Gretsch, Slingerland and Rogers were the big American names of the '60s and '70s, there are those who prefer the far less well-known Camco drums.
The last Camco set we encountered was back in 2004 as the drums are really quite rare. However, a while ago we came across not one but two sets of even rarer George Way drums at the National Drum Fair - and George Way drums are the direct predecessors of Camco.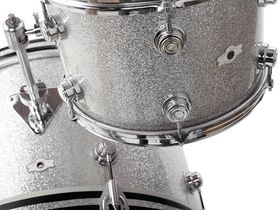 Camco kit
The original Camco single swivel tom holder with triangular mounting plate.
George Way was the brilliant drum designer and salesman who finally started to build his own, eponymous drums from around 1957. Going it alone was a struggle though and in 1961 Camco took over his company, proceeded to re-badge and develop the drums, going on to sell them with some success.
Those first Camco drums were made in Oak Lawn, a suburb of Chicago, but in the early '70s they were bought out by the Kustom Company of Chanute in Kansas.
Soon after that they were relocated to Los Angeles and it was here that Don Lombardi of the fledgling Drum Workshop obtained the Camco tools and dies in the late '70s (while the Camco name was appropriated by Tama).
The outcome was that George Way's unmistakable turret-shaped lug eventually graced DW drums - and we all know where that has since led. George Way's lug was also most likely the inspiration for the circular George Hayman design in the UK.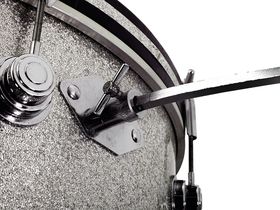 Camco kit
George Way-designed square section curved disappearing spurs afforded better stability than most other '60s designs.
The kit you see here is a '70s California-built beauty. It retains its original Camco swivel tom mount with triangular baseplate and mounting block for a cymbal arm.
It also has the later wide-spread floor tom legs, more stable than the earlier straight legs. On the other hand the superb high-profile brass hoops of George Way's drums have been superseded by regular triple-flanged hoops.
The kit appears courtesy of Winnie Mensink of Hide Hitters vintage shop in Amsterdam. He says, "This is an all-original, early-'70s set with the 'LA, Calif' badges.
"Although the first Camco sets, as well as the original George Way sets, had white shell interiors, the later ones like this left the factory with clear lacquer insides. As you know, the accessories manufacturer Camco started their drum department after buying George Way Drums in 1961."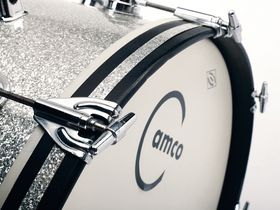 Camco kit
Claws and beautifully sculpted 'timpani' handle tension rods on the bass drum.
"The sizes are 22x14-inch, 13x9-inch and 16x16-inch in Silver Sparkle wrap. The maple shells are 4-ply with 4-ply reinforcement hoops.
"Sixties Camcos had the high collar brass rims on the toms. This changed in the '70s to the more common triple-flanged hoops.
"I owned the set for a short period," says Winnie. "I had new Ambassador heads on them and I was really amazed how good they sounded - full, warm and with an endless sustain. The shells are really well constructed compared with Slingerland and Ludwig shells from the '60s/'70s. Too bad I sold it!"
Vintage Gear continues each month in Rhythm Magazine.