The best drum moments in film
29th Mar 2014 | 16:10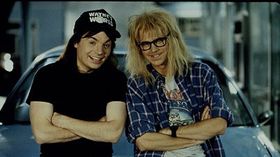 We run down our favourite drummy moments from films
I like to play...
Wayne's World (1992)
"I like to play," says Garth and tings a cymbal after what can only be described as an awesome drum solo in the music store. All drummers should aspire to be him. Haircut and all.
Gene genius
The Gene Krupa Story (1959)
Sal Mineo does a great turn as Krupa on celluloid, though the man himself provided the real drum soundtrack. In one of the best bits, Gene returns to the stage after his drugs arrest, comes in for a bit of stick from the audience, then enters into a drum battle with the big band's other drummer, and does some fantastic soloing.
Explosive performances
Spinal Tap (1982)
So many great drummer exploding moments, but our favourite bits involve Mick Shrimpton standing on (and falling off) his set during his solo, and this clip of early Tap with first drummer John 'Stumpy' Pepys. It's his look to camera after his first break that gets us every time.
Wonder drumming
That Thing You Do (1996)
In Tom Hanks' movie about a '60s band called The Wonders, the drummer stays back after a band argument in the studio and does a nice bit of shedding. Whereupon a jazz drum legend walks in the studio and asks to jam with him. Every drummer's fantasy.
He's a demon on the drums
The Pick Of Destiny (2006)
Tenacious D movie with Dave Grohl as the devil, who at one point gets behind the kit and lets rip with an all too brief display of devilish drumming chops. Best bit of the film by a country mile.
This drummer's nuts
Step Brothers (2008)
First we get to see Will Ferrell having a bash on ste brother John C Reilly's drum kit, then after an argument Ferrell returns to the drumset and rubs his "nutsack" on the drums, shouting, "John Bonham playing Moby Dick for real!"
Spider man
More Bad News (1988)
One of the best things about The Comic Strip's brilliant Spinal Tap-esque rockumentaries Bad News and More Bad News is their drummer, Spider Webb. He fits the rock drummer cliché to a tee, smashing his drums around and saying things like, "Lets pop some girls and get the rig out of control." There's none of it allowed on YouTube, but you can watch the whole of both Bad News's on 4oD.
Smash it up
Blues Brothers (1980)
Jake and Elwood drive through a shopping mall chased by the police, smashing through Toys'R'Us, clothes shops etc before wiping out what we think is a Ludwig Tivoli kit in a music shop window at about the one-minute mark. What a waste! Still, cool movie.
Judge for yourselves…
Vice Versa (1988)
This cheesy film is based around the old kid-and-parent-swap-bodies plotline, a staple of 1980s movies. A man with the body of Judge Reinhold (another staple of '80s movies) and the mind of a child gets on the kit in a music store and has a bash. He's alright at it too.
Psycho Killer, Quest-que-cest?
Subway (1985)
In Metro-based brilliant '80s Luc Besson film Subway, Jean Reno (contract killer Leon in the film of that name) plays a drummer mooching about the place saying little but constantly tapping out a rhythmic beat with his sticks wherever he can. At the end of the film, he gets to let loose with a drum solo, inexplicably dressed as a big game hunter.
Big screen drum-off
Drumline (2002)
This 2002 film about an American college drumline is full of great moments and cool, energetic drum corps rudimental playing; in this clip the fictional Atlanta A&T University drumline faces off against its rivals.
Sticksman Sandler
Airheads (1994)
Not much in the way of actual drumming, but Adam Sandler puts in his best film role ever (actually not all that hard) as the idiot drummer of a band who break into a radio station and force the station by gunpoint to play their record. Doesn't do much for the drummer stereotype, though.
Heeere's Krupa (for real this time)
Beat The Band (1947)
Movie version of a Broadway musical based around showbiz and swinging big bands, largely unmemorable but for an ace turn by Gene Krupa from 5:30.
Bonham on celluloid
The Song Remains The Same (1973)
Okay, we'll give you this one, as The Song Remains The Same is technically a movie. Obviously, it's got Bonham doing 'Moby Dick'. What more can we say?