Kenny Aronoff picks 11 essential drum albums
8th Dec 2012 | 22:15
Kenny Aronoff picks 11 essential drum albums
"A great drum record is a total experience," says session and touring superstar sticksman Kenny Aronoff. "The music is fantastic, the band is great – it's never about just any one thing. It's about all the elements coming together. Songs, spirit, vibe, power – I need everything."
Growing up in Stockbridge, Massachusetts, Aronoff's house was filled with the sounds of jazz and classical music. It wasn't long, however, before certain pop songs from the radio made a strong impression on the young drummer. Devil With The Blue Dress by Mitch Ryder & The Detroit Wheels was a big favorite – Aronoff tried to imitate the frenetic energy of Johnny "Bee" Badanjek.
"The excitement on that track was insane," he enthuses. "And then there was Bernard Purdie on Aretha Franklin's Respect. You heard those songs everywhere you went. They really made me go, 'Whoa! Who's doing that?'"
Aronoff cites Are You Experienced by The Jimi Hendrix Experience as a life changer. He recalls building model airplanes at home when he was 13 years old, spending an entire day and night playing the album over and over again. "I'd play side one, flip it over and play side two," he says. "I repeated this more times than I could tell you. Mitch Mitchell gave me so much to work on as a drummer."
Aronoff didn't hesitate to include Are You Experienced in his list of essential drum albums, but narrowing the field down to just 10 choices proved problematic, so he cranked it one more to 11. Still, he insists, key players are missing.
"What about Jeff Porcaro, Matt Cameron and Vinnie Colaiuta?" he asks. "What about Chad Smith, Dave Grohl, Taylor Hawkins, Matt Sorum? I love all these guys! Danny Carey, Josh Freese, Jimmy Chamberlin, Terry Bozzio, Greg Bissonette, Peter Erskine, Alex Van Halen – you're all great."
Listed alphabetically, the following are Kenny Aronoff's picks for 11 essential drum albums, a list that will no doubt be continued.
John Coltrane – A Love Supreme (1964)
"It's a landmark album by Coltrane. I love Elvin Jones. Such a beautiful drummer. The song A Love Supreme starts off simple for a very short period of time, and then Elvin does sort of a Latin groove in double time.
"His improvisation is ridiculous. He keeps the groove, the time, the feel, and all the while he's improvising with this Afro/Cuban kind of vibe. It's just off the charts."
Cream – Wheels Of Fire (1968)
"It's funny to think that Ginger Baker is underrated, but I think he doesn't get the credit he deserves. Nobody can play like him. He's got his own style, his own sense of the drums – you hear a couple measures and you know it's him.
"He might not have been the flashiest drummer around, but everything he played was all his own. His drumming on Wheels Of Fire is phenomenal."
Duke Ellington – Ellington At Newport (2008)
"Here's another drummer who floors me – Louie Bellson. Listen to what he does on Skin Deep. It's one of the greatest drum songs and has one of the greatest drum solos ever. It's probably one of the most musical things I've heard in my life.
"The album is brilliant, but I tend to focus on Skin Deep a lot. The arrangement is so well thought-out. Everything from the horns to the voicings to the chords to the changes – it's very, very sophisticated but yet very tangible and easy to listen to. It's miles above what is being done today.
"The tempos and the transitions, and the way Louis Bellson segues from one thing to the next, it's unreal."
The Jimi Hendrix Experience – Are You Experienced (1967)
"Mitch Mitchell was a significant influence on me. I grew up listening to jazz and classical because of my parents, and Mitch was the bridge between rock 'n' roll and jazz. His improvising, self-expression and the way he broke out of standard molds was revolutionary.
"He had a real overall sense of music. For a rock drummer, he swung so big and so deep. It's a dying art, what he did. I think it's impossible to re-create his triplets - believe me, I've tried. The fill he played on Hey Joe is so good too. What a drummer!"
Led Zeppelin – Led Zeppelin IV (1971)
"John Bonham, man. He is, to me, the most influential drummer to ever play rock 'n' roll. His feel is off the charts. He understood swing, jazz, shuffle, R&B, and he put it all together as a rock drummer.
"Rock And Roll is a full life course in and of itself. You could study that song forever. Listen to the blend between Bonham's left and right hands. He's playing eighth notes on both the snare and hi-hat, and when you put that with the improvisation he's doing on the kick drum, it's just stunning.
"He's playing a Chicago shuffle with a straight eighth-note feel. That's where the magic is. You can't go at it super hard; you have to have the right dynamic to get the snare and hi-hat swinging. And he's doing it throughout the whole song – a lot of people don't realize that. I've played it, and it's a real challenge to get just right.
"At the very end is the fill, which has a lot of Bonhamisms. All of those triplets are him leading with the left hand. Man, it's impressive. He was so musical."
Mahavishnu Orchestra – The Inner Mounting Flame (1971)
"Billy Cobham's a total fucking genius. On this album and the band's next one, Birds Of Fire, he changed drumming. Every song is remarkable, but when you get to The Dance Of Maya, that's where it's all going on.
"The timing is remarkable. Part of the band is playing one way, while the other part of the band is doing something different. You could conduct a master class on time signatures with what's going on in Dance Of Maya, but the most amazing thing is how expressive Cobham is. If you want to check out a true virtuoso, this is a record you have to hear."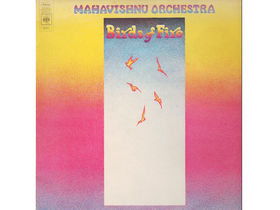 Mahavishnu Orchestra - Birds Of Fire (1973)
"I love the whole thing. Once again, it's the melodies, it's the counter-melodies, and it's Billy's double bass drum playing. He really defined the Billy Cobham style on this album, especially when it came to his fills.
"You know, he used to be a heavy bebop drummer, and he got into fusion and other kinds of music. Everything I said about his playing on The Inner Mounting Flame – his mastery of time, his limitless creativity – I could say about Birds Of Fire. The man's talent is enormous. It's no wonder he had his own solo records after this."
The Buddy Rich Big Band – Big Swing Face (1967)
"It's hard to pick just one Buddy Rich record, so I'm going to list a few of them. How can you choose a single album from one of the greatest drummers ever? You just can't.
"Killer songs, killer playing. This one has Big Swing Face and Love For Sale, two unbelievable cuts. They're ridiculous. His feel, his timing and his musical ideas are astounding. Oh, and his fills and solos – I'm knocked out every time I hear this album, but those two tracks are the ones. Any drummer who hasn't heard this stuff really should."
The Buddy Rich Big Band – Mercy, Mercy (1968)
"Channel One Suite is a piece of multiple movements, and Buddy has a couple of solos that are incredible. He drives the band with such superb power and control – he's killer!
"The whole album is mind-blowing, but the Channel One Suite is where it's at. This is Buddy at the top of his game."
Buddy Rich – Time Being (1991)
"This one came out after he died. It calls him 'The Amazing Buddy Rich,' and man, he sure is. Straight No Chaser is very fast, and Buddy is genius throughout.
"Listen to his left hand, listen to his kick. His choices, his speed, his accents – there's a lot of intelligence behind what he's doing. But we're also listening to somebody who is acutely aware of the big picture. He knows exactly what's going on with every member of the band."
Steely Dan – Aja (1977)
"This is such a cool record with the coolest drumming. Every drummer on here – Bernard Purdie, Steve Gadd, Jim Keltner and a few others – is amazing. You could own this album alone and have so much to dig through and enjoy.
"On the title track you've got Steve Gadd, who demonstrates his classic cymbal work and style of fills. He lays out his entire vocabulary – and it was all done in one take too. Remarkable.
"Aja is filled with super-deep groove drummers really exploring the vibe and flow of the music. I hear the subtleties of the individual players because I'm inside of it, but for most people, it's just a beautiful overall album."