Joey Jordison v Billy Cobham: who's the best?
6th Dec 2012 | 11:50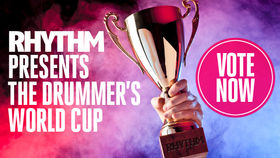 Rhythm Drummer's World Cup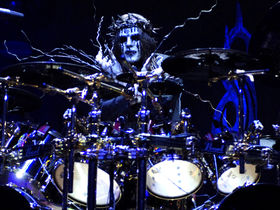 Joey Jordison
Slipknot
Billy Cobham
Jazz/rock fusion legend
Last 16 of the Rhythm Drummer's World Cup! Your votes count - who do you think is the best drummer between these two greats?
The last 16 of the Drummer's World Cup. Who's going to progress to the quarter finals? You decide.
Joey Jordison vs Billy Cobham
Joey Jordison
Slipknot's masked sticksman, music obsessive and multi-instrumentalist constantly tops polls as one of the world's finest exponents of modern metal drumming. Voted Greatest Drummer of the Last 25 Years by Rhythm readers in 2010, will Joey do the business this time?
Billy Cobham
Pioneering jazz/rock fusion drummer whose work with Miles Davis and the Mahavishnu Orchestra, plus his own Spectrum album, has been massively influential. Billy influenced rock drummers as much as jazz drummers, extending the kit with double kicks and multiple toms, and was a pioneer in the use of electronic percussion and triggering.
Totally different drummers, and we're not saying one's better than the other. What we're asking is: which one is the greatest in your opinion?
Get voting!