Joey Jordison answers your questions!
25th Sep 2013 | 11:29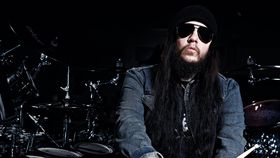 Joey Jordison answers your questions!
Drummer talks Scar The Martyr, Slipknot and more
As the heart of the biggest metal band of the last decade (Slipknot, obviously) and also the brains behind new band Scar The Martyr, Joey Jordison is a pretty busy guy. So when we were offered the chance to chat with Joey, there's only one thing we wanted to do: put your questions to the diminutive metal monster. You guys responded in droves, and here's what Joey had to say about his fanatical following, side projects and the future of Slipknot.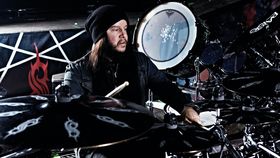 Joey Jordison answers your questions!
Are you already thinking about the second Scar The Martyr album? Juliana Garçoni Dos Santos, via email
"That's a good question and something I haven't talked about, so they've got an exclusive! When I initially did the record, I pretty much did everything. Henry wrote a couple of songs, and it was just me and Henry at the beginning. Then we picked up Chris, Kris and Jed, and they brought their stuff. Now those guys are songwriters themselves; this is the first band I've been in where everyone is a writer. Everyone has home studios now, so the second record is basically done – we could release an album now. But I want to have 20 to 25 songs, so we're still writing."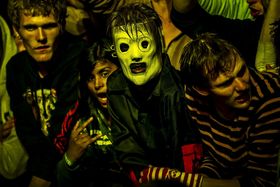 Joey Jordison answers your questions!
How does it feel to have such a fanatical following? Grant James, via email
"That is the best part about being in a band. The music is great, but if there's no audience, eventually it becomes, 'Where's the people at?' I have been so fortunate with my fans. They are the reason that I keep going. It is my responsibility these days, regardless of what Slipknot is doing, to make sure that my fans have music from me. This is what I'm here for. First and foremost, I make music to satisfy my creative urges, but at the same time I know my fans are waiting, so they're the ones that push me to keep going."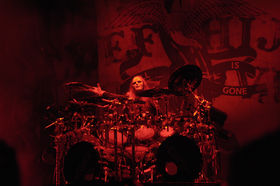 Joey Jordison answers your questions!
What advice would you give to young drummers struggling to learn the instrument? Kamil Dočkal, via email
"You've got to be 100 percent. Always try and play with as many people as possible, even if it's not your style of music, because you will learn a lot. That's what I did. I was in band all the way through high school, and I played in jazz competitions all across Iowa. I was in a marching band. When you're out looking for gigs, just try to play with as many people as possible and open your ears to difficult styles of music. If you only play metal, it's going to be very apparent that you're a one-dimensional drummer."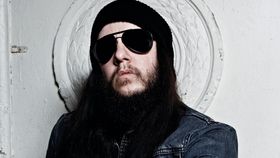 Joey Jordison answers your questions!
What do you do in your spare time when you're not writing, recording or touring? Michelle Martin, via email
"That's a very small amount of time. When I'm not doing anything, I'm mellow. I'll go to record stores and find obscure records. I'll sit at home and play with my four cats. I do a lot of art, too. I have a bunch of artwork that maybe some day I'll put into a gallery. But usually I'm demoing. I try to get a riff out a day and they all end up somewhere."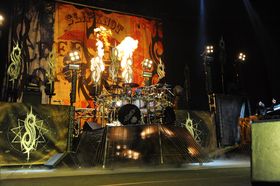 Joey Jordison answers your questions!
You recently played the Pearl E-Pro kit, how does it compare to an acoustic kit, is there much variance in sound or feel? Team Joey Facebook page
"I played a prototype at Pearl's Nashville office about three years ago. It was the only one that existed. It was amazing – it was absolutely amazing. It is the best-sounding electronic acoustic kit that I've ever heard. It's going to take over. I'm a full supporter, and I can't wait to get my own."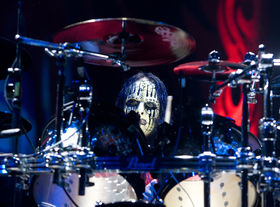 Joey Jordison answers your questions!
How have you developed your double bass technique and stamina to how it is today? Connor Byrne, via Facebook
"There are two records that started my double bass career – Master Of Puppets and Reign In Blood. They both came out when I was in sixth grade. Without those records, I would not be the drummer that I am today. I was playing solid heavy rock up to sixth grade, and then some older guys that I was jamming with turned me onto heavier music. I instantly shifted. That was the first time that music really spoke to me."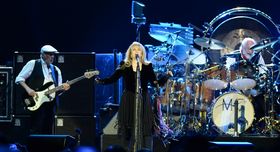 Joey Jordison answers your questions!
Is it true that you're a big Fleetwood Mac fan? Gill Renny, via email
"Yes, I'm a big Fleetwood Mac fan. I think Mick Fleetwood is so underrated. He is unique. He doesn't play what the conventional drummer would – he is very tasty and very unique. That is what is great about drummers like him – well, there is no drummer like him. I love drummers that follow their own beat, no pun intended, but guys that follow their own path and don't care what a producer thinks. He hits the floor tom with the snare a lot. His fills are very abstract – he's an amazing drummer. Fleetwood Mac as a whole, I'm a huge fan. Those records never get old."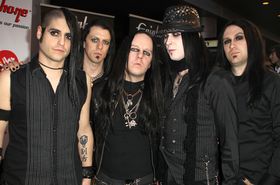 Joey Jordison answers your questions!
Are the Murderdolls coming back? Jordan Gay, via email
"I hate to break it to them, but right now there are no plans for a new Murderdolls record any time soon. I'm full time with Slipknot and Scar The Martyr. I'd never say never, but right now there are no plans."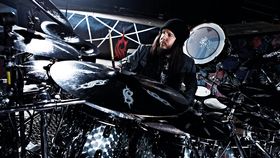 Joey Jordison answers your questions!
What first impressed you about Henry's vocals? Ched Garnier, via Twitter
"The first thing that got me was his range – it is amazing. He's got a wide range. I like his heavy voice – it is unique. He has his own growl and scream. This is a signer that can almost do everything. Another thing that was great is that I sent him four songs, and when he sent them back I was blown away; it was exactly what I was looking for and more. Then when we went into the studio, he stepped his game up even more."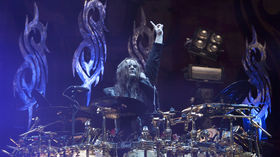 Joey Jordison answers your questions!
Some time ago, you talked about that you would like to learn how to play the violin. I would like to know: have you learned it? Danielle, via email
"Oh yeah. I haven't had time yet, but that is something that I am going to do. It is definitely the next instrument I will pick up. I don't know when, but soon. I passed a music store the other day that specialises in cellos and violins, and I went in and had a look at those. I have to learn that instrument. The violin is another extreme that I haven't even remotely got into yet. That instrument is beautiful."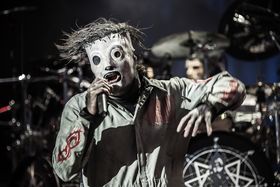 Joey Jordison answers your questions!
Will the next Slipknot album be the band's most brutal ever? Nicolas Pons, via email
"I think it will be because of the time that has lapsed between records. With this record, I don't think we're going to play it safe at all."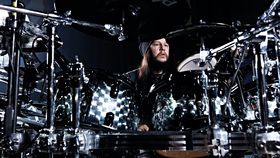 Joey Jordison answers your questions!
What advice would you give to help a young band get noticed? Keith Miller, via Facebook
"You need to consume yourself with it. I listened to tons of different music; I studied and I worked constantly. Your band all needs to be on the right page for it to work. If someone isn't doing that, you need to disassociate yourself from them. You can't have any negativity, and you need to practise as much as you can."