In pictures: DW's new-for-2010 Collector's Series snare drums
28th Jun 2010 | 16:06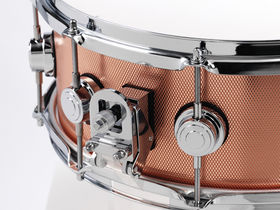 DW's new-for-2010 Collector's Series snare drums
In pictures...
DW has expanded its high-end Collector's Series with four snare drum lines featuring the all-new MAG Throw-Off System and 3P 3-position butt plate.
Scroll on for a first look at the new models: Top Edge, Super Solid Edge, Solid-Stave, and Vintage Steel; and close-ups of the throw-off mechanics. Check out the official press release for more details and look out for Rhythm Magazine's full review in the coming months.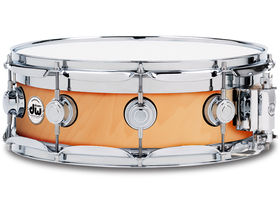 DW Top Edge snare ($1199-$1699)
Featuring a heavy-gauge alloy Edge ring at the top and X-Shell 10-ply maple below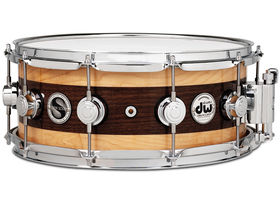 DW Super Solid Edge snare in Walnut with natural laquer ($1499-$1699)
3-piece maple/walnut solid wood shell available in a 3/8", 0.5" or 0.75" thickness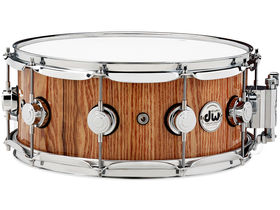 DW Solid Stave snare in red oak with natural lacquer ($999)
Also available in ash with ebony stain lacquer and para wood with walnut stain lacquer - each customisable in any of five hardware plating choices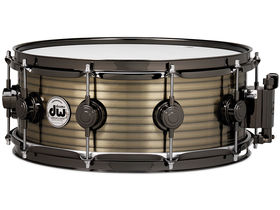 DW Vintage Steel snare in brass ($749-$799)
Thick rolled 5mm steel shells with ribbed exterior - customisable in any Custom Shop hardware colour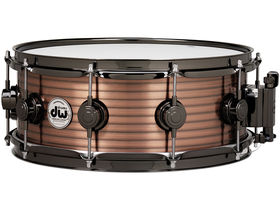 DW Vintage Steel snare in copper ($749-$799)
Also available in copper...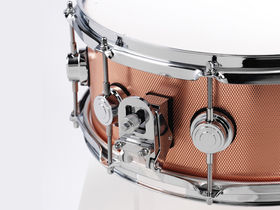 MAG Throw-Off System
Featuring a magnetic drop-style mechanism with horizontal strainer adjustment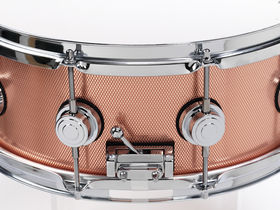 3P butt plate
Allows drummers to quickly and easily select one of three wire tensions with the flick of a lever - available in all five Custom Shop drum hardware offerings