Drummer's World Cup: The 11 best Metal and Prog Metal drummers of all time
28th Nov 2012 | 11:37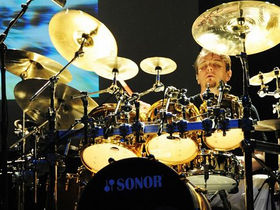 Gavin Harrison
Porcupine Tree
A valiant showing for the British prog legend, but in the end his fantastic work with Porcupine Tree, O5ric and more failed to stop the Jordison juggernaut.
Ultimately though, it's not the winning, it's the taking part, and Gavin - who still managed an impressive 331 votes - can enjoy the fact that his playing is respected the world over.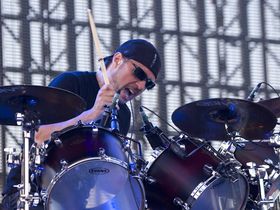 Dave Lombardo
Slayer man fails to slay 'em
An early upset was on the cards when thrash metal pioneer Dave Lombardo failed to make it past 9th in the group.
His band Slayer may have set the high-water mark for thrash and extreme metal with albums such as Reign In Blood in the 1980s but it seems influence and experience count for little in the modern game.
He's not alone; other Metal pioneers who performed disappointingly in the group include Black Sabbath's Bill Ward, Igor Cavalera of Sepultura and Vinnie Paul of Pantera.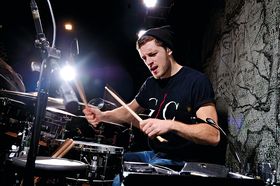 Dan Searle
Talented young Architects drummer
One of the group's pluckiest performances came from relative unknown Dan Searle of UK progressive metallers Architects.
The fast-rising stars of the metal scene owe much to the mighty beats of Searle, and his fans proved their love for him with an initial surge of voting which saw Dan take the lead for much of the first half.
Sadly it was not to be, but Dan can rest assured that in this tournament, he walked with the giants of metal and kept his head high.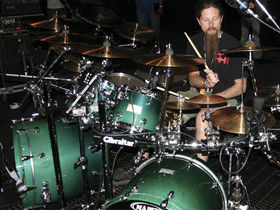 Chris Adler
Hand of God, or Lamb Of God?
When Lamb Of God's tremendously bearded sticksman stepped up to take on the other giants of metal, he must surely have been one of the favourites to ultimately take the Cup.
Sadly, it was not to be. The 'Redneck' drummer managed just 1.84% of the votes, losing out to many of his metal rivals in the most hotly voted-on Rhythm poll in over two years.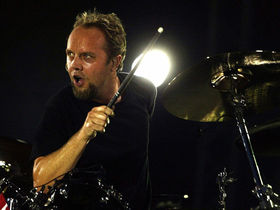 Lars Ulrich
No joy for Metallica man
Looks like there'll be no repeat of the 1992 Euro championships in which Denmark's plucky performance saw them take the crown. (Bear with us).
Yes, Metallica's influential Danish powerhouse failed to really get a foothold in what has been the most fiercely contested group so far. A respectable number of votes were cast in favour of Ulrich, but in the end they won't be enough, and he's on his way home.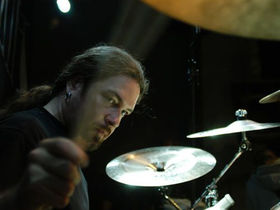 Tomas Haake
Meshuggah's drumming behemoth
Polyrhythmic drumming genius Tomas Haake of Swedish metallers Meshuggah put in a respectable performance in the qualifying group but may not have enough votes to progress.
Garnering 448 votes would have seen Tomas go through to the last 16 were it not for the huge numbers voting in the Metal and Prog Metal group. Still, he can rest easy in the knowledge that very few people are actually as good at drumming as him.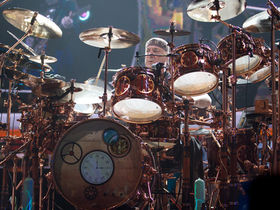 Neil Peart
Rush goalie!
No surprises that the boy Neil done good here. Rush fans ensured the prog rock super-drummer gained a respectable 4.14% of the vote to give him the 'Ghost Of A Chance' for a wildcard passage into the last 16.
But in the end his progress may depend on the mathematics and 'Subdivisions', perhaps he'll need to invoke the 'Spirit Of Radio' to get him there. Okay, that's enough.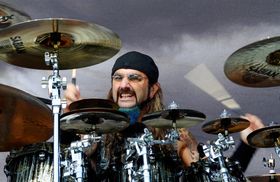 Mike Portnoy
Portnoy enters the Theater of Dreams
A close fourth only for prog metal's greatest ambassador. The Dream Theater man with the sweet right foot (and left, and his hands are pretty amazing too) secured a sizeable percentage of the votes (7.59%) to give him a good chance of still progressing to the last 16.
Mike will now be watching the other group games closely to see if some of the other big guns of drumming in the following rounds can cause an upset, or if his huge number of votes already is enough to secure his passage.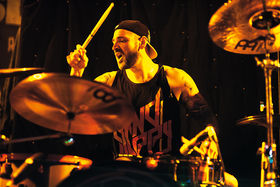 Matt Halpern
Periphery man makes a strong claim for qualification
Periphery's Matt Halpern started as an outsider, considering the top names in this particular group. His massive popularity and awesome skills for tech metallers Periphery however saw him nip at the heels of the group winners.
Gaining a massive 2,115 votes (almost 10% of votes cast) puts Matt in a very good position to progress to the next round on the 'next most votes count' rule. Unless there's a major upset in the remaining groups, and fans of modern rock, reggae, funk, jazz, pop and gospel get voting in the kind of numbers we've seen for the Metal poll, Matt looks very likely indeed to be in the last 16.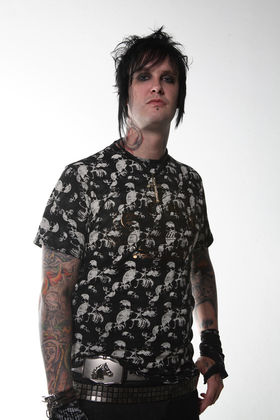 The Rev
Avenged Sevenfold's late drum genius
Once the Avenged faithful got wind of Jimmy 'The Rev' Sullivan's entry in the competition, they got behind their hero, who sadly passed away in 2009
In his time with A7X, The Rev's contribution not just to albums such as Avenged Sevenfold and City Of Evil, but to modern metal as a whole, cannot be understated.
A worthy runner-up with more than 3,000 votes, Jimmy progresses to the next round automatically.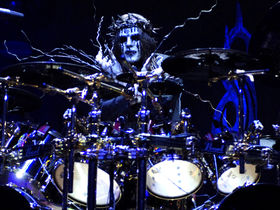 Joey Jordison
Slipknot drummer trounces opposition
Sweeping all aside with brutal efficiency, no other metal drummer proved a match for Joey Jordison once the Slipknot faithful got behind their masked hero.
Joey gained 48.4% of the votes which, get this, was 10,379 votes. But anything can happen in loosely linked sport/music tournaments. Joey may be through to the next round, but he can expect tough competition all the way.