Cool and classic basses: Ibanez ATK 300
13th Jul 2012 | 15:18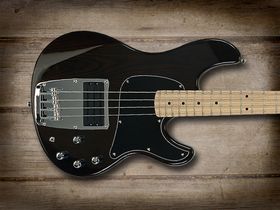 A worthy workhorse that was put out to pasture
Although sadly short lived the ATK was a fine workmanlike bass trying to muscle in on the Music Man action. It employs a relatively traditional look but the Custom bridge/pickup surround gives it an air of individuality.
With a 3-band active EQ the sounds generated are pretty expansive but even more so thanks to the Character mini switch that offers Attack, Bright and Traditional settings. This gives it something rather special, particularly when turned up to produce great growl and barking deliveries.
It was also available as the ATK305, which is the 5-string version, or as a regular 4-string with passive circuitry at a lower price. Although this may have been tempting at the time the active version is the one to get as it offers much greater tonal range and attack.