Cool and classic basses: Fender Mustang Bass
3rd Apr 2012 | 14:25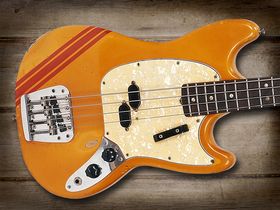 The 'Junior' model with a whole lotta cool
Following hot on the heels of the Mustang guitar, being launched as a 'junior' instrument and 'one for the ladies' gave the Mustang bass a bit of a shaky start. This was Fender's first short scale 4-string bass and was aimed at the guitarist who sometimes switched to bass.
This was the last bass designed by Leo Fender following the company buy-out by CBS and fell in line with his mix and match ethos by making use of the jigs initially designed for the Musicmaster guitar. Interestingly this bridge and damper assembly was the earliest example of the design favoured by Leo for his first Music Man StingRay basses that would appear in the seventies.
The rear body scoop is disproportionately large and the finger rest moved above the strings in the seventies to become a thumb rest and for a while some had two! This particular Mustang Bass includes the rarely seen oval tuning keys that were soon phased out for the regular shamrocks or elephant ears as they were lovingly known.
Lots of colour variations and even an Antigua finish with matching scratchplate around 1977-79. Regular users include Alan Lancaster of Status Quo, Tina Weymouth of Talking Heads, Bill Wyman had one with The Rolling Stones for a while and Roger Glover used one on Deep Purple's Fireball album.